Stamped Concrete Installation
Architectural Decorative Concrete by SUNDEK National Accounts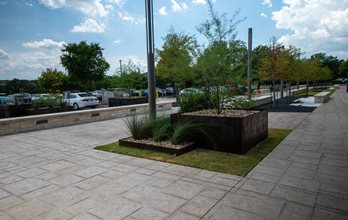 Stamped concrete is a decorative concrete technique used to imprint patterns and textures onto freshly poured concrete. Also referred to as imprinted concrete, stamped concrete can be used to create the look of brick, cobblestone, wood, and more.
Contact us
Where can stamped concrete be placed?
Stamped concrete is just as durable as a slab of plain gray concrete, so you can use it basically anywhere—even locations with lots of foot traffic. Here are some of the common locations you might see stamped concrete.
Hotel & motel courtyards
Public gardens and parks
Shopping malls
Stadiums
Theme parks
Waterparks
…and more.
Here are some of the areas of commercial properties that we commonly install stamped concrete.
Courtyards
Entries
Patios
Pool decks
Porte-cochères
Sidewalks
Walkways, sidewalks or paths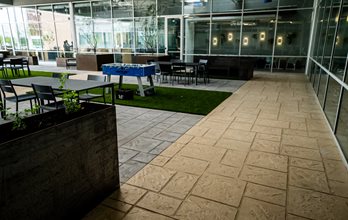 Stamped concrete vs pavers
Since you can get the look of pavers with concrete, clients often ask which is better, stamped concrete or pavers? Here are several reasons we prefer stamped concrete over pavers:
Weeds can pop up between pavers, but you don't have to deal with spaces between each paver when you have stamped concrete.
Pavers get knocked loose over time while a concrete slab stays in place.
Stamped concrete can be customized with colors, textures, and patterns, while pavers offer limited styles.
Installation is simpler with stamped concrete—you or a contractor don't have to hand-place every single paver.
Design possibilities
The opportunities with stamped concrete are endless. There are so many unique combinations you can create with the colors, patterns, and textures available. You can get everything from a wood look to an Old World cobblestone look.
In addition to being able to create the look of just about any material you like, you can imprint designs such as leaves, medallions, logos, and more.
Is stamped concrete slippery?
When finished properly, a stamped concrete surface will not be slippery. An experienced contractor such as SUNDEK will make the surface non-slip by adding a texture or including a non-slip additive to the sealer.
How much is stamped concrete?
Clients are often pleased to learn that stamped concrete is more affordable than the material it mimics. For example, creating a cobblestone driveway with real cobblestones is more expensive than creating the look of cobblestones with concrete.
The final cost of your stamped concrete project depends on a few things. Here are factors that affect the cost of a stamped concrete surface:
Finish type (sand, salt, broom, etc.)
Size of the surface (a square patio will cost significantly less than a pool deck)
Stamp type (will you be choosing from a collection of premade stamps or custom ordering a stamp?)
Number of stamps (will you be using one stamp or multiple stamps?)
Colors (will you also be coloring your concrete in addition to stamping it?)
Generally, the cost of stamped concrete ranges from $8–$18 per square foot.
How long does stamped concrete last?
Stamped concrete lasts for decades just like any other decorative concrete surface—as long as it's well maintained and you seal it with a high-quality sealer. A sealer protects the surface from general wear and tear and makes it easier to clean (learn more about sealers).
What is the stamped concrete installation process like?
If you want to know how to do stamped concrete for the purposes of doing it yourself, know that this is a simple overview and not meant to be a stamped concrete DIY guide. Generally, here's how stamped concrete is installed:
Prepare the site by forming the slab and getting the sub-base material spread and compacted.
Pouring the concrete material.
Finish the concrete surface by spreading the concrete, screeding the concrete, floating the surface, and edging and jointing.
Stamp the surface to imprint the design. It is critical to get the timing right on this step. If it's done too early, the stamp may sink too deeply into the concrete. If it's done too late, the stamp will not imprint enough.
Wait for the surface to cure and then seal it with a high-quality sealer.
We also offer stamped concrete overlays for transforming existing surfaces.
Who installs stamped concrete in my area?
At SUNDEK, we do stamped concrete in Houston, Austin, and the surrounding areas.
For more than 50 years, we've helped leading design, architectural, and development companies meet their project objectives. We'd love to help with your stamped concrete project!
Call us (888) 600-1460
Or email us [email protected]