Industrial Floor Coatings
Industrial floors take a beating from vehicles, heavy machinery, oil spills, chemicals, and more. So when it comes to industrial floor coatings, durability is key. SUNDEK can apply a heavy duty coating that can stand up to everything from hot tires to jet fuel. For more than 50 years, we have applied coatings on floors for airplane hangars, manufacturing plants, distribution centers, and the like. To get started on your project, email [email protected], call 877-478-6335, or fill out the form on this page.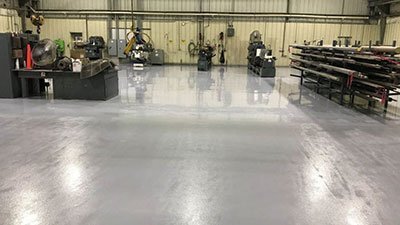 See our photo gallery of industrial floors
Why choose a concrete coating for industrial flooring
Commercial-grade concrete coatings are strong, durable, and long lasting. That's why they're a preferred choice for factories, warehouses, plants, distribution centers, and other industrial environments.
In addition to protecting your floor from all types of spills and impacts, SUNDEK will also make sure your industrial floor is safe by making it slip resistant. We'll also make it look good.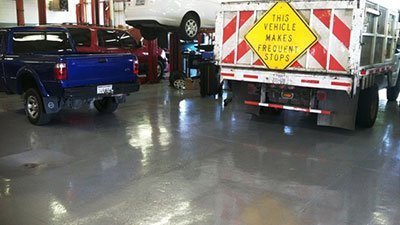 SUNDEK solutions for industrial floors
Two of the best commercial-grade concrete coatings are epoxy and polyaspartic. SUNDEK has two epoxy coatings and one polyaspartic coating to choose from.
SunEpoxy 54: A thin mil flooring system suited for light manufacturing and warehouse areas, or automotive repair facilities.
SunEpoxy 100: This high traffic, heavy duty floor coating is thicker than SunEpoxy 54, so it's able to withstand more abrasions and impact.
SunOne (a polyaspartic coating): Designed so that it can be applied and cured quickly—typically in one day.
Choosing between epoxy and polyaspartic coatings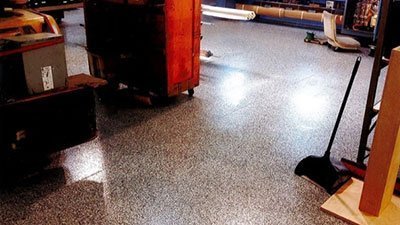 Get information on cost and maintenance.
Have questions? Contact us:
877-478-6335
Fill out the form on this page
Your Local Contractor:
SUNDEK OF WASHINGTON
14121 Parke Long Ct. #109
Chantilly, VA 20151