Where is a good spot for an indoor concrete floor?
Anywhere! SUNDEK has resurfaced beautiful decorative concrete floors in every type of room in both private homes and businesses. (See our photo gallery.)
Commercial Concrete
Overlays or stained concrete for hotels, offices, hospitals and clinics, schools and churches
Industrial Floors
Durable coatings for service bays, airplane hangars, manufacturing plants, and distribution centers
Restaurant & Retail Floors
Stained concrete floors and custom overlays for dining areas, kitchens, bathrooms, stores and showrooms
Garage Flooring
Tough epoxy and polyaspartic coatings that can be customized in many ways
Residential Floors
Staining and resurfacing for kitchens, living rooms, bathrooms, basements and more
Contact a SUNDEK concrete floor contractor to get a free quote.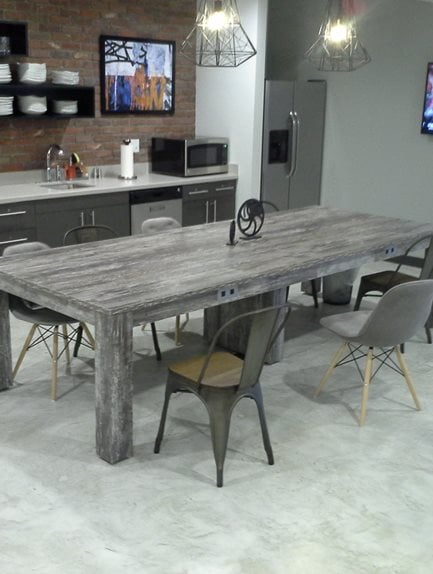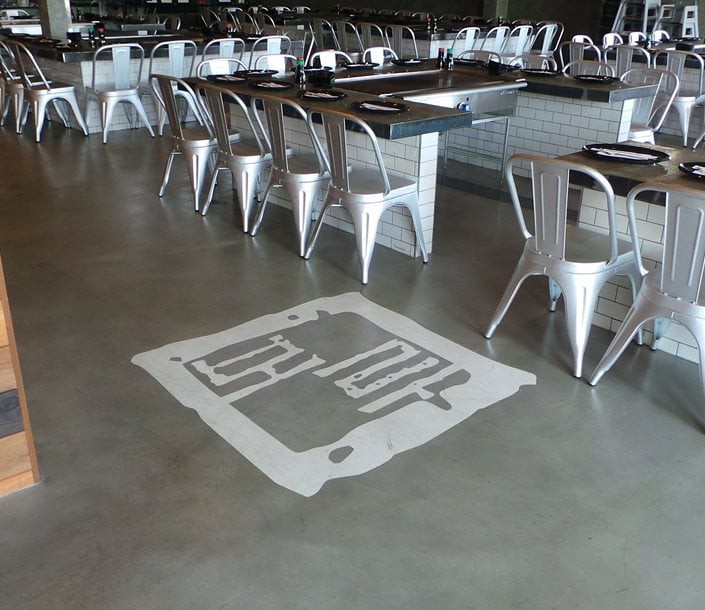 Why concrete floors are so popular
In addition to being beautiful, decorative concrete has many qualities that make it such a great material for floors.
Low maintenance
Since decorative concrete is sealed, it repels stains and other spills. Unlike tile floors, you don't have to deal with grout lines. Day-to-day cleaning is simple. Just sweep up dirt and other debris and mop when needed. Learn more about how to clean concrete.
Hypoallergenic
Bare concrete floors don't collect dust bunnies and other allergens like carpet does. See more about how concrete floors help reduce allergy symptoms.
Design options
SUNDEK coatings come in a number of patterns, colors, and textures to fit your décor and taste. Take a look at the colors SUNDEK has to choose from. If you don't see the color you like, you can speak with your local SUNDEK contractor about creating a custom color. You can also see some ideas for stamped designs and learn how to choose a texture. We can even recreate the look of a polished concrete floor using our overlay systems.
Durable & long lasting
By using a sealer, you can prevent your floor from fading or getting scuffed or scratched. And because decorative concrete floors are moisture proof, you don't have to worry about them warping or stains seeping into them.
Eco-friendly
Concrete floor refinishing is the most eco-friendly flooring solution out there. Most homes already have a concrete subfloor that supports whatever flooring material you choose to install over it. Instead of adding more material, let SUNDEK repair the concrete floor you have, making it an attractive and comfortable surface to walk on.
Learn more: 6 Ways Concrete Floors are Better than Carpet, Tile or Wood
Cost of a concrete floor
The cost of applying concrete coatings to floors varies by region because the cost of concrete varies depending on where you live. Your project's cost will also depend on other factors such as the condition of your existing surface, the size of the surface, and what type of design you're looking to do. Contact your local SUNDEK contractor to get a floor refinishing cost.
How to refinish concrete floors
Here's an overview of the installation process (details vary depending on which products are used):
Prepare & Repair. Etch, grind, or shot blast the concrete surface to make it porous. Fix cracks or other existing damage.
Clean & Prime. Mop and let the concrete slab thoroughly dry. Apply primer if necessary.
Mix Product. Following instructions, mix the concrete resurfacer to prepare it for application. Add in color if necessary.
Apply Overlay. Depending on the desired look, apply the overlay by spraying, rolling, or troweling.
Add Patterns & Texture. This is completed using hand-trowels, rakes, stamps and other specialty tools.
Cure & Seal. After the overlay cures, add a sealer for additional protection. Customers often ask us if a concrete patio needs to be sealed, and our answer is always yes. A sealer will preserve the look of your patio for longer. It also enhances its stain resistance and makes it easier to maintain.
Resurfacing a concrete floor is not easy. Our professional contractors can do it for you. Find a local contractor offering concrete floor refinishing near me.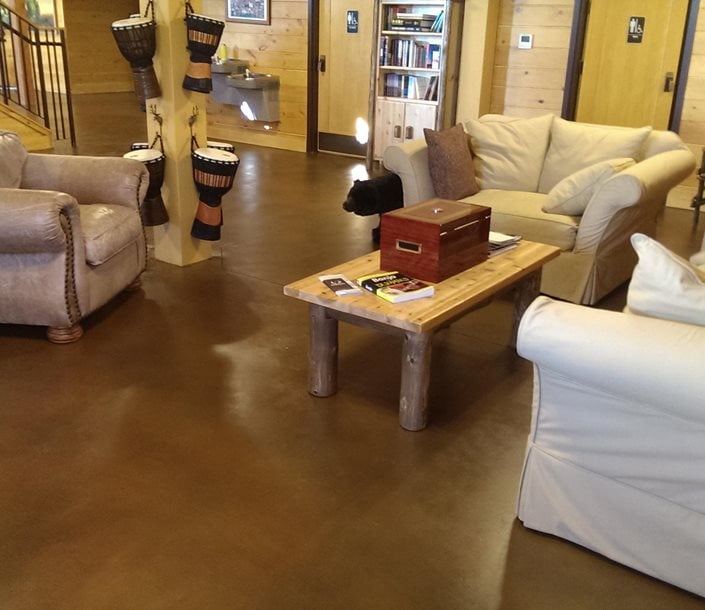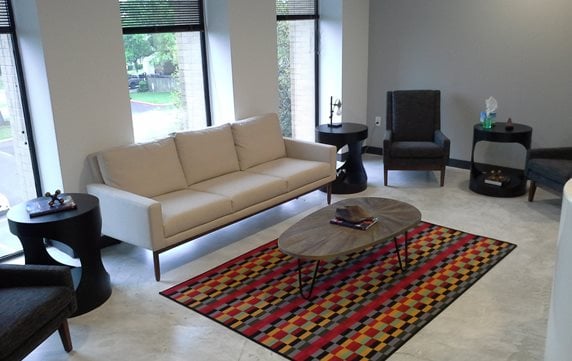 Repairing uneven or cracked floors
If your floor is uneven, that doesn't mean you can't still get a beautiful decorative concrete floor installed. Using a concrete floor leveler, your SUNDEK contractor can level uneven surfaces while also fixing cracks and other issues. Talk to a SUNDEK contractor about completing the concrete floor repair process for you.
Stained concrete floors
If you're looking to add color to your existing floors, stained concrete is a great option. Stains can be applied directly to your existing floors or we can use them with one of our SUNDEK coating systems. A microtopping like SunCanvas, or thin layer of concrete or polymer-modified cement, is a popular choice for applying to floors to create a smooth, durable finish prior to staining. Choose from acid stains, water-based stains, or liquid concrete dye in a wide selection of colors.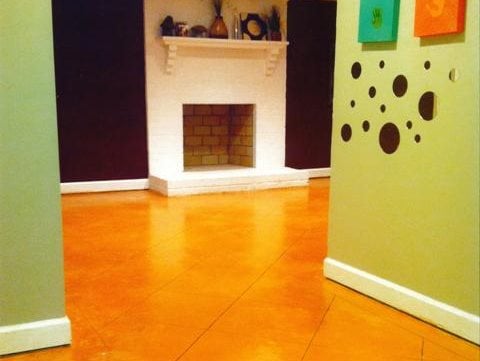 Epoxy floors
If you need a floor that looks great and can take abuse, consider an epoxy coating. Epoxy floors are known for their durability and resistance to damage, especially in garages and commercial spaces like animal care facilities, salons and more.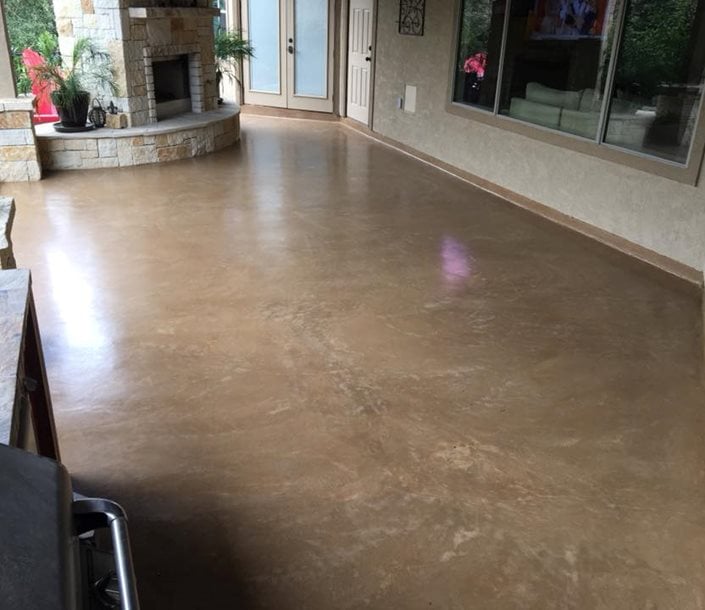 How do you clean concrete floors?
While concrete floors are low maintenance and easy to clean, it's important to take care of them so they stay looking nice. Generally, maintenance includes sweeping up dirt and other debris and mopping as needed. Learn more about how to keep the "wow" in your interior concrete floor.
Your floor care needs may be different depending on the amount of foot traffic. See our cleaning products for everyday floors and high-performance surfaces.
The best way to keep your concrete floor looking great is to invest in a sealer. Keep in mind that even high-quality sealers need to be reapplied (reapplying a sealer is less expensive than having to get your floor resurfaced again). Talk to your SUNDEK contractor about how often you'll need to reseal your surface.
Your Local Contractor:
SUNDEK OF WASHINGTON
14121 Parke Long Ct. #109
Chantilly, VA 20151