Stained Concrete Floors, Patios & More
SUNDEK has been installing beautiful stained concrete for more than 50 years.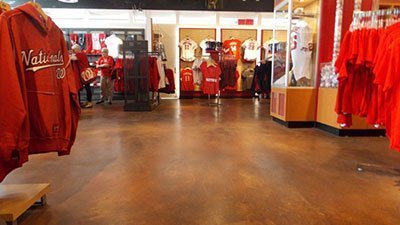 See more pictures of Stained Concrete
Although there are many reasons to love stained concrete, the ability to give it a custom look ranks at the top of the list. Stained concrete flooring offers limitless design options. There are a vast amount of concrete stain colors to choose from, and you can also create patterns, designs, and logos.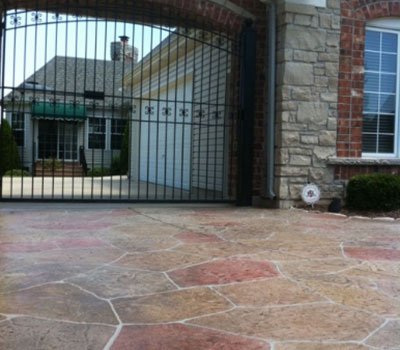 Frequently asked questions
Is stained concrete expensive?
The final cost to stain concrete depends on factors such as the size of your project, the current condition of your concrete, and your location (the cost of concrete varies from location to location). Contact a local contractor to get a quote.
Can you stain old concrete?
Yes! SUNDEK can take any surface of concrete and transform it by refinishing and staining it. Even if your concrete surface is cracked, chipping, or has any other damage, SUNDEK will be able to repair and stain it. In fact, repairing it before staining it is a critical step.
Is stained concrete for indoors or outdoors?
Stained concrete is for indoors and outdoors! SUNDEK will help you determine which sealer is best for your stained concrete so it stays looking nice longer—whether it gets a lot of foot traffic indoors or experiences harsh weather outdoors.
Does stained concrete peel?
No. Unlike paint, stained concrete does not peel because the color penetrates into the concrete surface. Read about painting concrete versus staining concrete.
Is stained concrete durable?
Yes. When concrete is stained properly, the color won't fade, chip, or peel away. Although it looks beautiful, you can treat stained concrete the same way you treat any other flooring.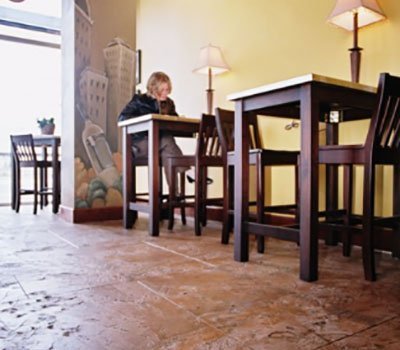 How SUNDEK does staining & coloring
We have a variety of products available, depending on what you're looking for.
For a translucent mottled look, try SunAcid. This product is for those looking for acid stained concrete floors. This acid stain for concrete is a muriatic acid base coloring solution.
For a customized look, try SunH20. This water based concrete stain can be layered and combined with many different colors.
For a faster drying time and economical say to color concrete, try SunDye. It can be used in combination with water (for more color variation) or acetone (for a darker monotone look).
Read about the difference between staining and dying concrete.
Contact a SUNDEK contractor for guidance on which type of concrete coloring is best for your project.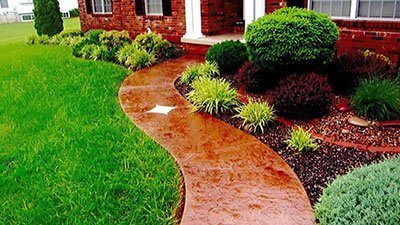 How to stain concrete
While staining concrete yourself is possible, we recommend working with an experienced professional. Here are the general steps for how to stain concrete floors (details vary depending on products used and the type of project).
Clean surface. Power wash and remove all contaminants.
Allow surface to dry completely. There should be no signs of water or moisture, otherwise the coloring effects will be compromised.
Prepare product. Mix according to instructions. Dilute with water for more variation in tone.
Apply product. The details of this step vary depending on whether you are staining or dying your concrete floor.
Maintain temperature. It's important that the surface you're staining doesn't get too hot or too cold while it's drying.
Seal. Apply a sealer to protect and preserve your newly colored concrete.
Be sure to closely follow instructions for whichever product you decide to use. The information provided here is only a general overview and should not be used as instructions for coloring your floor. Again, we recommend hiring an experienced contractor as there are many nuances when it comes to staining concrete. For example, the method of application and the sealer can both affect the way the color looks when the project is complete. If you'd like to discuss your project, contact a local SUNDEK contractor.
Maintenance
No floor is maintenance free, but maintaining a stained concrete floor is easy. The most important step you can take is to invest in a quality sealer. This will make it so that spills won't penetrate the surface and you can easily wipe them up. One of our local contractor can advise you on which sealer will work best for your floor.
Day to day maintenance includes periodically sweeping and mopping your floor to reduce potential abrasion. SUNDEK has a guide to maintaining your concrete, which includes information on products that will help you keep your floor looking great.