Stained Concrete Driveways: The Ultimate Guide
Learn how simply adding color to your driveway can transform it into a beautiful focal point for your property.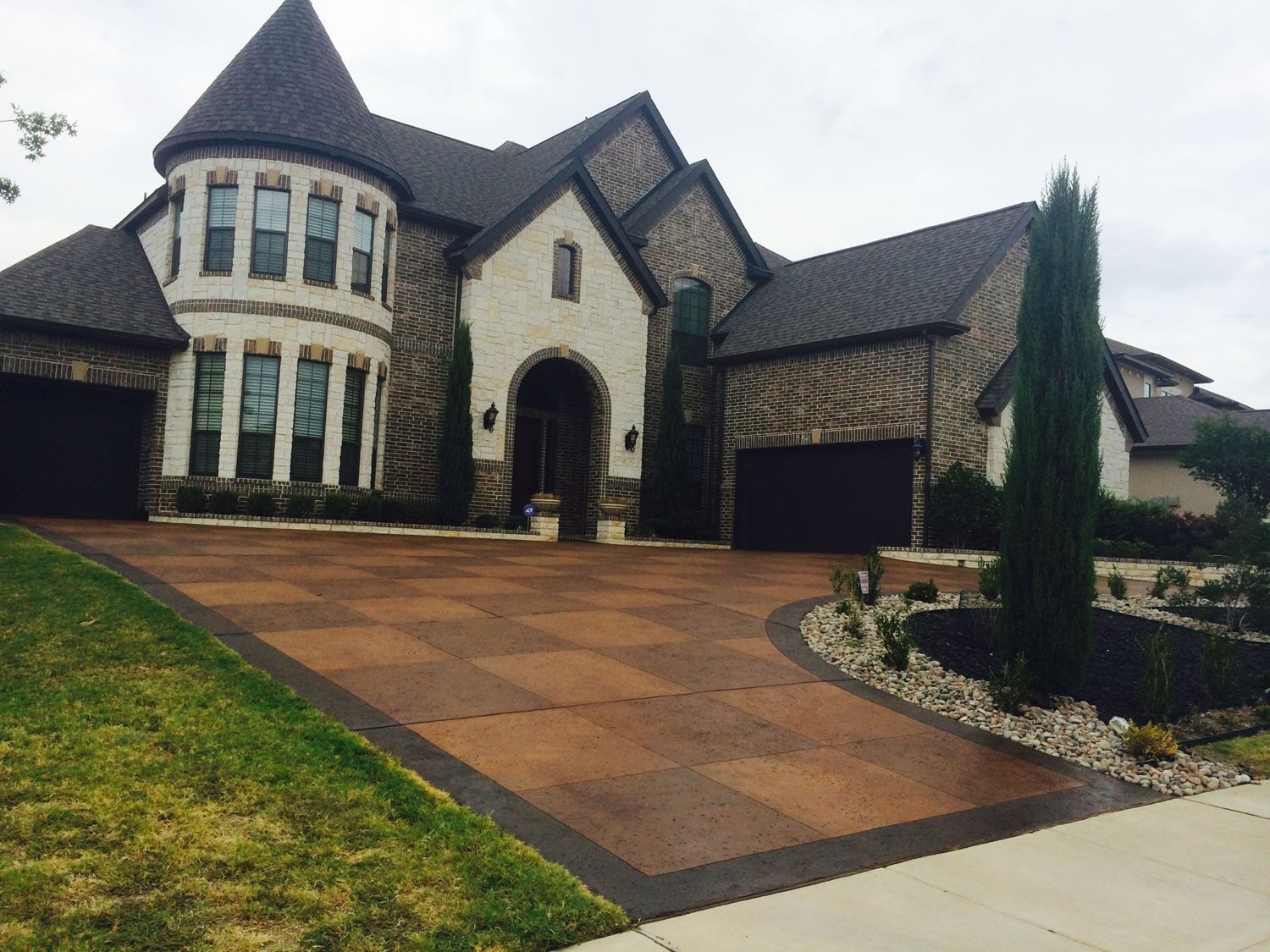 See more pictures of SUNDEK driveways
Functionality is the most important quality for a driveway, but many property owners feel that the look of a driveway is also important. After all, it's the first thing that you and visitors see upon approaching your home or business. Why not make a great first impression? Adding color is a great way to enhance the appearance of any concrete slabs, including concrete driveways.
Can you stain a concrete driveway?
Yes, you can stain any concrete slab, including driveways. Stain can enhance the appearance of any driveway, whether you have existing concrete or plan to pour a new slab.
Is staining a concrete driveway a good idea?
Staining is a great option for anyone looking to add color to their concrete driveway. With the many staining options available, there's a stain for every driveway type, no matter what style you want.
How long does concrete stain last on a driveway?
When a stained concrete driveway is properly maintained and sealed, it will last as long as the underlying concrete. When stain is applied properly, it will not fade, chip off, or peel away.
Is it better to stain or paint a concrete driveway?
When it comes to concrete, stain is always a better solution than painting. With paint, only the surface of your concrete slab is covered. Although it does provide a layer of protection and can last a long time, it does not last as long as stain. Stain permeates the pores of the concrete so it doesn't chip or peel. Learn more about painting versus staining.
Can I stain my concrete driveway myself?
Like most improvement projects, you can apply stain to a concrete surface yourself. However, before taking on the task, we suggest doing research to learn how to do it correctly. You'll also need the right tools, high-quality stain product, and high-quality sealer.
We recommend mapping out the entire process, listing and pricing out all the tools required, and thinking through how long everything will take. Also, keep in mind that there are some common pitfalls that you'll encounter when working with concrete. With all that in mind, you may decide that it's less of a headache (and possibly even less expensive in the long run) to hire a professional.
Contact us for a free quote for staining your concrete driveway
SUNDEK of Austin used SunDye to add color to this driveway in New Braunfels, Texas.
How to stain a concrete driveway
The process for staining a concrete driveway is the same process you'd follow when staining any concrete surface. The information here is not meant to provide step-by-step instructions for staining. Rather, it provides a general overview so you can determine if it's something you want to take on yourself.
Clean. Before applying any product to concrete, you need to completely clean the surface of your concrete. All contaminants must be removed—otherwise you may end up with discoloration in places. Depending on the surface, a thorough clean may also entail grinding the surface to remove existing paint or sealer.
Allow for enough drying time. After cleaning, which often requires hosing and/or pressure washing, you must allow the surface to dry completely. When you apply the stain, if you have any water or moisture in spots, the color may not take properly—resulting in patches of discoloration.
Work during the right conditions. The surface should stay at a moderate, consistent temperature throughout the staining process. If it gets too hot or too cold before the stain dries completely, you may end up with discoloration.
Prepare the product. Using the product instructions, prepare the product for application. Consult the package instructions for information about diluting color if necessary.
Apply product. The details for this step depend on what type of product you're using. It's critical to read the manufacturer's instructions completely before beginning your project so you know what tools you'll need and what other materials you'll need for dilution, etc. To apply the product, you'll use a high-quality paint roller or pump sprayer. Using high-quality application tools will make the application process smoother. It will also result in a more professional look.
Seal. A sealer is the most important step you can take to protect your newly colored concrete driveway.
We recommend hiring a professional to stain your surface. As you can see from the information above, it's important to complete each step well so you don't end up with discoloration. Hiring an experienced professional is a great long-term solution to getting the driveway you want.
Find a SUNDEK contractor near you
Types of stains
There are a variety of stains and dyes available, and the one you choose mainly depends on the look you're going for.
These are not just concrete driveway stains—they can be used for other concrete surfaces such as patios.
Best Concrete Driveway Stain Colors
There are many color options available for staining your concrete driveway—colors that go with any style of home or building exterior. Color options vary depending on the type of stain you choose. Here are SUNDEK's color brochures:
Cleaning a stained concrete surface
The best way to keep a stained decorative concrete floor clean is to apply a high-quality concrete sealer to the surface. A sealer will prevent stains from things like oils, liquids, and other contaminants that may end up on your surface. You have to seal every so often (the frequency depends on the type of surface you have and how it's used) to maintain its effectiveness. Learn more about concrete sealers.
Sealing your surface is the first step—the next step is to keep it clean with regular maintenance. That means periodically sweeping and rinsing the driveway to minimize abrasion and stains. If you hire a contractor to apply a stain or dye, they should advise you on how to best maintain it. Learn more about cleaning concrete.
Concrete contractors who stain concrete near you
If you're looking for a reputable contractor who can stain your concrete surface, we have authorized SUNDEK installers around the country ready to help.