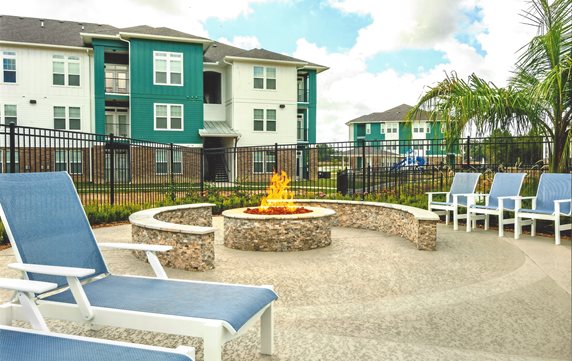 How quickly can SUNDEK complete my project?
SUNDEK prides itself on being efficient and tidy so you can resume business as usual, as soon as possible. Our commercial flooring contractors have resurfaced restaurant bathrooms in a day and pool decks in a matter of a few days. If you are looking for a very fast turnaround, epoxy floors can often be walked on in just 24 hours after installation. The amount of time your project will take depends on the condition of your existing concrete surface (for example, how involved the repair area is). It also depends on the size of the job. Get an estimate of how long your concrete resurfacing project will take.
How much does it cost to get decorative concrete installed?
The cost of your commercial project depends on the location and size of your project and what type of concrete repair needs to be done. It also depends on the concrete services being provided such as what type of floor coating is being installed and what design you're choosing—whether it's knockdown texture, stamped concrete, or a different look you're going for. Overall, compared to other options, concrete resurfacing is more cost effective in the long run. The best way to get an accurate cost estimate is to request a quote from our National Accounts team.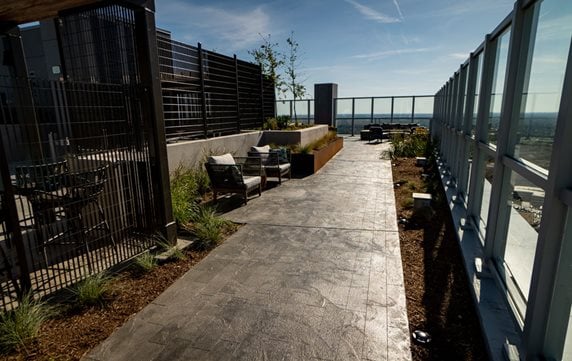 Can the color of existing concrete be changed?
If your existing concrete is in good condition, a coating may not be necessary. Stained concrete is an excellent option for commercial properties looking to bring rich color to their floors or outdoor paving. SUNDEK offers a variety of stain colors that won't fade, chip, or peel. If you do need commercial concrete repair, we can incorporate a new color into your coating.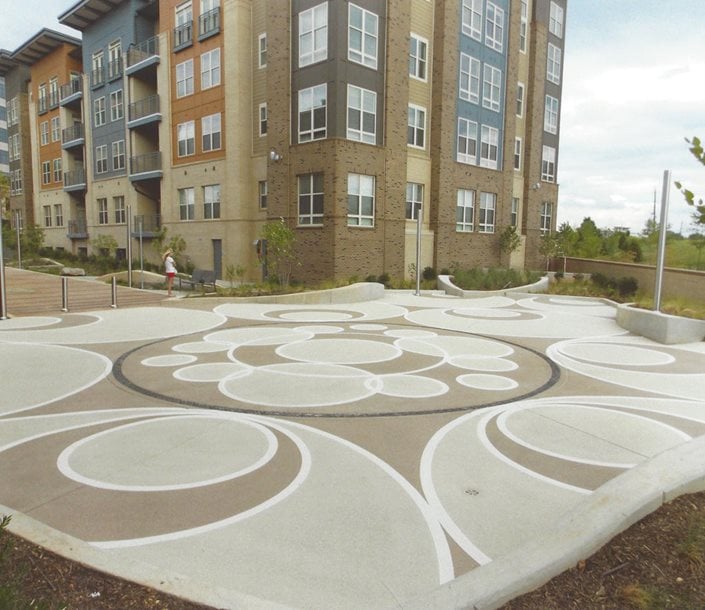 Can we replicate the look of stone?
Stamped concrete is a great way to get the look of natural stone, brick, or even wood at a fraction of the cost and with less maintenance. Our stamped overlays are great for pool decks, walkways, patios and more. There are many patterns available and custom coloring can add authenticity.
What is maintenance like?
SUNDEK will apply a sealer to your decorative concrete that makes your surface easy to clean, non-porous, stain resistant, and looking beautiful longer. You'll need to reapply high-quality sealers every few years, especially in high traffic areas. But that cost is less than eventually having to resurface your concrete again due to neglect.
General maintenance includes sweeping up dirt and other debris and mopping as needed. You can also see our line of cleaners for everyday surfaces and our cleaner for high-performance surfaces.
How is decorative concrete installed?
The details of commercial concrete installation vary depending on where the coating is located and which products are used. Here is a general overview of the resurfacing process.
Prepare & Repair.
Etch, grind, or shot blast the concrete surface to make it porous. Fix cracks or other existing damage.
Clean & Prime.
Pressure wash and let surface thoroughly dry. Apply primer if necessary.
Mix Product.
Following instructions, mix the product to prepare it for application. Mix in color if necessary.
Apply Overlay.
Depending on the desired look, apply the overlay by spraying, rolling, or troweling.
Add Patterns & Texture.
This is completed using hand-trowels, rakes, stamps and other specialty tools.
Cure & Seal.
After the overlay cures, add a sealer for additional protection.
If you're looking to improve your commercial spaces through floor resurfacing, SUNDEK can help! Our National Account managers have helped Fortune 500 companies across the globe update their pools, patios, entrances, and indoor spaces. See how we can help!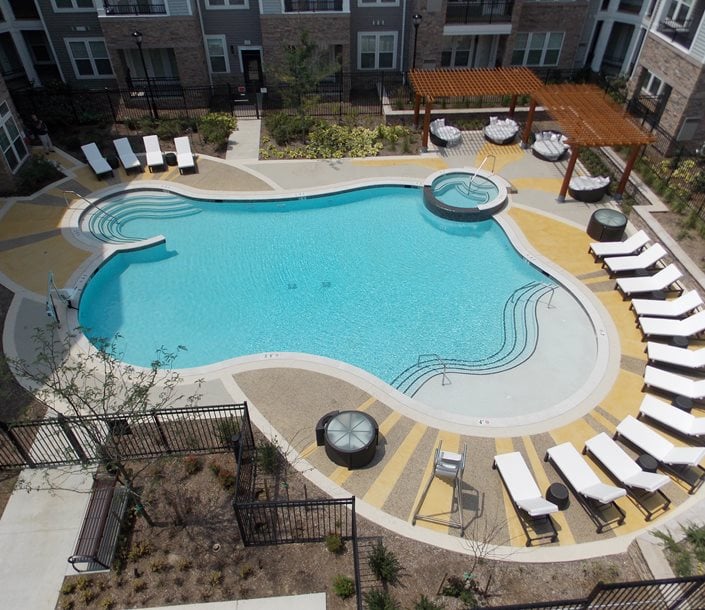 Featured Video
A People-First Mentality
At SUNDEK, it's about much more than just our products. It's about the people—the customers and contractors we work with—and how we can find the best solutions for their needs.
Watch Series
---
Featured Video
SUNDEK Transforms Shared Outdoor Spaces at Luxury High-Rise Apartments
At Lumen Apartments in Tysons, Virginia, SUNDEK of Washington partnered with Susan England of Land Design Architects to create the surfaces for walkways, sitting areas, BBQ area, and patio areas for a shared outdoor living space. To get the modern, rustic look that Lumens was looking for, SUNDEK used their SunStone pattern in travertine finish in both gray and light gray colors. In this video, Bob Miller—the general manager at SUNDEK of Washington—talks about how SUNDEK was able to take an uneven, damaged concrete surface and transform it into a beautiful space, creating a natural outdoor concept in a modern, everyday building.
More Videos
Your Local Contractor:
SUNDEK OF WASHINGTON
14121 Parke Long Ct. #109
Chantilly, VA 20151