Hotels & Motels
SUNDEK has updated entries, lobby floors, porte-cochères, and dining areas at hotels and motels all across the country. We've also resurfaced pool decks to make them safer for guests to walk on while also making them picture-perfect.
Call us at 877-478-6335
Email us at [email protected]
Or fill out the form on this page.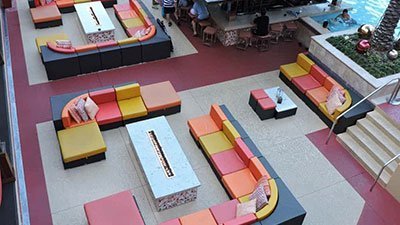 See more pictures of hotels and motels
Design options
With decorative concrete, the design options are endless. There are a variety of colors and textures to choose from, and you can create just about any pattern using score lines. Take a look at our color options, but know that if you don't see one you like, you can work with SUNDEK to create a custom color.
If you like the look of wood, brick, limestone, or other masonry effects, you can create that look with concrete, which is much more durable than other materials. You can even create logos, pictures, or other custom designs.
A beautiful floor—whether it's an entryway, pool deck, walkway, or even just a bathroom—matters to your guests. Installing durable floors that also look beautiful will make a big difference during their stay with you.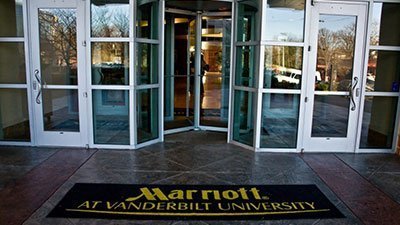 Nashville Marriott at Vanderbilt University.
Maintenance
Though no flooring material is maintenance free, a properly sealed concrete floor is easy to maintain. General maintenance includes periodically sweeping or blowing off dust or other debris. A quality sealer makes it non-porous, meaning it's easy to wipe up spills. For dirt spots, you can either clean them with a mop or use a hose or pressure washer to clean them off.
For stubborn spots, you can use commercial cleaners, but they should be non-abrasive and formulated for the surface. Read more about concrete floor maintenance and see cleaning products.
Why work with SUNDEK
We've worked with many hotels and motels around the country including Hilton, Marriott, Omni, La Quinta, Intercontinental, and more. We're experienced at working with architects and designers to get projects in the hospitality industry done in a timely manner.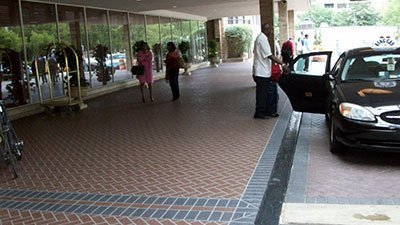 Omni Shoreham Hotel in Washington, DC.
Project length
We understand that hotels and motels can't afford to close down large portions of their properties for long periods of time. At SUNDEK, we pride ourselves in getting projects done efficiently so you can proceed with business as usual, as soon as possible. (We have even completed small projects overnight!) The length of time it will take to complete your project depends on the size of your project, the state of your existing concrete surface, and the details involved in the design.
Have questions? Contact us:
[email protected]
877-478-6335