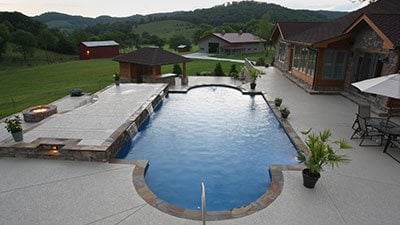 Why concrete coatings are such a popular choice for pool deck repair:
Homeowners and commercial property owners love concrete coatings because they're durable, easy to maintain, and they can be customized with colors, textures, and patterns of your choice.
Get an estimate for pool deck resurfacing near me from a local Sundek contractor.
Concrete lasts much longer than other materials. The exact number of years it lasts depends on the use, care, and abuse, but if cracks surface, they can be easily repaired. Unlike pavers, which can move and settle if not properly installed. Once set, the concrete will remain in place for many years to come.
---
With a sealer, your concrete surround will be protected from daily wear and tear and stains.
---
You can choose from many colors, textures, score lines, and custom designs that aren't available with other materials. You can coordinate with the style of your home, outdoor patio, and even your landscaping. SUNDEK can create a number of looks including flagstone, slate, brick, granite, and more.
---
How much does it cost to resurface a pool deck?
The cost of resurfacing pool deck surrounds varies by region and the condition of the existing concrete surface. When working with one of our contractors, you'll receive a customized quote based on a price per square foot.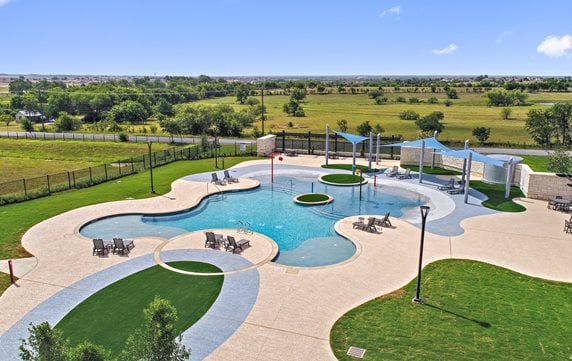 Frequently asked questions
A SUNDEK surface stays cooler than typical gray concrete, exposed aggregate, pavers, tile and even epoxy. Learn more about our cool pool deck options. But keep in mind that any surface will absorb heat on a hot day. If you live in an area with high summer temperatures or if your swimming pool is in a spot with full sun, we recommend choosing a light color which will absorb less heat than a dark color.
---
Safety is one of our top priorities, so our products are designed to transform surfaces from slippery to non-slip. For more details, learn more about how we install anti-slip decorative concrete. (Please note that SUNDEK cannot be held responsible for slip and fall incidents.)
---
Our coatings add a thickness of about two quarters stacked on top of each other (just under a quarter-inch). However, if a concrete surface is uneven, we use our blending overlay which can get up to 2 inches thick.
---
---
Existing cracks won't prevent you from getting the pool deck you want. SUNDEK can assess the cracks and figure out the best way to fix them before resurfacing.
---
With proper cleaning and maintenance a SUNDEK surface can last 10 to 15 years, depending on use. We have seen surfaces last up to 25 years!
---
See More Frequently Asked Questions
Design
SUNDEK can help you create a look you love. Whether you want knockdown texture or the look of natural stone, we can create just about any look with our variety of colors, textures, and other effects.
Colors
We offer many colors to choose from, ranging from neutral to bold and vibrant. To see color options, take a look at our color charts. If you don't see the exact color you want, speak with your local SUNDEK contractor about custom colors.
Textures, Patterns & Masonry Effects
You can get unique designs using saw cuts, aggregates, various textures, stamped concrete overlays and score lines (borders, bands, stars, and other patterns). If you love the look and feel of wood, flagstone, slate, or other materials, SUNDEK can help you get that look without breaking the bank. The surface will also be more durable since you can coat it with a finish that protects it from stains and daily wear and tear.
After you have chosen a design you like, take a look at options for concrete overlays and acrylic top coatings. Feeling overwhelmed by all the options? Don't forget that you can always contact a local contractor for help!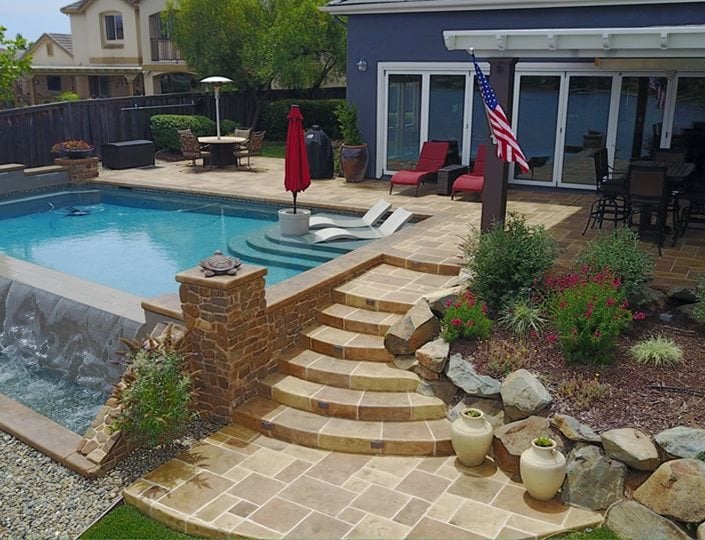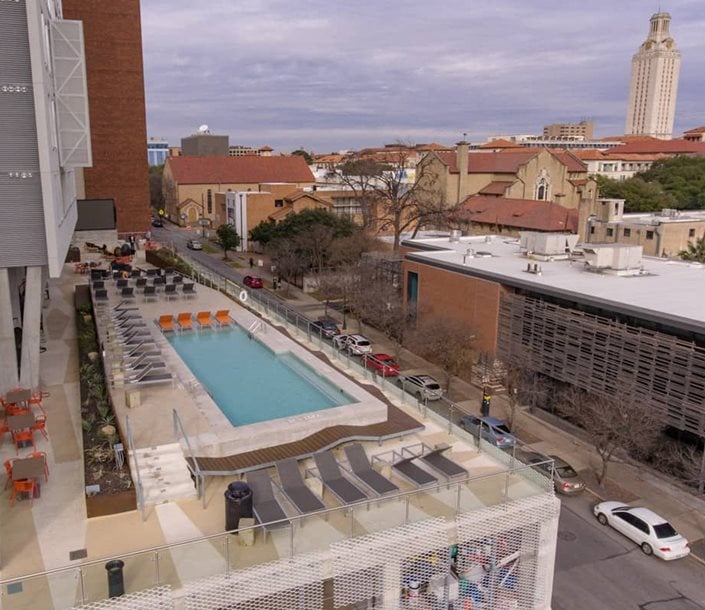 How to resurface a pool deck (installation)
Here's an overview of the pool deck resurfacing process (details vary depending on which products are used):
Prepare & Repair. Etch, grind, or shot blast the concrete surface to make it porous. Fix cracks or other existing damage.
Clean & Prime. Pressure wash and let surface thoroughly dry. Apply primer if necessary.
Mix Product. Following instructions, mix the product to prepare it for application. Mix in color if necessary.
Apply overlay. Depending on the desired look, apply the overlay by spraying, rolling, or troweling.
Cure & Seal. After the overlay cures, add a sealer for additional protection, greater strength, and enhanced stain resistance.
Concrete coatings are not easy to apply. Our professional contractors can do it for you. Find a local contractor.
Maintenance
To keep your surface in great condition, use a broom or mop to remove dust, grass clippings, or other debris every few weeks. You can simply spray off the surface with a hose to resolve any dirty spots.
Even though several of our top coatings are chemical and moisture resistant, it's important to clean chemical spills as quickly as possible. For stubborn spots, you can use commercial cleaners, but they need to be non-abrasive and formulated for the surface. You can use a pressure washer if necessary.
What are the options for pool deck coatings?
When deciding on a coating, there are several factors to consider including color, texture, pattern, and overall care. SUNDEK has a variety of coating systems available so you can get a pool deck with the qualities you're looking for. Remember that you can apply any design to nearby pathways, patios, or other concrete surfaces to create a cohesive look.
You don't need to select just one options-you can mix and match. For guidance on choosing which system is right for you, or to discuss design ideas, contact a local contractor or check out our project gallery.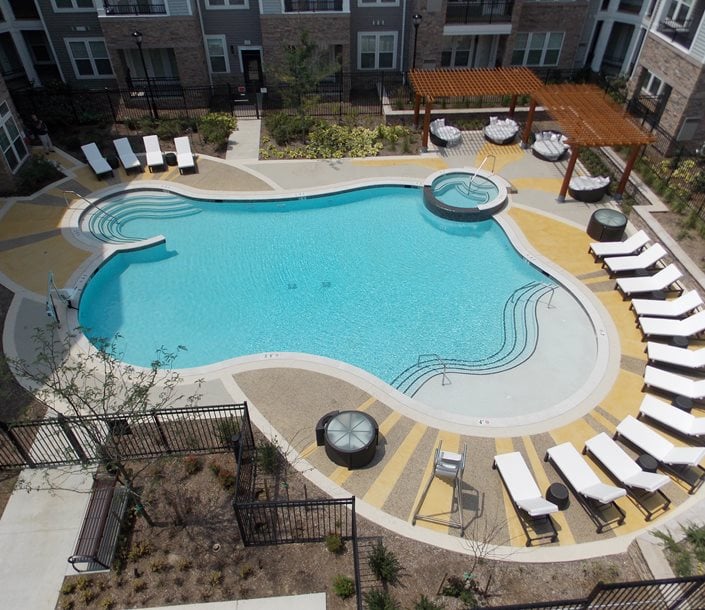 SUNDEK Products for Pool Decks
Your Local Contractor:
SUNDEK OF WASHINGTON
14121 Parke Long Ct. #109
Chantilly, VA 20151