How to Protect Your Pool Deck During Winter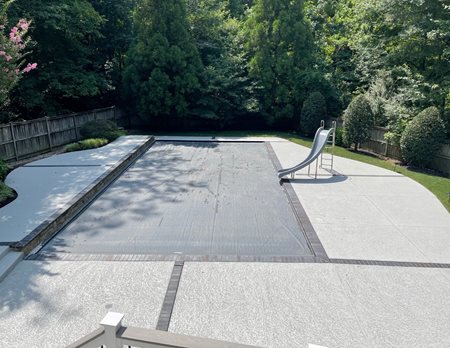 Winterizing your pool and pool deck for winter will increase the lifespan of your surface.
All summer long, a SUNDEK coating not only brings a decorative element to outdoor spaces—its textured quality makes it slip resistant and comfortable for bare feet to walk on. To maintain these qualities and enhance its longevity, you need to protect your SUNDEK pool deck coating from winter weather.
Get a free quote
Blow debris off the deck. If they're buried under snow and ice all winter long, leaves and other debris can stain your deck's surface. Removing debris makes spring clean-up a lot easier.
Make sure your pool deck is properly sealed. The best way to protect your deck is with a high-quality sealer. A sealer will shield the deck's surface from moisture, preventing it from getting damaged from freeze/thaw cycles. How often your pool deck needs to be resealed depends on your location, how the surface is used, and other factors. Talk to your SUNDEK installer about coming up with a schedule for resealing that's appropriate for your surface. Read more about concrete sealers.
Cover the pool. Depending on the type of pool cover you have, there may be additional precautions to take during this step.

If your cover has springs, put spring covers on them so they don't damage your deck. When wind makes the pool cover billow up and down, it stretches and contracts the springs which sometimes causes them to rub away at the deck coating. The springs can also leave oxide marks or create permanent wear lines. There are several ways to cover springs: use small pieces of carpet or laminate under the springs to protect the pool deck surface.
If your cover has a water bag, put a small piece of plywood or other barrier between the water bag and deck surface. When the water bag freezes, it creates a freezing "micro-arctic climate" right on top of the deck's surface which can cause pop-outs. The plywood or other barrier will act as an insulator, protecting the surface.
Here are some additional ways to care for your pool over winter.
Lower the pool water to prevent damage to your built-in skimmer if water freezes.
Let the chemicals run out of your feeder. Leaving chemicals such as chlorine or bromine tables in your feeder over the winter can cause damage to it and other equipment.
Clean your pool and balance the water chemistry to prevent the water from staining and etching the pool's surface.
Add a winterizing chemical kit to your water to keep it blue and clear.
Blow out water and plug lines so lines don't freeze.
Drain all the water from your filter equipment. Do this before putting the cover on.
Though some work is required, taking the steps to properly prepare your pool deck for winter will pay off when you have a pool that's ready to go once warm weather arrives.
Related: Protecting your patio from winter weather
Your Local Contractor:
SUNDEK OF WASHINGTON
14121 Parke Long Ct. #109
Chantilly, VA 20151