Is Your Concrete Patio Protected From Winter Weather?
If you want to enjoy your patio for years to come—and you don't want to see big, unsightly cracks or crumbling edges—you need to protect it from the elements, especially freezing winter temperatures, ice, and snow. If you didn't opt for a concrete coating or some other weatherproof sealer on your concrete, give your local Sundek contractor a call before the next big freeze. (Learn why sealers are so important.)
Why Does Concrete Need to Be Winterized?
What happens if you don't protect your concrete patio (or driveway) against winter weather? After the first snowfall, you may shovel off your patio, or you may just clear a path to get out the door and to your car. Whichever the case maybe, as the sun comes out and melts away the snow, water is left behind, and it seeps down into the pores of your concrete. Then, when the temperature drops again overnight, that water freezes and expands, sometimes causing cracks, spalling, pitting and damage.
This is especially problematic if you've chosen outdoor concrete paint or an unsealed concrete as the finish for your patio. As cracks in the concrete become worse, the paint colors of your beautiful patio floor will start to flake away, leaving the bare concrete exposed underneath. That's just not an attractive look, especially when you spent hard-earned money on that beautiful concrete pad.
When Should You Reseal a Concrete Patio?
Now, you may be patting yourself on the back, remembering that you chose to spend a little bit of extra money on a quality concrete sealer for your patio. If your patio is just a year or two old, you probably have nothing to worry about. However, you might want to call your concrete contractor and ask about your sealer's lifespan.
Even the highest quality coatings and other outdoor concrete sealers need to be reapplied every few years if you want them to keep working at their maximum capabilities. Furthermore, resealing your patio is not nearly as expensive as getting it completely resurfaced if it gets ruined during a harsh winter.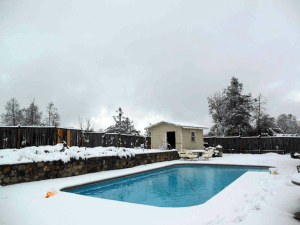 What else can be done to protect concrete over winter?
If you have any cracks or chips on your concrete surface, address them now. One of the most common causes of concrete deterioration over time is water penetration and absorption. When this happens, the moisture can freeze and thaw throughout winter, causing expansion and contraction. The expansion can cause spalling or further crack concrete in weak areas. By repairing cracks and chips, you make it more difficult for water to penetrate the surface.
Maintaining Your Decorative Concrete Throughout Winter
Keeping your patio free of snow and ice as much as possible will help it maintain its attractive look.
Most importantly, talk to a qualified decorative concrete contractor about the steps you should take each winter to keep your patio looking new and beautiful, and always follow their advice when it comes time to reseal your concrete floors.