Reasons to resurface your driveway
We've worked with clients who are resurfacing as part of a driveway renovation, but the most common reasons to resurface is because the existing concrete driveway is damaged. We do concrete driveway repair, so if your driveway has any of the following problems, we can repair it in a matter of days:
Driveway cracks
Salt damage
Pitting
Potholes
Discoloration
Crumbling surface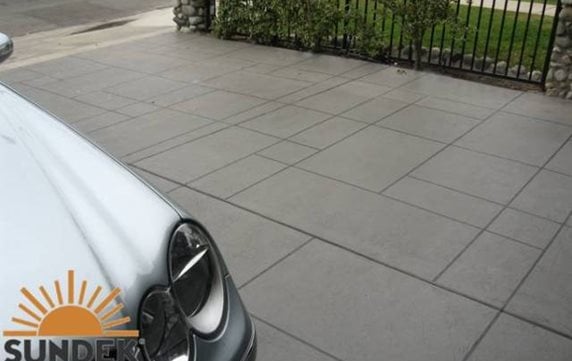 Cost of resurfacing a concrete driveway
The cost of concrete resurfacing varies by region, and the cost of your project depends on the state of your existing driveway and what design you want. When working with one of our dealers, you will receive a custom quote based on a price per square foot.
Contact your local dealer to get an estimate to resurface your driveway.
If you're wondering how much it costs to repair a crack in a concrete driveway, it depends on the depth and length of the crack. See more about crack repair here.
Frequently asked questions
To make your driveway look better, start with power washing the concrete. Next assess damage and repair cracks. Then further enhance its appearance, you can talk to a contractor about resurfacing or staining a concrete driveway.

If you've seen driveway paint as an option for revamping the look of your concrete driveway, we encourage you to research the longevity of concrete paint very carefully. See our article about concrete stain versus paint for more on this topic.
---
Yes! Concrete resurfacing begins with an existing concrete surface. After preparing the surface, a concrete overlay (also called a concrete coating) is applied to the existing concrete. See our product and system options.
---
A concrete overlay will last for many years when it's correctly applied and protected by a sealer, even if there's heavy vehicle and foot traffic. After having concrete driveway resurfacing done, keep up with maintenance and reapply sealer when necessary to keep your driveway looking fresh longer.
---
Because driveways need to bear a lot of weight, it's important to get the thickness right. At a minimum, a concrete driveway needs to be at least 4 inches thick. According to the Concrete Network, making your driveway 5 inches thick will add to the cost, but it will also increase its load-bearing capacity by 50%. The SUNDEK dealer you work with can help you figure out what will be best for your needs.
---
Yes. Stamped concrete is a great option and is just as durable as a smooth, flat surface.
---
The steps you take to repair your driveway depend on the type of damage and what your plans are. Customer often ask, "Can you patch up a concrete driveway?" Yes, you can patch it. But you may want to take it a step further and resurface it. That will give your entire surface a consistent look. During the resurfacing process, your contractor will repair any damage that's present.

If you're wondering, is it worth it to resurface a concrete driveway? We tell our customers that yes, while it's more expensive upfront, it's worth it in the long-run. Learn why resurfacing your driveway is better than replacing your driveway.
---
See More Frequently Asked Questions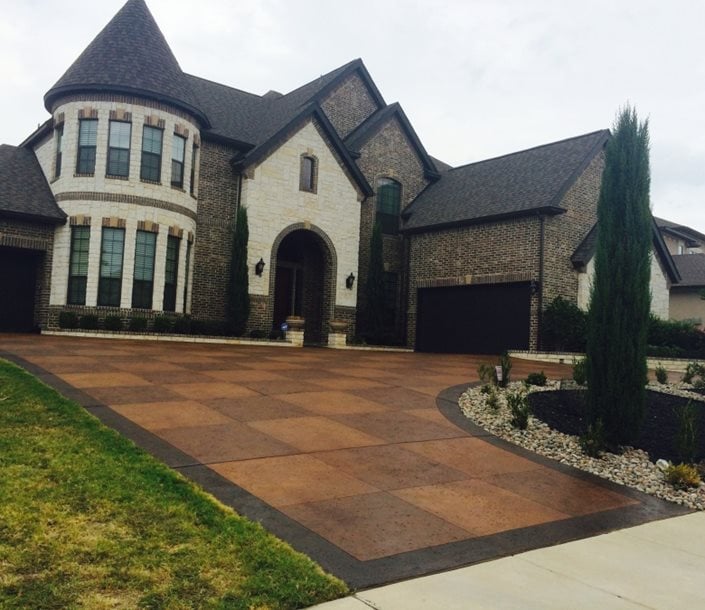 Design options
Your driveway is the first thing people see when they get to your home or business, and SUNDEK can help you design one with a look you love. We have many products to choose from that offer a variety of colors, patterns, textures, and masonry effects. If you're having a hard time deciding, take a look at our Driveways photo gallery.
You can also contact your local SUNDEK dealer to discuss options.
What is the best product to resurface a concrete driveway?
Choosing the right finish for your driveway is really a matter of taste. You can add color with a concrete stain, have a spray texture applied, use stamps to make it look like real stone and more. Here are some of our most popular finishes:
What is the best way to resurface a driveway?
The best way to resurface a driveway is to contact an experienced, professional licensed contractor. Resurfacing is not a task to take lightly. Here's an overview of the installation process (details vary depending on which products are used):
Prepare & Repair. Etch, grind, or shot blast the concrete surface to make it porous. Fix cracks or other existing damage.
Clean & Prime. Pressure wash and let surface thoroughly dry. Apply primer if necessary.
Mix Product. Following instructions, mix the product to prepare it for application. Mix in color if necessary.
Apply overlay. Depending on the desired look, apply the overlay by spraying, rolling, or troweling.
Add Patterns & Texture. This is completed using hand-trowels, rakes, stamps and other specialty tools.
Cure & Seal. After the overlay cures, add a sealer for additional protection. Customers often ask us if a concrete driveway needs to be sealed, and our answer is always yes. A sealer will preserve the look of your driveway for longer. It also enhances its stain resistance and makes it easier to maintain.
Resurfacing a concrete driveway is not easy. Our professional dealers can do it for you. Find a local dealer who does driveway resurfacing near me.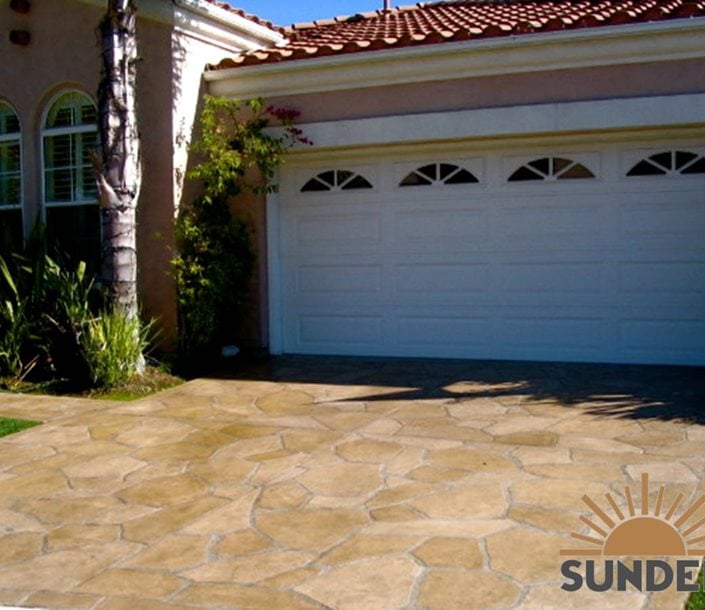 Featured Video
Residential Driveway Restored
See how SunRestore was used to recolor and bring to life a long and amazing stamped driveway.
More Videos
Maintenance
The best way to lengthen the lifespan of your concrete driveway is to invest in a sealer. Keep in mind that even high-quality sealers need to be reapplied (reapplying a sealer is less expensive than having to get your driveway resurfaced again). Talk to your SUNDEK dealer about how often you'll need to reseal your driveway.
Aside from applying a sealer, maintenance includes using a broom or mop to remove dust, grass clippings, or other debris every so often. You can also spray off the surface with a hose to resolve any dirty spots. Get more concrete cleaning tips.
We suggest using our product Sunspot to remove stubborn stains, but you can use other cleaners as long as they are non-abrasive and formulated for the surface. You can use a pressure washer if necessary. Also, see our recommendations for removing tire marks.
Although several of our top coatings are chemical and moisture resistant, we recommend that you clean chemical spills as quickly as possible.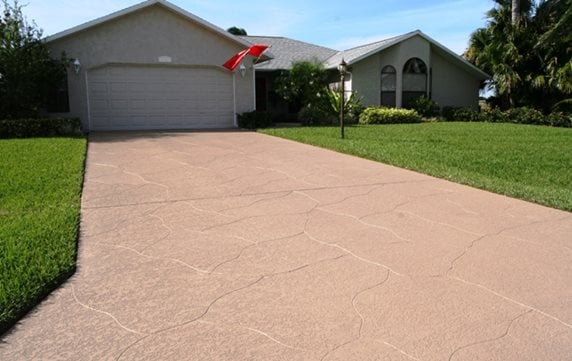 Get more information about maintenance
Your Local Contractor:
SUNDEK OF WASHINGTON
14121 Parke Long Ct. #109
Chantilly, VA 20151