Exposed Aggregate Concrete: Get the Look with Resurfacing
How SUNDEK Aggregate Effects enhance the look of old or damaged concrete
At SUNDEK, we use Aggregate Effects to enhance the look and functionality of decorative concrete coatings at both residential and commercial properties.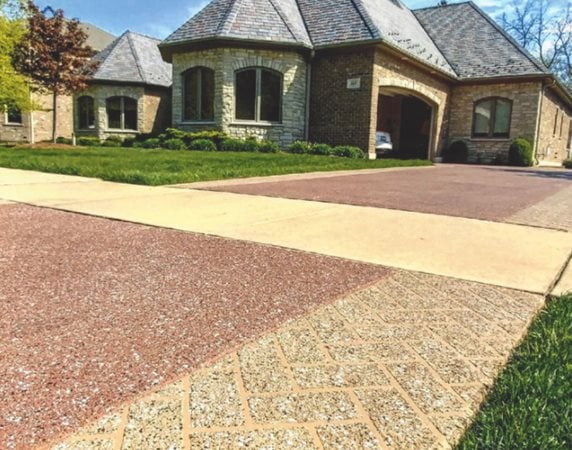 What is exposed aggregate concrete?
Exposed aggregate concrete is a decorative finish where the top layer of concrete is removed to reveal the small aggregates beneath the surface. Sometimes people refer to this look as "pebble concrete" or a "sand wash finish". It is typically done shortly after pouring fresh concrete.
However, SUNDEK can create a similar finish using our coating systems. This means if you have an existing concrete surface that is structurally sound, we can resurface it to look like exposed concrete.
Get a free quote for your project
What are the benefits of Aggregate Effects?
Customers are often drawn to the look of Aggregate Effects and are pleasantly surprised at the other benefits it brings. Aggregate Effects do the following:
Camouflage dirt and grime that gets tracked onto the surface.
Add another dimension of color and texture.
Create a texture that makes the surface slip-resistant.
How are Aggregate Effects achieved?
This effect is applied by spraying multiple speckles of different colors of acrylic finish coat. The result is a look that emulates the look of washed aggregate concrete or granite.
Can Aggregate Effects be used with other SUNDEK systems?
Yes! We can apply Aggregate Effects over these SUNDEK systems:
Contact your local SUNDEK contractor to get a free quote for your project
Your Local Contractor:
SUNDEK OF WASHINGTON
14121 Parke Long Ct. #109
Chantilly, VA 20151