What is important to you, is important to us.
The Sundek National Accounts team specializes specifically in commercial and industrial projects globally. For over 50 years we've built relationships with hospitality groups and construction companies, and have also worked on numerous government projects across the country. We work hand in hand with architects and the design-build community from concept design to remodel projects. Our team of professionals are available to assist in the determination of the best Sundek product and design for your next project.
To get in touch with one of our Sundek National Accounts team members / problem solvers, call us at 877-478-6335 or email us at solutions@sundek.com.
Benefits of working with our Sundek National Accounts Team
Assigned Account Manager backed by an experienced operations team
Sundek corporate-trained installation teams
Fully insured & licensed
Professional expertise & design consultations available
Here are just a few brands we've worked with.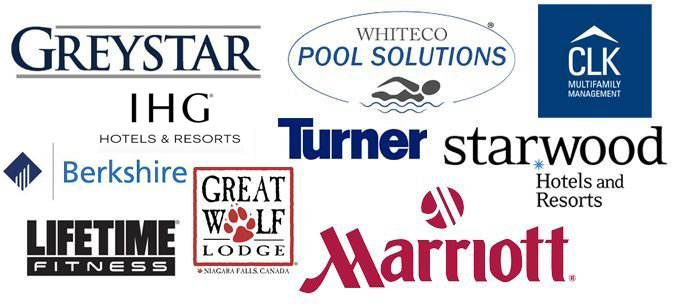 Hotels & Hospitality Management Companies
Apple Hospitality REIT (Brand Name Hotel Owners)
Best Western
Hilton Worldwide
Intercontinental Hotel Group (IHG)
Interstate Hotels & Resorts
La Quinta Hotels & Suites
Marriott International Hotels & Resorts
Omni Hotels & Resorts
Starwood Hotels & Resorts
White Lodging
Great Wolf Lodge
Property Management Companies
Associated Estates Realty Corporation
Cencor Property Management
Colonial Properties
Flournoy Property Management
Greystar Property Management
Oxford Properties
Pollack Shores
Cortland Partners
CLK Properties
Berkshire Properties
General Contractors
Hotel Rehab
Batson-Cook Commercial Construction
Contracting Commercial Services
ICI Construction
Manhattan Construction
US Army of Corps of Engineers
Franklin Construction
McShane Construction
WhiteCo Pool Solutions
Turner Construction
Design Firms & Architects
Gilliana Pools
Aquatic Design
HKS Architects
Mayse & Associates
Smallwood, Reynolds, Stewart & Stewart
Gensler – Architectural & Design
Fitness Facilities
24 Hour Fitness
LifeTime Fitness
Playgrounds & Waterparks