You stand on it.
There aren't many who can say they helped start and shape an industry.
Since 1970, when brothers from Southern California invented it, SUNDEK has been the foremost experts in decorative concrete resurfacing. We've resurfaced everything from airports to carports… Five star hotels to two bedroom homes. SUNDEK transforms your visions into reality with colors, textures and design combined with the economy, durability and strength of concrete. We stand behind every SUNDEK surface so that you can stand on it …for years to come.
We stand behind it.
When SUNDEK was developed by the Stambaugh brothers…Les, Stan and Mark, they had no idea that they were beginning an industry that did not exist. In the Swimming Pool Age Magazine cover story in 1984, The Great Cover Up, founder Les Stambaugh establishes Sundek as the premier coating system for existing concrete in the U.S. The brothers formed a company – Surface Decking Company, based in Los Angeles, California, that was fast-becoming the standard that decorative coating companies would be measured.
In 1970, the basic premise of this technology was reformulated into a coating process that could be applied over existing concrete surfaces as a remodeling tool. A few years later a finish coat was developed to top the process and give an easily cleaned and repairable surface, yet one that allowed the concrete to breathe. This finish coat is one of the keys to the success of the SUNDEK process and the formulation is so unique that many have tried to copy it.
In the late 70s, the process was expanded further with the introduction of SUNDEK Masonry Effects. This was made possible by the development of unique plastic template and a newly formulated finish coat that would break along the edges, allowing a clean neat line at all grout joints. SUNDEK now had unlimited design capabilities and the demand for the product increased dramatically.
Due to tremendous demand on this revolutionary product, it was decided in the early 80's to expand SUNDEK to a national level and set up a unique dealer program. The combined workforce of the SUNDEK dealer network annually installs between thirty and forty million square feet of SUNDEK. This approach gives each dealer an exclusive geographic area in which to market. It is also required that each dealer be properly trained in the sales and application processes. Detailed manuals, quick reference cards and our new LMS-Learning Management System on all Sundek systems allow us to sell and install our product with a careful, watchful eye toward the quality expected from a SUNDEK dealer.
Today SUNDEK and its dealer network stand alone, as the standard for the decorative concrete industry. SUNDEK'S success generated many competitors, each striving to reach the quality of the SUNDEK dealer program. We now have a large network of strong, quality conscious dealers, both in the United States with the ability to service our international clients as well (US Naval Base- Bahrain).
SUNDEK has received widespread public approvals in all climate conditions ranging from the state of Florida to the state of Illinois. With thousands of nationwide referrals available, it is no wonder that Sundek has been accepted by testing authorities and specified daily by leading architectural firms and national account managers.
The combined workforce of the SUNDEK dealer program in the United States now installs between thirty and forty million square feet of SUNDEK each year. We are constantly researching and experimenting with new innovations in the cement and flooring business – SunStamp, Tuscan, SunCanvas, SunStone, SUNDEK Commercial Finish System, SUNDEK Aggregate Effects being the latest innovations introduced.
Combining the quality training of the dealers in the SUNDEK program along with the innovations in markets, chemistry and applications being constantly pursued, it is little wonder SUNDEK finds itself as the industry standard today – often copied but never equaled.
Read and watch feedback from real clients across the nation. Home Owners, Property Managers, Pool Builders and General Contractors.
SUNDEK with its over 40 years of experience has built up some very strong relationships with many top Fortune 500 companies across the nation. See who trusts their image, brand and concrete with Sundek and why it is smart decision to do business with Sundek.
SUNDEK has an annual award program to recognize the quality projects that our National Dealer Network installs. Here are just a few of those winners that have also gone on to win national wards for the American Society of Concrete Contractors sister organization The Decorative Concrete Council's Awards.
SUNDEK has been fortunate to work on some of the most interesting projects. Here are some examples of a few of those residential & commercial projects that thrilled our customers and made our dealers proud to call them their own.
We don't want you as a customer for now.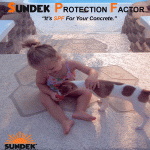 We want you as A Customer For Life!
That's why we have developed systems and worked with our dealers to implement programs to ensure your investment and happiness for years to come.