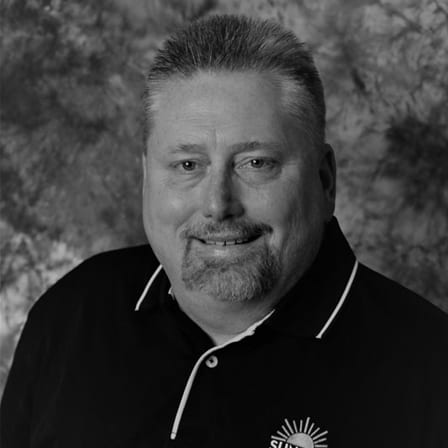 Don Snider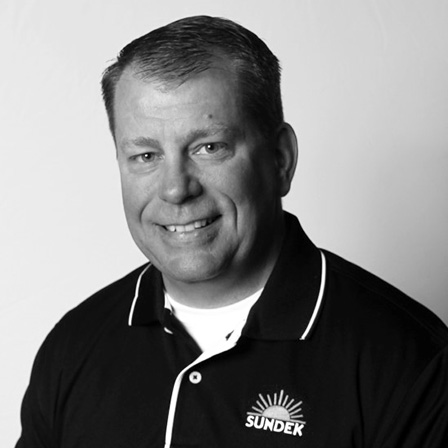 Doug Snider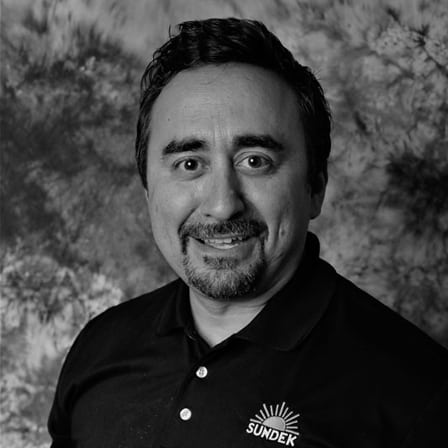 Joe Primavera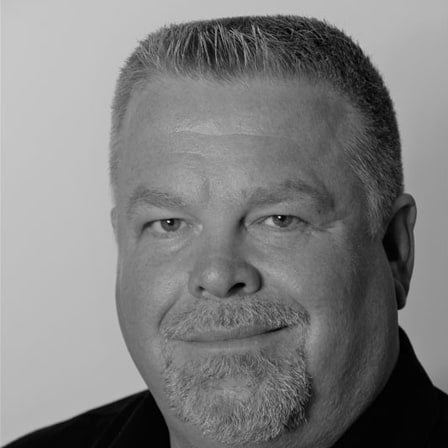 Marshall Seavers
We Have High-Quality Products (Which We Also Use)
At SUNDEK, we manufacture a lot of our products in-house, and everything we make goes through a rigorous QA/QC process. We thoroughly test everything from the raw materials to the finished product.
You won't ever see a SUNDEK product in a big-box store. That's because a contractor who uses our products must be a certified SUNDEK installer who has been properly trained on how to apply our products correctly. That level of involvement makes us especially invested in creating a superior product—we're our own customer. Since we're the ones installing the product, we have been able to see any issues firsthand and can respond to those issues immediately.
We do have products that we don't manufacture on our own, but for those we own the formulas. Everything that's not manufactured in-house is still put under tight scrutiny, and we have a close relationship with those manufacturers.
Our Goal is to Provide an Extraordinary Customer Experience
We strive to give all our customers—no matter where they live—the same high-quality experience. To do this, we learn from within our own organization.
We have installers all across the country, and when a particular installer is exceptionally successful, we take a look at what they're doing. How are they ordering inventory? What is their customer journey like? How are they doing their scheduling? Using that information, we can assess what strategies are repeatable at other installer locations. We then take that information and train our other installers. This type of internal organizational improvement allows us to increase efficiency and provide outstanding customer service.
We're Immersed in the Industry
Through our involvement with various organizations such as the American Society of Concrete Contractors (ASCC) and Decorative Concrete Council (DCC), we have had the pleasure of meeting many knowledgeable colleagues in the construction industry. These connections have allowed us to learn from some of the best—everything from information about the best safety protocols, website development, and more. We're dedicated to staying apprised of new developments so that we can remain at the forefront in the industry.
We're Strategic About the Future of Our Company & Our Employees
SUNDEK President and Founder Mark Stambaugh and CEO Charlie Plunk have always placed high importance on mentorship. Their strong leadership has led to a culture in which the future of the company and the future of every SUNDEK employee is of upmost importance.
It's this culture that led to the development of our Emerging Leader program. Available to SUNDEK employees at every level, the program offers a curriculum and one-on-one mentorship opportunities. The program is open to any employees who would like to develop their leadership skills and have goals to grow within the company.
We're a Family
It's the overriding people-first mentality that has also led to our organization being described as "a family." The camaraderie is evident in our daily functions, but especially obvious during our yearly convention. Each convention features guest speakers and informational sessions about new products and systems, but the bonding really happens in between the sessions—installers from across the country exchange numbers, share ideas, and catch up with each other's lives. At our awards presentation, installers get to see the outstanding work that's being done. It's wonderful to see that everyone takes pleasure in everyone else's success.
The bonds that are created help us serve our customers better. If an installer in one location picks up a big job and needs more helping hands, nearby installers jump in to help so the job can get done well and within any time constraints.
This environment, one in which our team members feel valued, respected, and supported, leads to excellent customer service and beautiful finished products.
Listen to the full interview.