What is concrete resurfacing?
Concrete resurfacing—sometimes called concrete restoration, concrete refinishing, or concrete rejuvenation—begins with an existing concrete slab. After preparing the surface, a concrete overlay (or coating) is applied to the existing concrete. SUNDEK has many resurfacing products that can be customized with a variety of colors, textures, patterns, and masonry effects.
Get a free quote from a SUNDEK contractor offering concrete resurfacing near me.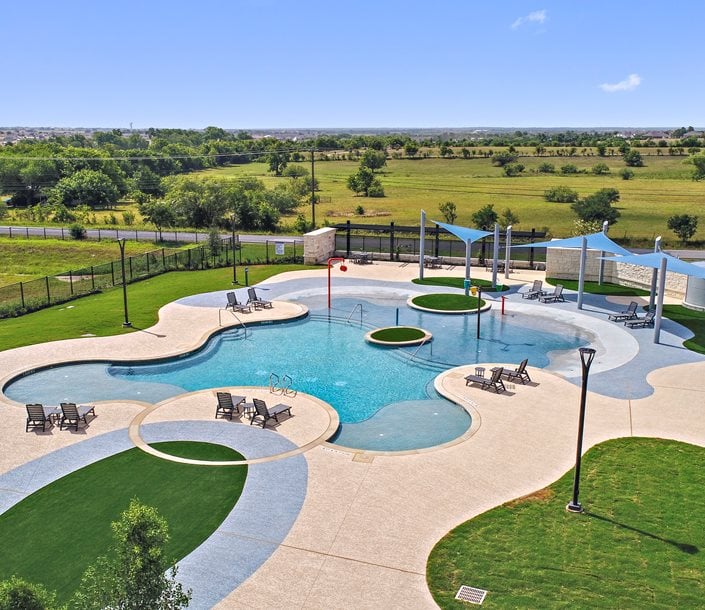 Design Options
The variety of concrete resurfacing options available through SUNDEK means you can get the exact color, texture, pattern, and style you want for your outdoor space. If you have a new patio and an outdated walkway, we can design your walkway to match or coordinate with your patio. If you love the look of the driveway of a neighbor down the street, we can replicate the look. Did you see a picture in a magazine of a pool deck you love that was created using knockdown texture? Show us, and we'll figure out how to create that same look. The options are endless.
See our products to get an idea of the design options available, or talk to a local SUNDEK authorized contractor to get ideas.
Concrete Resurfacing Cost
The cost of concrete resurfacing varies depending on where you live. Your project's cost will also depend on the condition of your existing surface. Contact your local SUNDEK contractor to get a quote.
Does Concrete Resurfacing Last?
When done properly, resurfaced concrete will last a long time. With a protective sealer and routine maintenance, we've seen jobs that look just as good 10 and even 20+ years later. SUNDEK contractors are trained in proper mix ratios and installation procedures to ensure our coatings last.
How to Resurface Concrete
Here's an overview of the installation process (details vary depending on which products are used):
Prepare & Repair. Etch, grind, or shot blast the concrete surface to make it porous. Fix cracks or other existing damage.
Clean & Prime. Clean with a pressure washer and let surface thoroughly dry. Apply primer if necessary.
Mix Product. Following instructions, mix the product to prepare it for application. Mix in color if necessary.
Apply Overlay. Depending on the desired look, apply the overlay by spraying, rolling, or troweling.
Add Patterns & Texture. This is completed using hand-trowels, rakes, stamps and other specialty tools.
Cure & Seal. After the overlay cures, add a sealer for additional protection. Customers often ask us if outdoor concrete needs to be sealed, and our answer is always yes. A sealer will preserve the look of your concrete surface for longer. It also enhances its stain resistance and makes it easier to maintain.
Resurfacing concrete is not easy. Our professional contractors can do it for you. Find a local contractor.
Related: Can You Pour Concrete Over Concrete?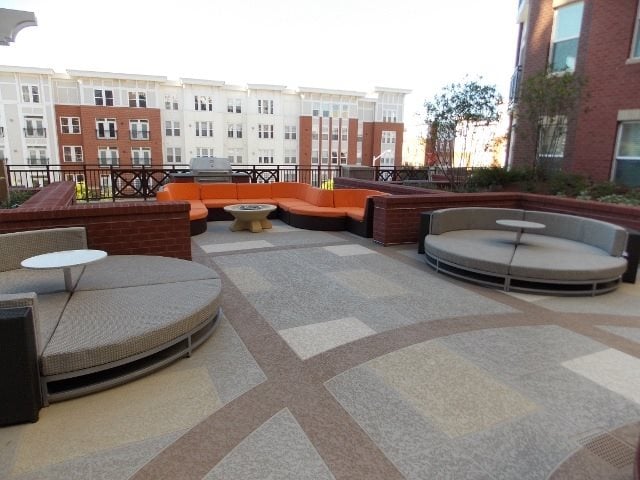 Your Local Contractor:
SUNDEK OF WASHINGTON
14121 Parke Long Ct. #109
Chantilly, VA 20151