Concrete Knockdown Texture for Pool Decks, Patios & More
Learn what knockdown texture is and why it's an ideal coating for many concrete surfaces.
Posted by on in Blog
For homeowners and business owners looking for a durable, textured surface that's easy to clean, knockdown texture on concrete is a great option.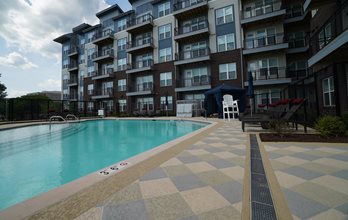 At a luxury apartment complex in Centreville, VA, SUNDEK of Washington used pool deck knockdown texture (Classic Texture) to resurface the pool deck, transforming it into a beautiful work of art that's also easy to clean and comfortable for residents to walk on.
What is knockdown texture?
Knockdown texture, a decorative concrete resurfacing technique, is achieved when a concrete coating product is sprayed onto a surface then "knocked down" with a trowel's edge. This creates a textured surface that has the following benefits:
Slip resistant: Since the surface isn't smooth, it doesn't get slippery when wet, making knockdown texture a popular option for pool decks and other surfaces near water.
Comfortable to walk on: The textured surface profile stays cooler than smooth surfaces, making it comfortable for bare feet, even on hot days.
Versatile: This technique can be combined with other decorative concrete techniques such as stamping and staining, so a surface treated with knockdown texture can be customized to fit just about any style.
Get a Free Quote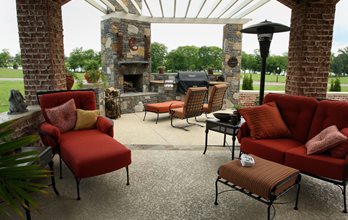 At a residential patio in Nashville, TN, SUNDEK of Nashville used their knockdown texture technique (Classic Texture) to resurface the floor, making this space easy to clean and comfortable to hang out in.
SUNDEK's knockdown texture product
The product that launched SUNDEK as a company was our knockdown texture coating—Classic Texture. We began using it in 1970, and since then this knockdown pool deck texture has been one of our most popular products. It's renowned in the industry for being durable, beautiful, slip resistant, and comfortable to walk on. Our customers also love that it's customizable.
When SUNDEK authorized installers use Classic Texture, they can combine it with the other systems to customize the look for individual customer needs:
Custom Scoreline to disguise cracks on an existing concrete surface
Stamped concrete to create the look of a variety of patterns or various hardscaping materials
Stained concrete to get the color or colors that complement or match a client's existing space
…and more!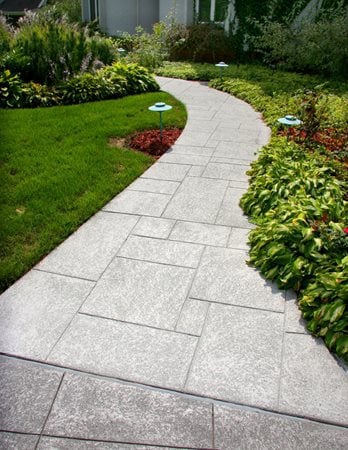 In Meadows Place, TX, SUNDEK of Houston used knockdown texture to make this walkway a safe—and pretty—place to walk along.
See our Classic Texture photo gallery
Where can knockdown texture be used?
A knockdown concrete finish can be used anywhere a slip-resistant, comfortable, beautiful surface is desired in an outdoor space. Here are some of the types of spaces we've applied knockdown texture in both residential and commercial spaces:
Courtyards
Entrances
Outdoor kitchens/living spaces
Retaining walls
How is a knockdown finish applied?
Here is a quick overview of the application process:
Clean and prep the concrete
Spray the coating onto the surface
Knock down the material with a trowel
Apply a sealer for added protection
Find a dealer who does knockdown texture on concrete near you
If you're looking for an authorized contractor in your area who has experience installing knockdown texture in a variety of spaces, find a SUNDEK authorized installer near you.
You can also fill out the form on this page
Or call SUNDEK headquarters at 877-478-6335
We look forward to working with you!
Your Local Contractor:
SUNDEK OF WASHINGTON
14121 Parke Long Ct. #109
Chantilly, VA 20151