Scored Concrete Floors & Patios Disguise Cracks
How SUNDEK's Custom Scoreline Effect is used to transform old, cracked concrete
Scored concrete is a way to add patterns and designs to concrete slabs. A scored concrete patio will nicely complement your backyard landscaping, while a scored floor can help update your home's interior.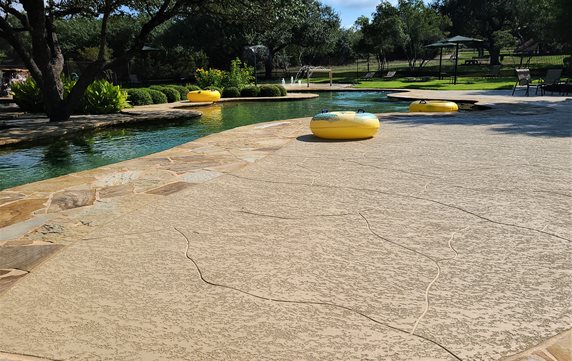 What is scored concrete?
Our scoring technique allows you to resurface your old, cracked concrete without having to worry about cracks reoccurring in the new decorative concrete surface. SUNDEK's Custom Scoreline Effect was created in 1990, and it has been perfected ever since.
We specialize in concrete scoring patterns that are organic and mimic the look of joints between natural stones. Instead of trying to fight the inevitability of cracks, we work with them, incorporating them into a beautiful design.
If cracks aren't a concern, we can also cut score lines into your concrete to recreate the look of tiles or brick. The main difference between scoring and stamping is that texture is not imparted onto the surface of the slab. Learn more about stamped concrete overlays.
Scored concrete floors and patios can be further customized with stain colors. Scored and stained concrete is a popular choice because the color variations look quite natural. In addition to staining, sometimes scoring is used in conjunction with polished concrete.
How to score concrete
Here's an overview of how SUNDEK contractors create beautiful concrete finishes with scoring:
Open each crack with a grinder wheel.
Use a grinder to create scorelines on the rest of the surface, creating a pattern.
Fill scored cracks with urethane sealant to prevent water and debris from getting inside. (This also helps blend the original crack in with the new scorelines.)
Apply a SUNDEK finishing coat, which are available in a variety of colors.
The idea is to think of the existing cracks as "Mother Nature's expansion joints"—cracks that are just doing their job in controlling the natural expansion and contraction movement of the concrete.
Can the Custom Scoreline Effect be used with other SUNDEK systems?
Yes! We can incorporate this effect into most any other SUNDEK coating, but it is most often used with SUNDEK's Classic Texture.
Contact your local SUNDEK dealer to inquire about using the Custom Scoreline Effect on your surface (quotes are free!).