Stamped Concrete Overlays for Existing Concrete
SUNDEK has been enhancing the look of homes and businesses with uniquely designed stamped concrete overlays for more than 50 years.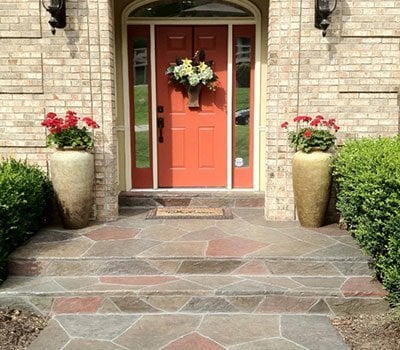 See more pictures of stamped concrete
Designing with stamped concrete
The variety of stamped concrete patterns are endless. Customers are often surprised to learn that they can create the look of various materials (wood stamped concrete and brick stamped concrete are popular options).
You can also get creative and do things like:
Create a checkerboard pattern
Add a border
Include a design (such as leaves, a medallion, a family crest, a logo, etc.)
And much more!
You can also choose from a variety of textures and colors. We recommend looking at stamped concrete designs online and showing your local SUNDEK contractor what you like.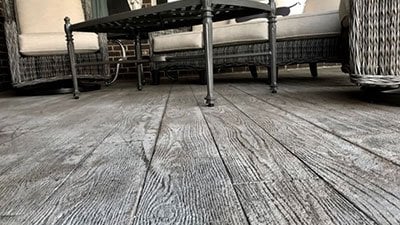 How to stamp existing concrete
The method used to stamp concrete depends on whether or not there is an existing concrete surface.
If there is an existing surface to work with, a stampable overlay (such as SUNDEK's SunStamp) can be applied over the surface, so the existing concrete slab does not need to be ripped out. After the overlay is troweled or squeegeed over the surface, it can be stamped or scored to create a design or the look of flagstone, tile, custom slate, and more. You can customize your look with a variety of textures and colors.
Related: Pouring Concrete Over Concrete
If there is not an existing concrete surface and new concrete needs to be poured, there are a lot of steps involved and a short window of time in which to get them done.
Although you can stamp concrete yourself, we recommend hiring an experienced professional to do the work as each step is critical and needs to be completed in a timely manner in order to get the look you want. Concrete stamping can quickly go wrong if you've never done it before.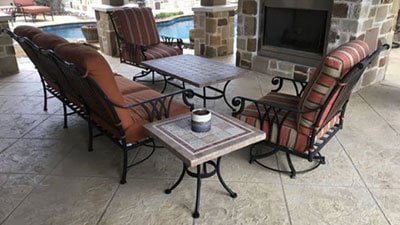 Why use SunStamp
While SUNDEK's stampable overlay, SunStamp, can be used over any concrete surface, it also can be used over stucco, drywall, brick and other surfaces. SunStamp provides an economical and environmentally friendly solution for anyone who wants to redo just about any surface—whether you want a stamped concrete patio, a stamped concrete driveway, or anything in between. See some of our award-winning projects that were completed using SunStamp.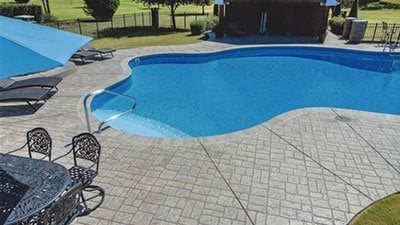 Frequently asked questions
Is stamped concrete expensive?
Stamped concrete cost depends on several factors such as the size of your space, the complexity of the project, and your location (the cost of concrete varies depending on where you live). You can contact a local SUNDEK contractor to get a quote.
Is stamped concrete cheaper than pavers?
If you install natural stone pavers, the cost of materials and labor will be around the same cost or more expensive than stamped concrete.
If you install lower-end pavers, it will be less expensive than installing stamped concrete initially, but in the end it will end up requiring more maintenance, and you'll need to replace pavers as they get damaged or worn.
Is stamped concrete less maintenance than pavers?
Yes. Weeds can pop up between pavers, while stamped concrete gives you the look of pavers without having to deal with the spaces between each paver. Over time, pavers will also get knocked loose and need to be adjusted to avoid a tripping hazard. Additionally, an entire stamped concrete surface can be sealed, preserving the look of your stamped concrete for longer.
How long does stamped concrete last?
Stamped concrete can last for decades without needing to be touched up. A quality sealer will increase its durability and help maintain its beauty longer.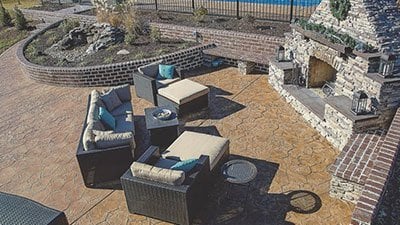 Can I stamp over a damaged concrete surface?
Yes. In many cases, SUNDEK can repair your existing concrete surface and then apply a stampable concrete overlay on top of it. Some people refer to this as stamped concrete resurfacing. In some cases, especially if there are large cracks or major settlement, your concrete contractor may recommend removal and replacement.
What are my options for stamped concrete colors?
You can color stamped concrete in any color that you can use to stain or dye concrete. SUNDEK has a variety of options available, including integral color, depending on which product you use. You can discuss color options with your local SUNDEK contractor.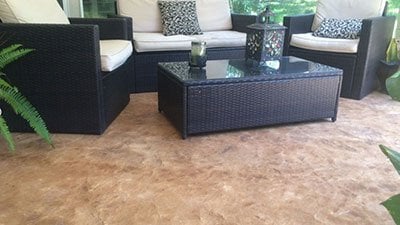 Is there a specific stamped concrete sealer?
While there isn't a designated stamped concrete sealer, you do need to choose your sealer based on where your stamped concrete is located and how it will be used. For example, if it's going to be outside, you'll want to choose a sealer that's UV resistant and non-yellowing. If the stamped concrete is for a driveway, you'll need one that can repel oil spills and other fluids that might leak from a vehicle. Additives can also be included in the sealer to ensure your stamped concrete isn't slippery.
Repairing stamped concrete
If you already have stamped concrete and it needs a makeover, SUNDEK can help. SUNDEK's product SunRestore is used for color enhancements, resealing, repairs, and major rehabilitation. SunRestore gives a new look at a fraction of the cost of removing or replacing your concrete.
Maintenance
To preserve the look of your stamped concrete for longer, it's important to perform routine maintenance.
For exterior surfaces, sweep and wash the surface so dirt doesn't build up (you can use a hose or pressure washer). For interior surfaces, sweep and mop the surface to prevent buildup. For both interior and exterior surfaces, a high-quality sealer should be reapplied every few years.
How to find someone who installs stamped concrete overlays near me
Contact one of our local contractors to get your questions answered or to get a quote.