What's the Best Way to Color Your Concrete Surface?
Get information to help you decide which is best for your concrete surface: painting, staining, or applying a decorative concrete coating.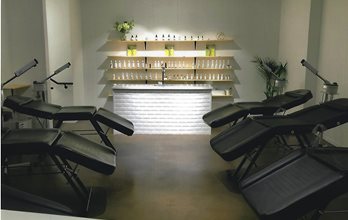 A concrete floor stained with SUNDEK's SunAcid staining system.
If you have a concrete surface that you want to color, it can be overwhelming to decide which approach is best when considering the options available:
Get a Free Quote
To help decide which option best suits your surface, consider what's most important to you and then base your decision on how well each coloring solution will meet your needs. Here are several factors we find matter most to customers:
Condition of your existing surface
Durability & longevity
Color & design
Cost
Condition of your existing surface
The condition of your existing surface is probably the most important factor to consider when deciding how to color your surface. Here are some factors to consider with each system.
Concrete paint. While paint will cover up minor surface imperfections such as fading or discoloration, it can't cover up cracking or chipping. Those more serious issues need to be resolved before any paint is applied.
Concrete stain. As with concrete paint, you'll also need to address issues such as cracks, stains, or chips before applying stain. Since concrete stain is transparent, it won't cover fading or discoloration. You'll need to discuss with a contractor to find out whether surface imperfections will be obvious if you do decide to make repairs and then stain the surface.
Decorative coating. A decorative coating is probably the most straightforward and reliable option for a concrete slab that has any type of damage such a chipping, cracking, or spalling. A reputable contractor will never suggest applying a decorative coating to a surface that's severely damaged and won't hold up with a new coat.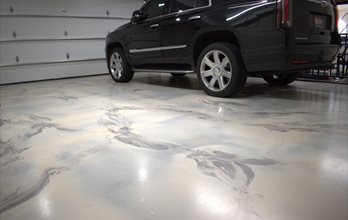 This garage floor was completed using an epoxy coating, and several colors were used to create a marbled look
Durability & longevity
Depending on the type of project, the durability of your coloring solution can range from not important to extremely important. For example, durability of color on a concrete wall is far less important than for the floor of a hotel lobby. One will hardly be touched while the other will get lots of foot traffic.
Here's a brief description of the durability of each:
Concrete paint. Even when you paint a concrete surface with paint that's formulated to bond to a concrete surface, it will need to be retouched fairly often: ranging anywhere from 3 to 5 years. If it's a surface that experiences a significant amount of foot traffic, the longevity decreases. When the paint eventually peels or chips, the raw concrete beneath will be exposed.
Concrete stain. Unlike paint which creates a layer on top of a concrete surface, concrete stain penetrates the pores of the concrete. Since the color permeates the surface, stained concrete does not peel or flake off. If it's sealed and cared for properly, stained concrete will maintain its color for two decades or more.
Decorative coating. Like stained concrete, a colorful decorative concrete coating will last for at least two decades when sealed and cared for properly. Some coatings are specially formulated for locations that experience a lot of wear and tear. For example, an epoxy floor coating can withstand the weight of machinery, heavy tools, cars, motorcycles, and more.
Color choice & design
Another factor to consider is the color options each coloring solution provides. Deciding what look you want will play a large role in how you approach coloring your concrete surface. Here are some things to keep in mind.
Concrete paint. Painting concrete creates an opaque layer of color which means that the concrete beneath won't show through. This helps cover up spots that are discolored or fading. Painting concrete is also more predictable because the paint creates a layer of color that isn't affected by the way the concrete beneath looks.
Concrete stain. With staining, you get a more translucent color, so you will see the surface profile of the concrete slab that's stained. The stain also interacts with the concrete, giving each stained concrete surface a unique look.
Decorative coating. Decorative coatings can be customized with a wide variety of colors. This is a good option for someone who is also looking to change the texture of their surface or incorporate a pattern using concrete stamping.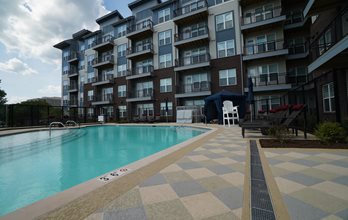 At The Emerson in Centreville, VA, SUNDEK of Washington applied a Classic Texture coating and used several colors to create an eye-catching pattern for this pool deck.
Cost
The exact cost of your project depends on the size of your surface, the condition of your existing concrete, and the amount of colors you plan to use. The type of coloring system you use also affects the costs.
Concrete paint. This is the least expensive option, ranging anywhere from $2 to $5 per square foot depending on the quality of paint you purchase. Concrete paint is more realistic for someone who isn't a contractor to do as a DIY project, so you can also save on labor costs. (But remember that you also need to properly prepare the surface for concrete paint which may require tools you don't already own.)
Concrete stain. The cost for staining concrete can range anywhere from $2 to $25 per square foot. The cost varies because it depends on the type of design and how many colors you choose. Staining a slab of concrete one color will cost much less than using multiple colors and incorporating stencil work.
Decorative coating. Costs typically range anywhere from $3 to $25 per square foot, but contractors generally have a minimum cost for decorative coating projects. Coatings applied using high-quality products will cost more than less reputable products, and you get what you pay for when it comes to coatings. For decorative coatings, the cost varies depending on the type of design you choose and how many colors you decide to incorporate.
Keep in mind that no matter which coloring solution you choose, proper surface preparation is critical—and this can often add to the cost.
Contractors who color concrete near me
At SUNDEK, we have crews around the country trained to create the perfect decorative concrete surface for your location.