Signature Colors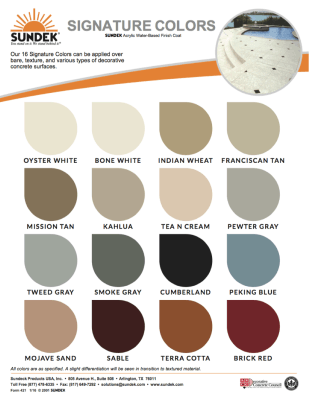 These are our Standard Colors Found Throughout the Sundek Product Line. SunColor is as
make it durable and easy to maintain saving you time and moneysimple a process as its name suggests…brighten your property with a little color! SUNDEK SunColor is a water-based acrylic finish coat that can be applied over bare, textured and various types of decorative concrete surfaces to give it a fresh new look. SunColor properties
now and for years to come.
SunAcid
SunAcid is a muriatic acid base coloring solution that creates a translucent modeled look, by reacting with the minerals and salts in the concrete. The coloration becomes a permanent part of the substrate and cannot crack or peel. SunAcid gives a unique look that cannot be achieved by using conventional polymers and pigment type stains. SunAcid is used in a variety of interior and exterior architectural concrete applications.
SunH20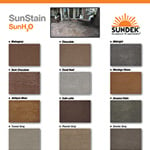 SunH20 is a proprietary blend of specialized water – soluble polymers and liquid pigments, designed for staining concrete or any type of cement overlay. A high adhesion promoter has been added in to the formula that gives SunH20 exceptional adhesion to concrete surfaces, giving it major advantages over competitive water based stains. SunH20 is ideal for creating unique looks in many commercial and residential settings. Recommended applications include restaurants, showrooms, offices, home interiors, patios, garage floors and driveways.
SunDye – exterior/interior
SunOne and SunEpoxy
SunOne-SunEpoxyColor – PDF Download
SunEpoxy is used in a wide variety of applications, including light manufacturing and warehouse areas, automotive repair facilities, garage floors and driveways. These coatings protect and beautify the substrate and make the surface easier to clean. Where thin film coatings will not perform well in heavy use areas that are subject to extreme abrasion and impact, either a penetrating sealer or thicker aggregate-filled flooring systems is needed. SunEpoxy systems can be designed to provide excellent resistance to foot and vehicle traffic, harsh chemicals, and UV light.
SunChip Solid Color
SunChipSolidColor – PDF Download
SUNDEK offers 25 different solid vinyl acrylic paint chips for broadcast in SunOne Polyaspartic and SunEpoxy floor coating systems. Standard chip size is 1", but can also be ordered in 1/8, 1/4 and 5/8 inches. These chips will add a protective layer to your surface while increasing impact resistance to dropped tools and equipment.
SunChip Multi Color
SunChipColor – PDF Download
SUNDEK offers 12 different multi-colored vinyl acrylic paint chips embedded in SunOne Polyaspartic and SunEpoxy floor coating systems. Standard chip size is 1/4", but can also be ordered in 1/8, 5/8 and 1 inch. You may choose from a variety of colors and chip sizes to get the look that you desire. Larger chips create the look of terrazzo or granite, while smaller chips give a hard surface carpet appearance. SunChip offers proven durability and longevity for many applications.
SunFlek
SunFlek – PDF Download
SUNDEK offers 14 different color blends of color quartz for commercial, industrial and residential applications. SunFlek flooring is a durable and attractive seamless flooring system when added to a tough epoxy matrix and sealed with specially formulated clear epoxies or polyurethane. The high strength surface provides excellent wear sanitation and chemical resistance.The surface texture can be varied from a nearly smooth finish to an aggressive slip-resistant surface for wet areas.
SunMetal
SunMetal – PDF Download
SUNDEK offers 12 SunMetal Metallic Pearl Pigments. SunMetal pigments are used in combination with SunEpoxy 54, 100 or SunOne polyaspartic or the complete line of SUNDEK acrylic sealers. SunMetal provides a smooth, glass-like finish that creates a one-of-a-kind look resembling moon craters or a lava lamp. The 3D effect caused by the metallics will provide a custom flooring solution with a real WOW factor.