Concrete Sealers
After investing in a new concrete surface, it's critical to protect it with a concrete sealer so that the surface looks beautiful for as long as possible.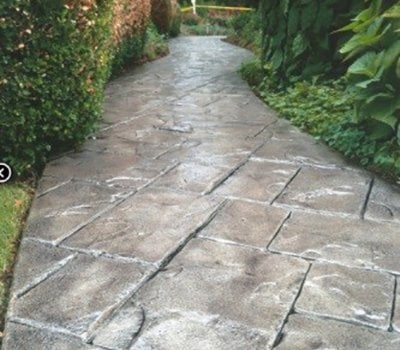 Frequently asked questions about sealers
What does it mean to seal concrete?
When concrete is sealed, a clear finishing coat is placed over the top. That coat protects and preserves the concrete surface.
Is it necessary to seal concrete?
It is absolutely necessary to seal concrete if you want to protect it and maintain its look for as long as possible. Here are just some of the benefits of sealing concrete:
Protects concrete from flaking, general wear and tear, color fading, oil spills, hot tire marks, elements (such as UV rays, rain, snow, dirt, saltwater, etc.), and more.
Keeps chlorides and water from seeping in, preventing damage during freeze and thaw cycles on outdoor concrete surfaces.
Prevents mold and mildew.
Adds a layer of protection against wear and tear and abrasions.
Can be combined with non-slip additives to make surfaces less slippery.
Makes the surface easier to clean
Concrete sealers are not an add-on that professionals push to make more money. In fact, they end up saving customers money in the end. It's a lot less expensive to apply a sealer than have to redo a concrete surface.
How long should you wait before sealing concrete?
If you're sealing freshly poured or recently resurfaced concrete, the concrete typically needs to fully cure before applying a sealer, though some sealers can be applied before curing is complete. Since there are variables, it's critical to discuss timing with an experienced professional contractor.
Do I only need to seal my concrete surface once?
You'll need to reseal your surface every few years. The time in between resealing varies from every 2 years to every 10 years, depending on the location of your concrete surface and how it's used. For example, a driveway sealer will need to be reapplied more often than a bathroom sealer. While this will be a recurring cost, resealing your surface is a lot less expensive than needing to resurface your concrete again.
Can I seal concrete myself?
It is imperative that concrete is sealed properly, otherwise problems will develop. We recommend having a professional apply the sealer to avoid common pitfalls. For example, if applied too thick, the sealer will not penetrate the surface and will puddle instead.
Will a sealer affect the color of my concrete?
Clear sealers can be applied to the top of a concrete surface without significantly impacting the color. However, if you do want to change or enhance the appearance of your concrete surface, SUNDEK can combine the sealer with colors or aggregates so you can get the look you want. Some sealers can even make colors appear richer.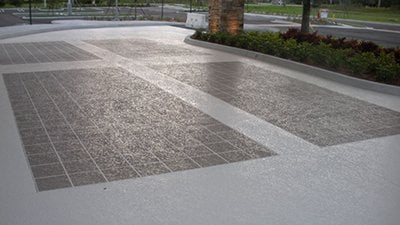 The best concrete sealers
A common question we hear is: What is the best concrete sealer? Not all sealers are the same, so it's important to learn what your options are and the benefits that each provides. There are four main types of sealers:
Penetrating concrete sealers penetrate the surface of concrete, shielding the surface from moisture and chemicals. If you're looking for protection against the elements, especially for surfaces subjected to freeze/thaw cycles and corrosion, a penetrating sealer is the best. This type of sealer creates an invisible layer of protection that doesn't affect the appearance of your surface.
Acrylic sealers enhance the aesthetics of exposed aggregate and colored stamped concrete and offer outstanding protection against chlorides and water. For that reason, acrylic sealers are a great choice around pool and spa areas. While these sealers are available in both water-based and solvent-based formulas, those with a solvent base typically enhance color much better. Acrylic sealers are available in a nice selection of sheen levels.
Polyurethane sealers enhance the appearance of stamped concrete, exposed aggregate, and colored concrete surfaces, and they are an excellent choice whenever a high-build protective film is required. Polyurethane concrete sealers are almost twice as thick as acrylic sealers and are extremely resistant to abrasions and chemicals. Polyurethane sealers area available in various sheen levels and the finish is non-yellowing and transparent.
Epoxy sealers provide a high-build protective layer on top of concrete surfaces, like polyurethane sealers. The primary benefit of an epoxy concrete sealer is that they provide a hard concrete surface that is resistant to abrasion and is long-lasting. Because they are available in clear, pigmented, or colored formulas, you can choose an epoxy sealer based on your preferred design aesthetic.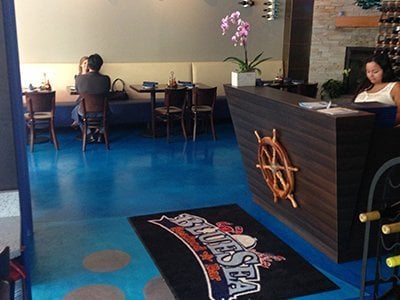 UltraProtect, solvent-based clears.
SUNDEK sealers
SunClear EcoProtect is ideal for an indoor concrete floor sealer. This clear concrete sealer has low VOCs and is easy to use and clean up, so it's environmentally friendly.
SunClear UltraProtect is an outdoor concrete sealer that is also ideal for high-traffic areas. It can protect surfaces that require impact resistance including service bays and aircraft hangars. Additionally, when looking for a concrete driveway sealer, a garage floor sealer, or a basement sealer, this is a perfect choice. This sealer is hard yet flexible, so it provides protection against chemicals and abrasion. You can also add aggregates to it in order to make a surface less slippery.
AcryClear 25 is a UV stable acrylic sealer well suited for outdoor use on stamped concrete, exposed aggregate or even pavers. Available in gloss, satin and low VOC formulas.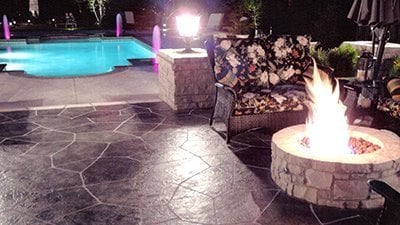 EcoProtect, water-base clears.
Reapplying concrete sealer
After having a sealer applied initially, an expert will need to reapply it every few years for continued protection.
Have questions? Contact us.