Sealing Concrete Driveways
Whether it's at a private residence or a public commercial property, every driveway needs to be sealed. Without a high-quality sealer, the beautiful decorative work you've had done on your driveway is at risk of getting damaged, fading, and looking worn out in a short amount of time.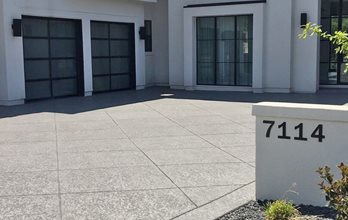 Driveway resurfaced and sealed by SUNDEK of San Antonio
Do driveways need to be sealed?
Yes. Every driveway should be sealed with a high-performing sealer. A sealer will protect your driveway from the following:
Abrasions
Chlorides
Color fading
Cracks that result from water seeping in and causing damage during freeze-thaw cycles
Elements such as rain, snow, dirt, saltwater, and more
Flaking
General wear and tear
Hot tire marks
Mold and mildew
Oil spills
UV rays (which cause fading)
Water damage
Get a free quote
When should a driveway be sealed?
You should have sealer applied as soon as your concrete slab or decorative surface has set and cured. Always read the product information for specific application instructions.
How often does a driveway need to be resealed?
Generally, a driveway needs to be resealed every 2 to 10 years.
The amount of time ranges so greatly because the frequency depends on a few things:
How your driveway is used
How often its used
Where its located
What type of sealer was applied
For example, if your driveway isn't used often and you're in an area of the country where freezing and thawing cycles aren't common, you'll have to reseal less often than someone with a driveway that's used consistently in an area of the country where the ground freezes often.
Resealing your driveway is a recurring cost, but it's a good investment. Resealing is less expensive than having to resurface your entire driveway again due to damage.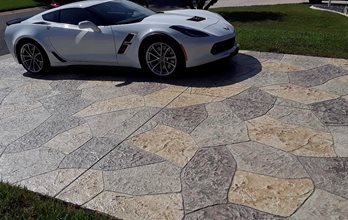 Driveway resurfaced and sealed using SUNDEK products. By Sun Surfaces of Orlando.
Are sealed driveways slippery?
Since some sealers create a sheen, people sometimes incorrectly associate sealers with slipperiness, but that is not necessarily the case.
A reputable contractor such as SUNDEK will ensure that your surface isn't slippery. If your driveway doesn't have a texture that creates a non-slip profile, they will include additives or anti-slip agents in the sealer.
If your sealer includes non-slip additives, it's important to stay on top of making sure it gets resealed as soon as it begins to wear out. Discuss a resealing schedule for your site with a contractor.
Does sealer affect the color of my driveway?
This is up to you. While you can get a sealer that won't impact the color of your driveway, you can also choose a sealer that can be tinted to meet your design needs. Some sealers even enhance the color of your decorative concrete surface.
What is the best sealer for a driveway?
The right sealer depends on the driveway. Here are two SUNDEK sealers that would be appropriate for driveways:
SunClear UltraProtect is an outdoor concrete sealer ideal for high-traffic areas. It can protect surfaces that require high impact resistance including service bays and aircraft hangars. This sealer is hard yet flexible, so it provides protection against chemicals and abrasion. You can also add aggregates to it to make your driveway less slippery.
AcryClear 25 is a UV stable acrylic sealer well suited for outdoor use on stamped concrete, exposed aggregate, or even pavers. It's available in gloss, satin and low VOC formulas.
A contractor can help you determine what sealer is right for your project. Contact SUNDEK to find an installer near you who can help with your driveway sealing project.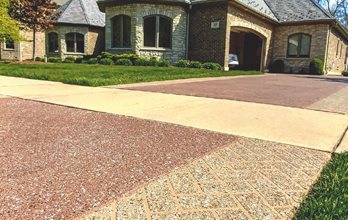 Driveway resurfaced and sealed by SUNDEK of Illinois.
Can I seal my driveway myself?
While it's possible to take on sealing a concrete driveway yourself, it's critical that you educate yourself on all the necessary precautions to take and the work required to get the job done right.
When sealer is applied incorrectly, it can cause issues such as bubbling or discoloration. It's also important to determine whether your sealer needs non-slip additives included.
There are specific tools required for sealing a driveway, and applying sealer is not an area where you can cut corners.
For these reasons and more, we recommend hiring a professional experienced contractor such as SUNDEK to seal your surface. We have years of experience doing this work and we also have all the tools necessary to apply the sealer successfully.
Find a contractor who seals driveways near me
SUNDEK has contractors around the country ready to help reseal your driveway. Find a contractor near you and set up a time to get a free quote.
Your Local Contractor:
SUNDEK OF WASHINGTON
14121 Parke Long Ct. #109
Chantilly, VA 20151