Concrete Crack Repair for Patios, Pool Decks, Driveways & More
Although concrete is strong, durable, and long lasting, there are times when cracks occur. In most instances, fixing cracked concrete is a viable solution compared to ripping the concrete out and starting over again. In addition to concrete resurfacing, SUNDEK contractors are experts in concrete repair.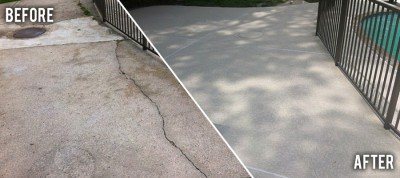 Get a quote to fix your cracked concrete
Why does concrete crack?
Concrete can crack for a variety of reasons. If it isn't installed properly, it will eventually crack. Improper installation includes everything from having the wrong amount of water in the mix, poor conditions that caused the concrete to dry too quickly, missing control joints and more.
However, even properly installed concrete can crack. Concrete has great hardness (compressive strength), but it does not have good elasticity (tensile strength) which is the ability to stretch and bend very far.
Diagnosing the cause of the cracks in your concrete
It's important to figure out why your concrete is cracking so that you can prevent it from happening again. Understanding the cause will also inform the method used for repair.
For example, damage due to traffic or wear and tear will have different repair requirements than damage due to exposure to moisture or freeze/thaw cycles in the winter. If the damage is due to corrosion in the reinforcing steel rebar structure of the concrete, it's going to need more than just resurfacing and may need to be replaced entirely. A qualified concrete contractor will be able to accurately diagnose the source of the problem and give you options for repairing or replacing it.
Contact a local SUNDEK contractor to get a free quote for repair on your cracked concrete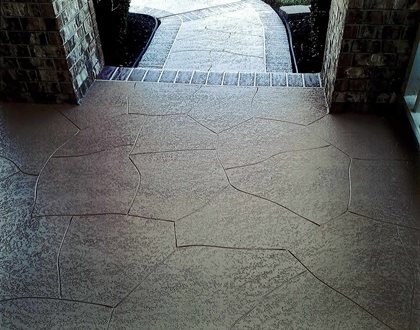 What are the options for fixing cracked concrete?
Have SUNDEK do a Custom Scoreline Effect. This technique, invented and perfected by SUNDEK contractors more than 40 years ago, involves working small cracks into the design of the concrete surface. Since the cracks are doing their job in controlling the natural expansion and contraction of the concrete as it heats and cools, we let them do their thing, but we incorporate them into the design. (We sometimes call this technique "Mother Nature's Expansion Joints").
With the Custom Scoreline Effect, you get a two-year warranty—if another crack appears during that time, SUNDEK will create a new scoreline with the new crack.
Repair then resurface. With this option, we can repair cracks in your surface then apply a coating to the top of the entire surface, giving you a brand new look.
Related:
Repair just the crack. If the damage from the crack is not very deep or widespread, it's sometimes possible to just patch up the crack. If this is the case, a contractor can grind open the hairline cracks then brush on a layer of bonding adhesive. Then they will apply the repair material, smooth it out, and let it dry.
Remove and replace the cracked concrete areas. This option can get pricey, but depending on the width of the crack, it can be necessary. A SUNDEK contractor can advise you if you need to tear out and replace your surface.
Saw cut the concrete at the cracks and epoxy weld the structural cracks. This is also known as the cut-and-paste option. It's pricey and not foolproof. It can be difficult to find someone who does this type of work and usually it has a very limited warranty.
Can I fix cracked concrete myself?
Crack repair is a delicate process. Aside from needing all the proper materials, you need to know how to mix the product properly to prevent repeat damage. You also need the right drying conditions. If the crack isn't repaired correctly, the repair work is not going to last.
A professional, experienced contractor can repair the cracks in your concrete, and they can assess the damage and recommend the best solution for the job to ensure the crack doesn't reappear.
SUNDEK contractors have more than 50 years of experience, so we know how to address the nuances that occur and know the common pitfalls to avoid.
Contact a local SUNDEK contractor to get a free consultation on your cracked concrete.