Why resurface a concrete walkway, entryway, or porch?
Does your concrete walkway, entryway, or porch have stains, cracks, or other damage? Or do you want to update its look? Having SUNDEK resurface it is the perfect solution. By applying a concrete coating over your existing surface, we can resolve any issues and give you a brand new surface in a design you love. Choose from stained concrete, stamped concrete and more.
Contact a SUNDEK contractor to get a free quote on your project.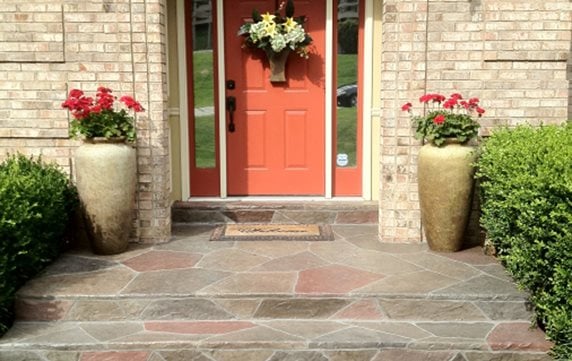 Resurfacing a concrete walkway or front entry is less expensive than completely replacing it. However, the cost of resurfacing varies by region because the cost of concrete varies depending on where you live. Your project's cost will also depend on the condition of your existing surface.
Contact a SUNDEK contractor to get a free quote on your project.
About cracks in concrete surfaces
There are two things you should know about concrete, it will turn grey and it will eventually crack. Cracks in concrete are inevitable due to various causes. However, at SUNDEK, we are experts in assessing and working with you to help create a beautiful design by working with your existing surface.
Your local SUNDEK installer can help you figure out the best way to work with your cracks prior to resurfacing, including our custom scoreline option, which uses the existing cracks to create a unique custom design. Your surface will look like a piece of art once complete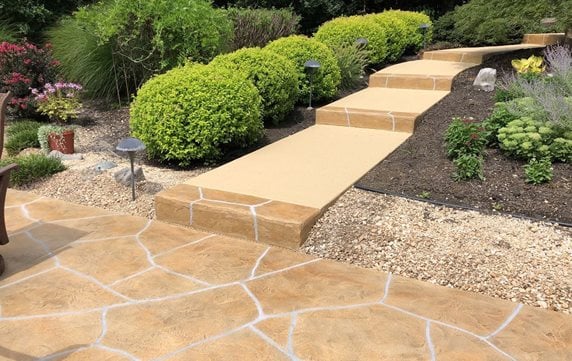 Frequently asked questions
Yes. Whether you want to extend the length of your porch or add a new section to your existing walkway, SUNDEK can help. First you will need to get a new slab of concrete poured to add length where you want it. Then we will come in and resurface the entire surface so everything matches.
---
If you're looking to update the look of your concrete entry, painting it might sound appealing as an affordable option. However, it's important to keep in mind that while you can use water-based stains, concrete dyes, or tinted sealers, some color variation is likely to occur.

When SUNDEK resurfaces concrete, we apply a concrete coating that already has color mixed in (we have a variety of colors to choose from) so you don't get that variation. We can also seal the surface so it's protected from stains and UV damage. With resurfacing, you'll get a more permanent, professional solution than you'll get from painting.
---
If your walkway or entry has stairs that are in bad shape, we can fix those too! Learn more about the concrete step repair process.
---
Yes. Even if your existing surface has cracks or other damage, we can pour a concrete overlay over your existing surface. You'll get a new look without having to rip out your existing concrete. The coating will only add just under a quarter-inch of thickness on top of your surface.
---
SUNDEK can resolve uneven surfaces. While resurfacing, we will apply a thicker coating wherever needed. You'll get an even surface without trip hazards or spots where water puddles.
---
See More Frequently Asked Questions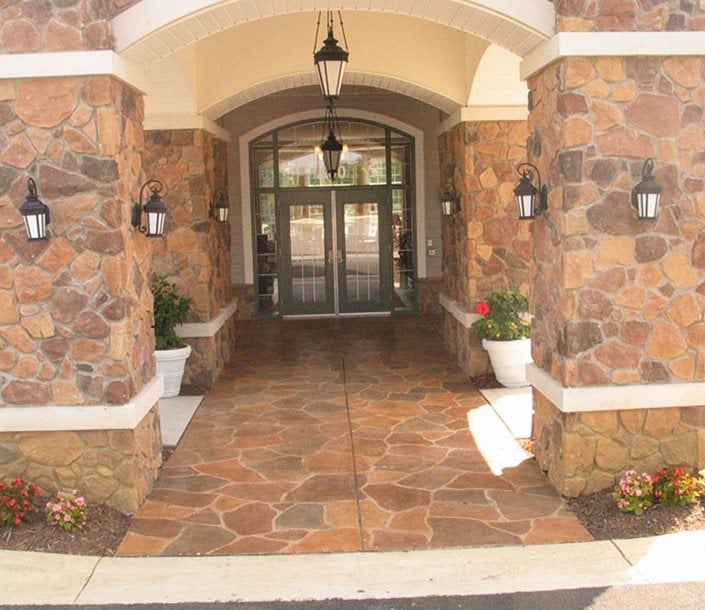 Installation of a SUNDEK coating on a walkway or front entry
Here's an overview of the installation process (details vary depending on which products are used):
Protect. Protect the surroundings before beginning the process. Don't forget plants!
Prepare & Repair. Etch, grind, or shot blast the existing concrete surface to make it porous. Fix cracks or other existing damage.
Clean & Prime. Pressure wash and let surface thoroughly dry. Apply primer if necessary.
Mix Product. Following instructions, mix the product to prepare it for application. Mix in color if necessary.
Apply overlay. Depending on the desired look, apply the overlay by spraying, rolling, or troweling.
Add Patterns & Texture. This is completed using hand-trowels, rakes, stamps and other specialty tools.
Cure & Seal. After the overlay cures, add a sealer for additional protection. Customers often ask us if a concrete walkway or front entry needs to be sealed, and our answer is always yes. You need to protect the surface from all the foot traffic it will get. A sealer will preserve the look of your pathway or front entry for longer. It also enhances its stain resistance and makes it easier to maintain.
Resurfacing a concrete walkway or front entry is not easy. Find a local dealer who can do it for you.
Designing your concrete walk and entry
Your front walk and entry are the first thing you and your guests see upon arrival, so make it beautiful! SUNDEK offers many options when it comes to choosing your design. Our products offer a variety of colors, textures, patterns, and masonry effects. We can design your walkway so it matches your entry, or vice versa.
While choosing a design is exciting, we know it can also be overwhelming. When you contact your local SUNDEK dealer, we can walk you through options and ideas. Show us designs you like so we can create something you love. If you're looking for inspiration check out our gallery of walks and entries.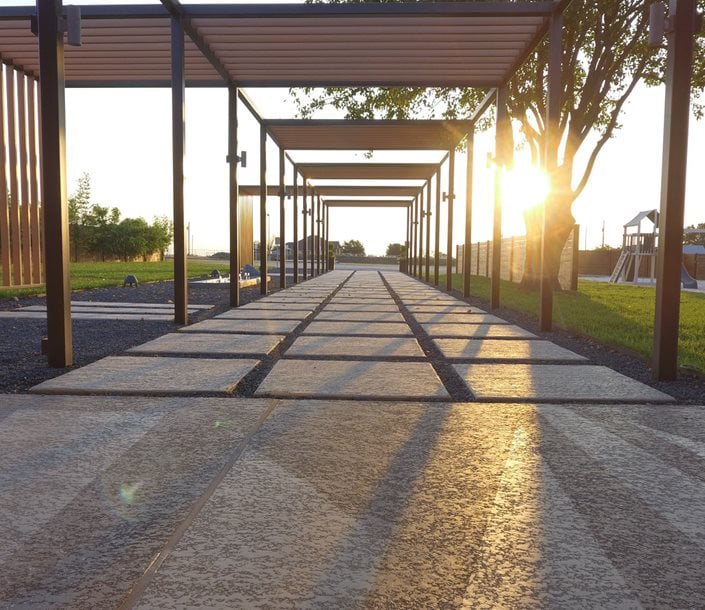 Maintenance
Walkways, entryways, and porches get a lot of foot traffic, so the best way to keep them looking great is to invest in a sealer. Talk to your SUNDEK contractor about the best sealer for your particular project and location. It's important to remember that high-quality sealers need to be reapplied after a few years (reapplying a sealer is a lot less expensive than getting your walk or entry resurfaced again!).
In addition to sealing your walk or entry, remove debris with a broom every so often and use a hose to spray off dirty spots. If needed, it's fine to use a pressure washer. We also have cleaners, but if you decide to use a commercial cleaner, just be sure it's non-abrasive and formulated for the surface. Although several of our top coatings are chemical and moisture resistant, we recommend cleaning chemical spills as quickly as possible.
Get more information about maintenance.
Your Local Contractor:
SUNDEK OF WASHINGTON
14121 Parke Long Ct. #109
Chantilly, VA 20151