How Resurfacing Concrete Steps Makes Them Look Better
How to fix concrete steps that are cracked or crumbling
Whether your steps are unsightly or unsafe, concrete resurfacing is the solution. SUNDEK has helped homeowners and business owners resurface steps for more than 50 years.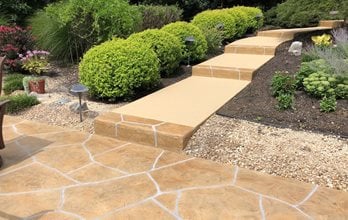 A patio and walkway with stairs resurfaced by SUNDEK in Chicago, IL.
How to resurface concrete steps
When working with a concrete contractor, here is how they will make your concrete steps look better:
First, they will clean your steps with a pressure washer and perform other necessary prep work.
Then they will apply a concrete coating on top of your existing steps.
Next, they will customize the coating in the color, pattern, and texture of your choice.
After the coating has cured, they will apply a sealer to protect your newly repaired steps.
What types of designs can you do on concrete steps?
SUNDEK has many design options available—the sky is the limit. You can even choose to make your steps look like they're made of brick, wood, limestone, cobblestone, or any other material you like. Take a look at our photo gallery to see some examples of what we can do on stairs and walkways.
Related: 9 Ideas for a Concrete Front Steps Makeover
You may already have ideas for what you want your steps to look like. We'd love to hear what you have in mind and help make your vision a reality.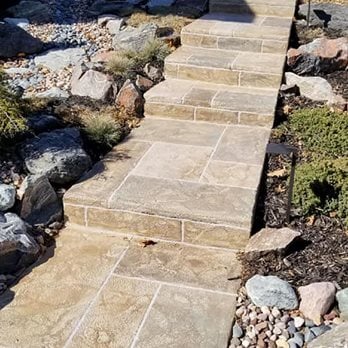 How to fix concrete steps that are damaged
Concrete steps get a lot of foot traffic, so it's common for them to experience some cracking, chipping, or fading over time—especially at the edge of the step. The good news is that as long as the concrete is viable, your concrete steps can be resurfaced.
To determine whether your concrete is viable, examine the damage. If it doesn't significantly compromise the integrity of your concrete (if you don't have gaping cracks or other similar issues), then you have viable concrete that can be resurfaced. This means that you can get beautiful steps that are also safe to walk on without having to replace your existing concrete steps. It'll save you the headache and expense of a demolition job.
At SUNDEK, we are experts in concrete repair. We can assess your damage and determine what steps to take to resolve it. Additionally, we'll look into what caused the damage and help prevent it from happening again. Contact a local SUNDEK contractor to get a free quote.
Low spots on steps
Low spots on steps creates places for water to puddle and dirt to accumulate. They can also sometimes create trip hazards. Fortunately, you can resolve low spots with resurfacing.
When a concrete contractor resurfaces your steps, they can even out the surface by applying more material to the low spots. They can then blend everything in so the surface of each step is even. This will prevent water from puddling and dirt from accumulating.
Can I patch concrete steps myself?
If you're looking for detailed information on how to fix concrete steps yourself and want to know what repair material to use, there are plenty of DIY tutorials available online. (The short answer is that you can repair your concrete steps by prepping the damaged area then applying a concrete mix.) However, we highly recommend contacting a professional concrete contractor about your damaged steps.
Why hire a professional to repair or resurface your concrete steps
Experienced contractors have the background knowledge necessary to address the many things that can go wrong. For example, it's critical that you get the ratio between concrete mix and water just right. Weather is another factor that can impact the quality of your repair job. If the concrete dries too quickly, you may end up with issues not long after doing your repair.
Hiring a professional is more of an initial investment, but it will save you time and money in the end. A bonus of hiring an experienced professional such as a SUNDEK contractor is that we can make sure the repair work doesn't look like a concrete patch was slapped on. We can blend it in with the rest of your concrete or even resurface all of your stairs to give you a brand new look.
Contact a local SUNDEK contractor to set up a free consultation and get a quote.
Your Local Contractor:
SUNDEK OF WASHINGTON
14121 Parke Long Ct. #109
Chantilly, VA 20151