How to Make a Concrete Walkway Look Better
See 5 ways to turn a plain concrete walkway into a decorative pathway that enhances the appearance of your property
If you have a pathway that's damaged, or you just want to update its appearance, you don't have to tear the whole thing out. With walkway resurfacing, you can transform a walkway from an eyesore to an eye-catching focal point with a coating that goes right on top of your existing concrete.
Decorative concrete walkway design ideas
With all the colors, textures, and patterns available with decorative concrete coatings, you can get a pathway that fits the style of just about any location. Homeowners and business owners love the customization possibilities that allow them to get a walkway that's truly unique. Here are a few ideas for concrete walkway makeovers—all installed by SUNDEK contractors using SUNDEK products.
Get a free quote
1. Coordinate Your Walkway with Surrounding Features
For this walkway in Houston, TX, SUNDEK of Houston used SunStone to create a walkway and patio that merge seamlessly. Some clients prefer walkways to match their surrounding features such as pool decks, patios, and/or fire pits—others prefer a pattern or color that coordinates but doesn't match exactly. No matter which option you prefer, decorative concrete coatings can make it happen.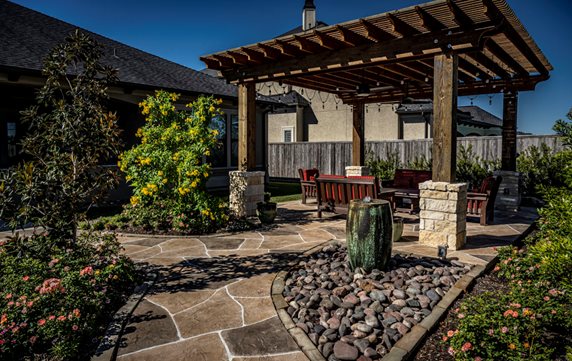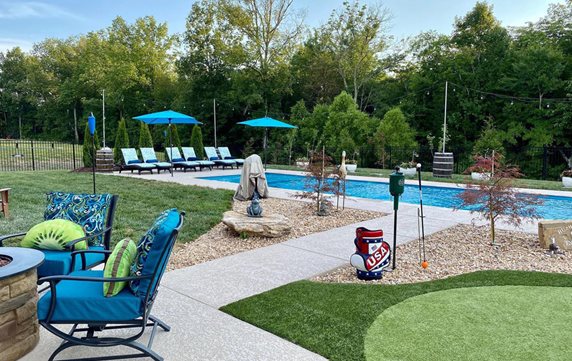 2. Make Your Pathways Comfortable to Walk On
If you have a pool nearby, it's possible that you or your guests might walk along nearby pathways while barefoot. With that in mind, it's crucial that your pathways remain temperate enough on extremely hot days so no one burns their feet.
At this pool area in Mt. Juliet, TN, SUNDEK of Nashville resurfaced this pool area, fire pit area, and pathway that connects the two using Classic Texture. This knockdown texture product is SUNDEK's cool deck system. Our customers love that it not only remains comfortable all summer, but it's also easy to clean and creates a nice look for any surface.
3. Incorporate Art
Art isn't limited to a canvas indoors. With decorative concrete and an experienced, talented contractor, you can get gorgeous designs right on your concrete—essentially adding a work of art to your property!
At SUNDEK, we have a variety of stamps to choose from, or you can request a custom stamp to get a logo or design that is exclusively yours. Here, ATD Concrete Coatings resurfaced this stairway and walkway leading up to a home in Las Colinas, TX, creating a lovely centerpiece for all to enjoy.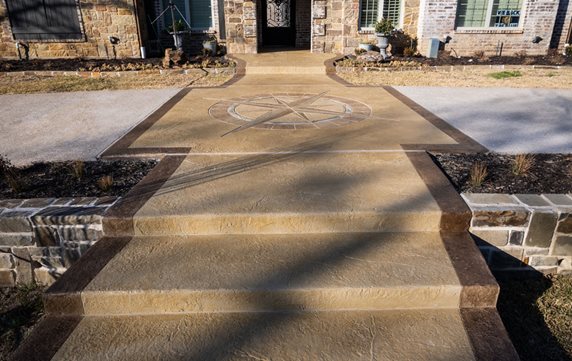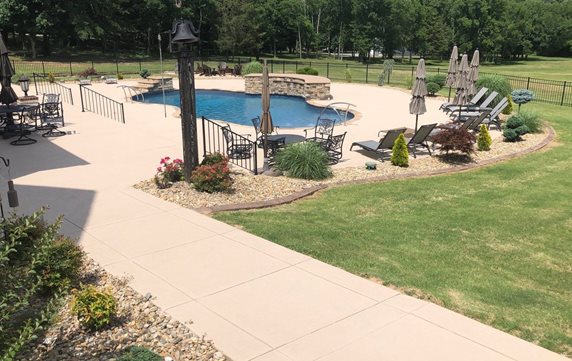 4. Break Up Your Blank Slate with Custom Scorelines
Some homeowners and business owners don't necessarily want a fancy design for their walkways, but they also don't want just a plain slab of concrete. In those cases, we suggest including custom scorelines. With scorelines, you can get a subtle design that breaks up the monotony of plain concrete.
Here, SUNDEK of Nashville resurfaced this walkway and pool deck, creating a simple yet elegant pathway that leads from the side yard to the pool area.
Is your concrete walkway cracking? Custom scorelines are a great way to resolve their unsightly appearance and prevent future cracking! Learn more about custom scorelines.
5. Get Creative
Have an idea for a walkway that will prompt people to stop and stay awhile? An experienced contractor such as any authored SUNDEK installer will work with you to figure out how to make your vision come to life.
SUNDEK of Austin resurfaced this walkway at the Celebrino Event Center in Georgetown, TX, creating a gorgeous surface that's unique to the location.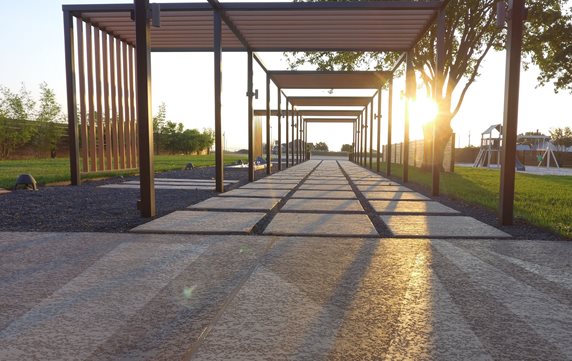 Frequently Asked Questions About Walkways
Here are some questions we commonly get about resurfacing walkways and pathways. If you have questions about the work we do or would like a free quote, please contact us!
Can you resurface an existing walkway?
Yes, if you already have a concrete walkway, it can be resurfaced. Before a coating is applied on top, the existing surface will need to be stripped of all sealers, paint, and any other materials. The concrete needs to be sanded or grinded so the new coating adheres to it properly.
If you do not have an existing walkway, a coating can also be applied to a new concrete slab. The freshly poured concrete needs to cure completely before the coating is applied.
Can a cracked walkway be resurfaced?
It is possible to resurface a cracked concrete surface, even if there are minor cracks, spalling, and chipping. However, keep in mind that resurfacing is only an option if the surface is still viable. If the cracks are significant or very deep, resurfacing might not be possible. The best way to find out for sure is to contact a contractor to get a quote (find a local contractor). An experienced, reputable contractor will never recommend resurfacing on top of a surface that isn't viable. If you have a concrete walkway with significant damage, be wary of a contractor who tells you they can put a coating on top of it.
One way to address cracking concrete is with a custom scoreline. At SUNDEK, we use a technique called the Custom Scoreline Effect which we use to make existing cracks part of the concrete's design in a way that looks great. Working with the cracks that are there also serves to prevent future cracking.
Can an uneven walkway be fixed?
Yes. If you have an uneven walkway, it can—and should—be fixed. Uneven walking paths can pose a trip hazard to passersby, so it is important to resolve the issue. You will need to consult a reputable contractor to see if leveling is possible for your surface.
Can I widen my walkway?
If your walkway is too narrow, there's good news! Widening your walkway before resurfacing it is possible. The beauty of decorative concrete coatings is that they can be placed over the entire walkway, so you won't be able to tell where the old concrete ends and the new concrete begins. Learn more about extending concrete.
Looking for a contractor to improve your walkway?
At SUNDEK, we have installers around the country trained to install high-quality decorative surfaces.