Cool Deck Coatings for Your Pool
How to get a cool pool deck with a spray texture coating
When homeowners and business owners think about redoing their pool decks, a common concern is having a cool deck*—a concrete surface that stays cool on hot days. Even if you're in a location that doesn't experience extremely hot summer weather, it's nice to have decking that's comfortable enough to walk on with bare feet when the sun is out.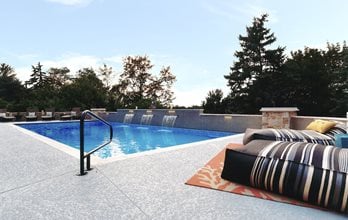 Contact your local SUNDEK contractor to get a free quote on your pool deck
What affects the temperature of a pool deck?
Several factors can influence the temperature of your concrete surface:
Material of the topcoat. Some materials absorb less heat than others. For example, Acrylic does not absorb as much heat as gray concrete and dark stone.
Color of the topcoat. A white pool deck will remain cooler than a dark blue pool deck.
Location of the pool deck. Is it in an area that's exposed or an area that's shaded?
Texture of the surface. A smooth surface is hotter than a textured surface.
What is the coolest pool deck surface?
One of the coolest options for pool deck surfaces are textured acrylic coatings. A coating that's made of concrete and acrylic will absorb less heat than other materials. Texture also makes the surface feel cooler to the touch because when a person walks on it, their bare feet are exposed to less surface area.
In addition to keeping your pool deck cool, a textured surface is also slip resistant when the proper sealer is applied.
How to make existing pool decks cooler
If you already have a pool deck but you want to make it cooler, you don't have to rip everything out and start from scratch. Instead, you can opt to resurface your pool deck. This is less costly, less messy, and less of a headache than going through a demolition job and pouring new concrete. Additionally, if you have any cracks or other damage, a contractor can repair that damage before resurfacing the pool deck.
With resurfacing, you can have a cool deck overlay for pools applied directly to the top of your existing decking. Your contractor can then design the coating according to your preferences. Your pool deck will look brand new.
At SUNDEK, we have a variety of colors to choose from. We can also create borders and patterns. For ideas, look at our pool deck photo gallery to see some of the work we've done. If you already have something in mind, contact your local SUNDEK contractor so we can help make your vision a reality.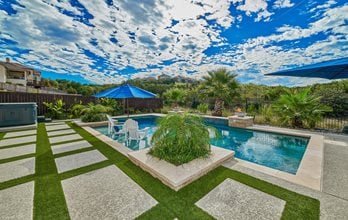 How much does cool deck cost?
You might be wondering, how much a cool deck will cost. The cost of your project depends on a variety of factors:
Which product you choose
The condition of your existing surface (surfaces that need a lot of repairs will cost more than surfaces in good condition)
Your location (cost of materials is often higher in locations where cost of living is higher)
Desired design (intricate details and/or including multiple colors will be more expensive than a standard design with one color)
For more in-depth information about SUNDEK costs, see our cost page. For an accurate quote, contact a contractor to assess your site and discuss ideas.
Contact your local SUNDEK contractor to get a free quote.
Cool pool deck coating options from SUNDEK
SUNDEK has several products used for applying a cool deck coating.
We can combine products so you get the pool deck coating you need and want. If you're not sure which SUNDEK product is right for you, ask your local SUNDEK contractor what they recommend.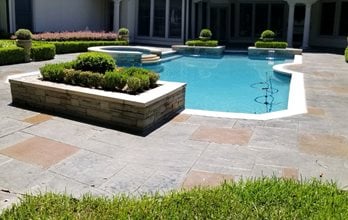 Cool deck color options
Customers often ask what the best cool deck colors are. When choosing a color, remember that lighter colors will retain less heat while darker colors will retain more heat.
At SUNDEK, we have a variety of colors to choose from, and you can see our standard color options here. (Keep in mind that we also do custom colors.)
We had a laboratory test the reflective abilities of our colors to determine which colors reflect the most heat. We are proud to say that the majority of our colors are LEED certified, meaning they have an excellent Solar Reflective Index score—therefore, they stay cooler than most.
What about cool deck paint?
When looking into redoing a pool deck, homeowners and business owners often come across information about painting a cool deck coating. Before taking on such a task, make sure you understand the cons of applying cool deck paint yourself. Here are some of the issues that DIYers often face when trying to apply cool deck paint:
It's not easy to apply. Due to its consistency, it's difficult to apply the product evenly.
It dries quickly. Because of this, you need to apply it very quickly (this is not a one-person job).
Prone to damage. If it doesn't adhere properly, it eventually peels off the surface and also tends to crack and chip.
Covering an entire pool deck often requires a lot of paint—be sure to account for this in your budget.
You need the right materials to ensure that you apply the material evenly.
We recommend working with a licensed professional when dealing with your pool deck surface. An experienced concrete contractor is familiar with common pitfalls of working with pool decks and has proper materials and personnel to get the job done right. A local contractor will also be familiar with how weather affects product application.
At SUNDEK, it's our priority to create beautiful surfaces that are safe and last a long time. Contact your local SUNDEK contractor to get a quote on your pool deck.
*This is not Kool Deck. Kool Deck is a registered trademark of Mortex Mfg. Co.
Your Local Contractor:
SUNDEK OF WASHINGTON
14121 Parke Long Ct. #109
Chantilly, VA 20151