Concrete Extensions for Patios, Driveways & Walkways
If you want to expand the size of your existing concrete surface, learn how you can use coatings to make it look consistent
There are various reasons you may need or want to expand the size of your concrete slab. Maybe you need a driveway extension because your existing driveway doesn't have enough room for parking, your existing patio is too small to host family and friends comfortably, or you want a walkway in your backyard to jut off into an additional direction.
No matter the reason, if you decide to expand your concrete surface as either a home improvement or business improvement project, it will require more than just adding more concrete. After adding concrete, you'll probably want to make it look as if the old surface merges with the new. That's where decorative concrete coatings come in.
Get a Free Quote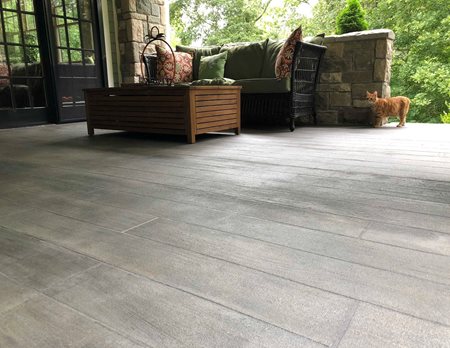 Decorative Concrete Resurfacing in St. Louis, MO, applied a coating to the surface of this residential patio area to create the look of a wood deck in this outdoor living space.
How to blend new concrete with existing concrete
When you add new concrete to an existing concrete surface, applying a concrete coating is a great way to blend the old and the new. A concrete coating that covers the entire surface will make it so you can't tell where the old concrete ends and the new concrete begins. In fact, the entire surface will look brand new.
Generally, here's how a contractor will extend your surface and then apply a coating:
Pour new concrete. The new concrete will need to be level with the existing concrete surface.
Prepare old and new surface for decorative coating. To adequately prepare the surface, all the concrete should be free of paint, sealer, or anything else that will prevent the coating from adhering properly.
Apply coating to entire concrete surface. The contractor will apply the coating to the whole concrete surface so that old and new concrete are covered.
Customize the coating. Using the appropriate colors and textures, the contractor will customize the decorative coating to meet the design specifications.
Apply sealer. To protect the surface from general wear and tear, damage from contaminants, and more, a high-quality sealer should be applied. It will need to be reapplied every few years, the exact amount of time depending on how much the surface is used. Learn more about sealers.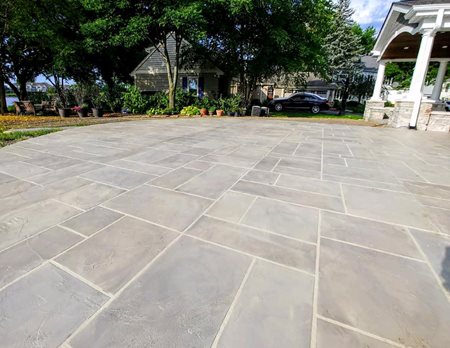 For this driveway in Chicago, IL, SUNDEK of Illinois resurfaced the concrete using SUNDEK's Tuscan product—an overlay that is hand-crafted to create the desired look.
Can I extend the size of my concrete surface myself?
While it's possible to do it yourself, we highly recommend working with an experienced concrete contractor to extend your driveway, patio, or walkway. Here are just a few things that you'll need to think about before expanding a concrete surface:
The new surface needs to be level with the existing surface. This is a critical component that may sound straightforward but is more difficult to achieve than it sounds. If it's not level, you're going to have issues with uneven spots on your finished concrete surface. If you put in a patio extension to create a spot for a fire pit, for example, and you have uneven spots, you may end up with water puddling after rain or spots that are trip hazards.
All concrete (new and old) needs to be prepared so the coating can adhere to it. Depending on the status of your existing surface, this may be a difficult step that requires specialized tools.
Your existing surface needs to be structurally sound and viable. Placing a coating on a concrete surface that is damaged beyond repair will not work out in the long term. A contractor can help you determine if your existing surface is worth keeping.
These are just a few of the things to think about before completing this type of work yourself.
If you need a contractor in your area who can do this type of work, contact us. We'll come out to look at your surface and give you a free quote!
How much does it cost to widen a driveway, patio, or walkway?
The final cost of your concrete extension project depends on a variety of factors. Here are some of them:
How much concrete will you add? A patio that's doubling in size will be more expensive than a driveway that's widened by two feet.
What is the condition of your existing surface? If your concrete has cracks or other structural damage, that will need to be resolved before the coating is applied.
What type of coating do you want? A simple textured coating will be less expensive than a stamped concrete coating with multiple colors.
Where are you located? The price of concrete varies depending on what area of the country you live.
Does widening a driveway increase home value?
While it's hard to say exactly how much value it brings, a properly sized driveway does add value to a home. A driveway that's too narrow is seen as a downside to most homebuyers, while a driveway that can fit at least two cars next to each other is a plus.
Take a look at these resurfaced driveways to get driveway widening ideas.
Other options for expanding a patio, driveway, or walkway
Concrete is the most permanent way to expand the size of your patio, driveway, or walkway, but there are other options:
Gravel. This is probably the least expensive way to extend a patio, driveway, or walkway. Some people like the idea that it's not permanent since it gives them the ability to change things if needed. One thing people don't like about this option is that it can get messy and you typically have to replenish the gravel every few years.
Even though using gravel for an extension is fairly simple, it's not as straightforward as just putting gravel on the ground next to your concrete. To do it properly, you need to remove a few inches of soil from the area you want to place the gravel, make the dirt compact, put down landscaping fabric, and install edging.
Pavers. People like this option because it's permeable and can also be modified if needed. However, this flexibility is also what people don't like about it—pavers can sometimes shift and weeds sometimes grow between them.
To properly lay the pavers, you'll also need to remove soil from the area and compact the dirt, making sure the pavers are even with your existing concrete surface.
Find a contractor to expand your patio, driveway, or walkway
SUNDEK has local contractors across the country ready to help with your project. Find a contractor near you.
Your Local Contractor:
SUNDEK OF WASHINGTON
14121 Parke Long Ct. #109
Chantilly, VA 20151