How to Prepare Concrete for Resurfacing
Get information on how to prepare a concrete floor for resurfacing, including glue removal, cleaning and more.
Posted by on in Blog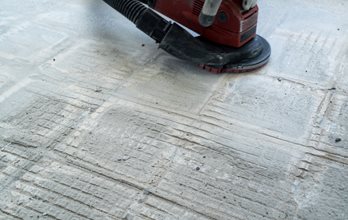 Grinders are often used to remove tile glue when preparing concrete for resurfacing. Credit: makasana photo / Shutterstock.
If you're considering resurfacing your floors, you'll need to properly prep them first. The process involves removing existing carpet, tile, laminate and any glue that remains. Here, we answer some frequently asked questions about how to best prepare your concrete for resurfacing.
How do you get concrete ready for resurfacing?
Adequately prepping your concrete before you resurface requires several steps.
Remove existing flooring materials. The details for this step depend on whether you're removing tile, laminate, carpet, or another flooring material. These are not step-by-step instructions for removing these materials but rather the basics so you know what to expect.

For a tile floor, you'll likely need a pry bar, hammer, and floor scraper. After you remove the tile, a hammer drill with a thinset removal bit will help remove the thinset and leftover grout.
To remove carpet, you'll need tools such as a heavy-duty utility knife and/or hook blade. You'll also need to completely remove the glue underneath the carpet. There are a variety of methods used to do this including using adhesive remover, boiling water, or a steamer.
Removing laminate requires several tools including a flat bar. A floor scraper and heat gun are often used to remove residue.

Remove all loose materials. You can use a push broom or shop vac for this task.
Make the surface porous. A porous surface will help the new coating adhere properly. To do this, you'll etch, grind, or shot blast the concrete. This step will also serve to remove any remaining materials from your previous flooring.
Wash the surface. Using a pressure washer, wash the surface to further remove any contaminants that might interfere with your new coating adhering properly.
Resurfacing your floors? We can help! Find a local contractor.
Safety when prepping concrete
Whether you're removing tile, laminate, or another flooring material, it's important to take the proper precautions to prevent injury. Here are some materials we recommend using when doing concrete surface prep:
Goggles to protect your eyes from materials such as pieces of tile that may fly up during the tile removal process.
Gloves to protect your hands from sharp blades and/or sharp edges of materials.
Work boots, long pants, and a long-sleeve shirt to protect your body from sharp edges and blades.
Mask to avoid breathing in dust and contaminants.
IMPORTANT: If your flooring was installed in 1981 or earlier, it may contain asbestos. It's best to play it safe and contact a professional to conduct testing before removing any flooring materials.
Can I prepare my concrete for resurfacing myself?
Yes! If you have the knowledge and are willing to work hard, you can complete the concrete surface preparation before resurfacing. To make sure your new coating adheres properly, you'll need to completely remove glue and other material.
Please see the note above about removing flooring that was installed in 1981 or sooner.
Want to hire a professional to do the work? Contact us for a free quote!
Do you need to grind concrete before resurfacing?
It depends. Etching will make your surface more porous, which is what you want before applying a coating. However, you may need to grind the surface first to rid the surface of things like glue, caulk, grout, and more.
What is the best carpet glue remover for concrete?
It can be very difficult to remove glue from the concrete after removing carpet. Here are some recommendations for getting that glue off completely:
Use a floor scraper or razor to get rid of large spots of glue. If you have a large area that needs glue removal, you may want to use a reciprocating saw fitted with a scraper attachment to make the removal easier.
Pour boiling water on top of stubborn glue, taking precautions not to spill any hot water on yourself (this is when those gloves and long sleeves will come in handy).
Apply an eco-friendly glue and mastic remover. Check your local hardware store for these removers. There are plenty of low-odor, low-VOC products to choose from. You can apply glue remover using a sprayer, brush, or mop. Always read the packaging instructions, but typically you'll need to wait at least an hour or two for the products to take effect so you can scrape off the glue.
Floor sanders or buffers can be used to remove carpet glue as well as other adhesives such as glue.
What dissolves carpet glue?
You can't dissolve carpet glue, but you can make it easier to remove. See the information above for ideas that explain how to remove carpet glue from concrete.
RELATED: Cleaning Concrete
Find a dealer who does concrete prep and resurfacing near you
If you're looking for an authorized contractor in your area who has experience resurfacing concrete, find a SUNDEK authorized installer near you.
You can also fill out the form on this page
Or call SUNDEK headquarters at 877-478-6335
We look forward to working with you!
Your Local Contractor:
SUNDEK OF WASHINGTON
14121 Parke Long Ct. #109
Chantilly, VA 20151