How to Clean Concrete
A guide to general cleaning and removing stains from your concrete
Even though concrete is an incredibly durable surface, it's still important to clean it the right way—using the right methods and right products. Caring for your decorative concrete properly will ensure that it lasts and looks great for years to come.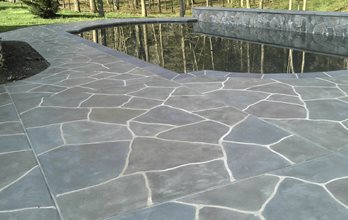 A clean and well-maintained decorative concrete surface will last for years.
General cleaning & preventative maintenance
If you're wondering how to clean concrete in order to keep your surface looking its best, here are some basic maintenance guidelines.
Regularly remove accumulated dust and debris so it doesn't stick to the decorative concrete or act as an abrasive. You can do this with a push broom, dry mop, wet mop, or hose—choose the appropriate tool for the location of the surface. If clean water doesn't remove the dirt sufficiently, you can use a pressure washer and/or a non-abrasive cleaner.
Clean up liquid and chemical spills immediately with a clean, damp cloth so the spill doesn't damage your decorative concrete.
Prevent stains on indoor floors with a commercial-grade floor wax. The wax will preserve your sealer and protect the floor against stains and abrasion.
Prevent scuffs and scrapes in high-traffic areas. Use felt pads or sliding casters under furniture or equipment legs to prevent scratching the finish. Place throw rugs, fabric, or rubber mats in areas where you have heavy furniture or equipment. Avoid mats backed with plastic or acrylic, as they may contain plasticizers that will try to bond with your coating or cause discoloration.
Refresh your concrete sealer when necessary. The contractor who does your decorative concrete work should be able to tell you how often you need to reseal your surface. (See more about sealers.) It's important to use proper cleaner to ensure that your sealer doesn't degrade or turn yellow.
Does your concrete have cracks or other damage? We specialize in concrete repair! Contact your local SUNDEK contractor to find out how we can help.
Tools for Cleaning Concrete
If you want to clean your concrete surface yourself, you'll need a few basic tools.
Tools for cleaning outdoor decorative concrete surfaces:
Power washer or garden hose with a strong nozzle
Scrub brush with stiff bristles
Cleaner formulated for your surface (see below)
Tools for cleaning indoor decorative concrete surfaces:
Mop and bucket filled with warm water
Non-abrasive sponge or mop for scrubbing stains
Cleaner formulated for your surface (see below)
How to remove stains from your concrete
Among many maintenance questions, clients most commonly ask us how to clean oil from concrete and how to remove paint from concrete. Power washing is a good solution for tough stains on concrete patios and other outdoor surfaces, but a specialized cleaning solution is best indoors and on garage floors.
See SUNDEK's Maintenance Guide for detailed information on removing the following:
Oil
Paint
Grease
Beverage & food spills
Gum, tar & tree sap
Mildew & algae
Hard water deposits
Rust stains
Soil, plant & wood stains
Access SUNDEK's Maintenance Guide.
Removing tire marks
When looking into how to clean a concrete driveway, homeowners and business owners are most commonly concerned with how to remove tire marks. Learn about how tire marks occur and how to prevent them.
Concrete cleaning products
It's important to use non-abrasive cleaning products that are formulated for your concrete surface. SUNDEK cleaners are designed specifically for decorative concrete coatings.
SunTough is an environmentally friendly cleaning product that contains acid. For tough stains, apply SunTough to the surface before rinsing.
SunKleen penetrates through grease and breaks the bond at the surface. It comes as a concentrate and has virtually unlimited applications.
SunSpot can be used on decorative concrete textures and can remove tar, grease, asphalt, tire marks, tree saps, and most oil-based stains.
Contact us if you want to learn more about our cleaning products
Warnings
In addition to knowing how to clean your surface, it's important to know what not to do. Here are some common mistakes people make when cleaning that can damage a decorative concrete surface.
Do not use cleaners such as ammonia, bleach, as they will slowly eat away at your finish.
Do not use hot water. It may leach into your coating and cause whitening. (Warm water is fine.)
Do not apply tape to your decorative concrete floor. The adhesive resins will eventually migrate into the finish and could possibly pull the finish and stain off the floor. If you must use tape, use blue painters tape and remove it as soon as possible.
What to do when cleaning doesn't help
Sometimes a concrete surface reaches a point when it just doesn't look good anymore—even after it's been thoroughly cleaned. Maybe it's endured years of neglect or it's just old and outdated. No matter the reason, SUNDEK can help.
Concrete resurfacing is a great option for homeowners or business owners who want to make an enhancement without having to demolish their existing concrete. With SUNDEK coatings, our contractors can make an old surface look brand new at a fraction of the cost of tearing everything out and starting from scratch. You'll get a gorgeous surface without the headache or inconvenience. We can complete resurfacing jobs in just a few days.
Concrete staining is another option for updating a dull concrete surface. Choose from a variety of color to add vibrancy or a subtle color to your floor.
RELATED: How to Prepare Concrete for Resurfacing
Contact a SUNDEK contractor in your area to get a free estimate!