A Customer For Life
We don't want you as a customer for now.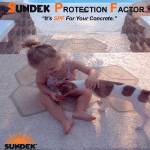 We want you as A Customer For Life!
That's why we have developed systems and worked with our dealers to implement programs to ensure your investment and happiness for years to come.
We call it our
S
UNDEK
P
rotection
F
actor...
SPF
for your concrete.
We have a lot on our minds…
our families...our health...our investments.
The last thing you need to worry about is the concrete that you work, play & live on.
The SUNDEK Protection Factor is another decorative concrete industry first. It is the only long-term solution that allows you to select from a menu of maintenance options to protect your concrete.
Just like your skin, your concrete is exposed to the elements and needs the proper level of protection. Choose from an SPF 5 to clean your coating to an SPF 60 to apply one of SUNDEK's custom textures in a variety of color choices and design options.
Call it a "Wellness Program" for your concrete's health.
Download the latest Sundek Maintenance & Cleaning Products for your records
Download the latest Sundek Protection Factor Brochure for your records