Concrete Paint vs Stain: Which is Better?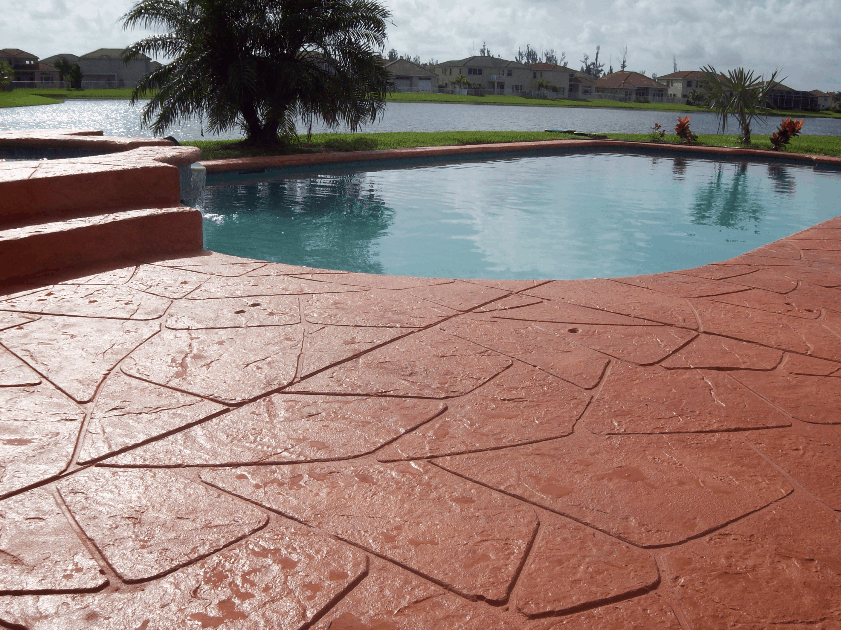 Concrete paint on a pool deck
Outdoor concrete paint and acid stain are two popular methods for coloring concrete patios, driveways, walkways, or pool decks. While some people think these two options are similar, in fact, they are quite different. To understand how outdoor concrete paint is unique from acid stain, consider the following comparisons.
Which is Better Concrete Paint or Stain?
Although some people prefer outdoor concrete paint, the majority love the benefits associated with acid stain. Especially when using a quality product, like SunAcid, the outcome is incredible.
Get a free quote
Check out these resources and downloads to see what's possible with acid stains:
It is important to understand how outdoor concrete paint works versus acid stain. With paint, only the surface of the concrete is covered, which adds a layer of protection from damage. Painted concrete has an opaque appearance, meaning that none of the concrete shows through, and offers a choice of beautiful colors. When properly applied, the paint will last a long time without chipping or peeling and can also help hide imperfections or patch work on top of the concrete.
In comparison, acid stain actually permeates the pores of the concrete and interacts with different components of the concrete. This creates more of a translucent appearance. With outdoor concrete paint, you get the exact aesthetic every time, whereas with acid stain, every project has a unique outcome. In other words, if 10 patios had the same color of acid stain applied, they would share that color but feature different effects.
Pro tip: Don't use oil-based paint or latex paints on your concrete patio, pool deck or driveway. They will peel, crack and don't hold up well outdoors. Instead use a paint formulated specifically for use on concrete or masonry. These are often made with acrylics or epoxies. Learn more in 5 Reasons Painting Your Concrete Yourself is a Bad Idea.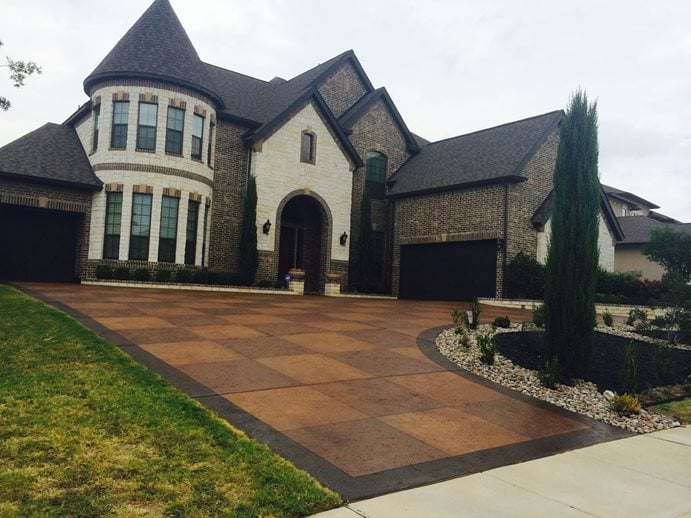 Concrete stain on a driveway
The Prep and Application Process
There is more prep work involved with outdoor concrete paint.
Before applying paint, the concrete surface is cleaned using a special product that eliminates grease and oil.
Next, roughing up of the surface is necessary to enhance bonding and adhesion.
Sometimes muriatic acid is applied to etch and remove any curing compounds left on the concrete surface.
The concrete is then coated or painted which also helps prevent moisture penetration.
While a water-based stain is available, acid-based stain has long been the preferred choice for outdoor applications. As far as prep work, acid stain is very different. Prior to the application of acid stain, the surface should be cleaned and dry. The acid will inherently etch the surface for a final clear coat if desired. Acid stains won't peel or flake like concrete paint.
Contact a SUNDEK contractor near you to find out more.
Stains also work great indoors. Learn more about concrete floors.
You may also be intrested in Garage Floor Paint vs Epoxy Coating.