5 Reasons Painting Your Concrete Yourself is a Bad Idea
If you want to color your concrete surface, it can be tempting to consider painting it yourself. Before you embark on this project, it's important to know some of the common pitfalls homeowners and businessowners encounter when they attempt painting a concrete surface on their own.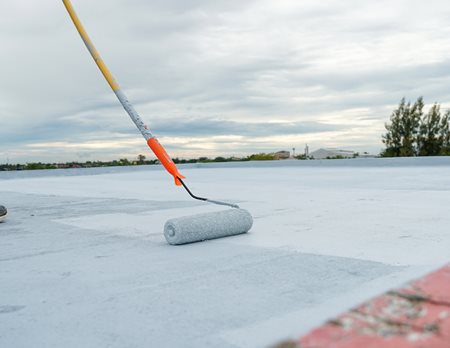 Oasishifi / Shutterstock
Is Painting Concrete a Good Idea?
Here are 5 reasons we discourage homeowners and commercial property owners from painting their own concrete surfaces.
Paint only covers the surface of the concrete, so if any chips or peels off, the plain gray concrete underneath is exposed. Concrete stain, on the other hand, permeates the surface—therefore it does not chip or peel.
If the area you're painting gets a lot of foot or vehicle traffic, wear and tear will happen quickly, requiring you to do frequent touch-ups.
Concrete paint offers an opaque appearance, which might be fine for some projects, but not if you want a more natural look. Concrete staining offers color variations, allowing you to mimic the appearance of stone or other natural materials.
If your surface is damaged, concrete paint won't hide it well unless you only have a few hairline cracks. If this is the case for your concrete slab, you may want to consider resurfacing instead.
Before painting your surface, you'll need to properly prepare it so the paint adheres well. This process is time consuming and requires the right tools such as grinders and etching products.
Get a free quote
It can be tempting to take on these types of projects yourself to save money. But if you consider the time required, the tools required, and the possibility of the finished product not turning out quite right, it makes more sense to hire a local concrete professional with years of experience coloring concrete.
"Painting concrete may seem like a quick and easy solution, but it can result in a poor-quality finish that doesn't last. At SUNDEK, we've seen many cases where homeowners have tried to paint their concrete, only to end up with a surface that peels, flakes, or fades," says Don Snider, president of SUNDEK.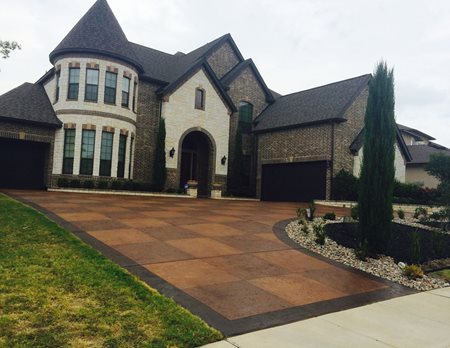 Concrete driveway stained by ATD Concrete Coatings using SunAcid.
If you're a savvy DIYer, you may still decide to paint your concrete surface. Before you do, make sure to do thorough research. Choose a paint that's specifically formulated for concrete and learn how to adequately prep your surface for paint.
Does Painting Concrete Last?
As mentioned above, since paint only covers the surface of the concrete and doesn't actually penetrate the surface like stains do, it's inevitable that the paint will peel and chip over time. Especially if the surface is in a spot that sees a lot of foot and/or vehicle traffic, the longevity of painted concrete surfaces isn't great.
Alternatives to Painting Concrete Yourself
If you really want to color your concrete surface but decide again doing it yourself, here are some other options:
With both of these options, no demolition is required, saving you time, money, and the headache of a messy concrete tear-out job.
Looking for a Local Contractor Who Colors Concrete?
At SUNDEK, we've been coloring concrete surfaces for more than 50 years! We have contractors all across the country ready to help with you project.
Contact us for a free quote:
Call us at 877-478-6335
Email us at [email protected]
Or fill out the form on this page
Your Local Contractor:
SUNDEK OF WASHINGTON
14121 Parke Long Ct. #109
Chantilly, VA 20151