Garage Floor Paint vs Epoxy Coating
Some people interchange the terms epoxy coatings and epoxy paints, but the two are quite different. If you want to upgrade your garage floor, or some other concrete surface using epoxy, it is important to understand what differentiates the two. This allows you to make the right decision for your desired aesthetic.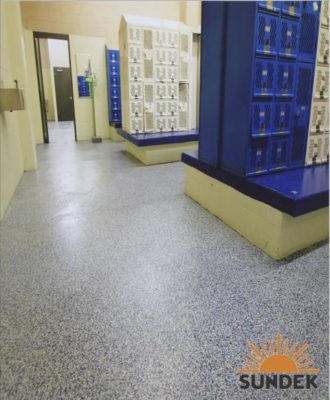 SunEpoxy Sundek Epoxy Coating
IS EPOXY PAINT DIFFERENT FROM AN EPOXY COATING?
One difference between the two epoxies is that coatings cure, whereas paint dries. In addition, when 100 percent solid epoxy coatings are used, the surface becomes hard and durable, making it highly resistant to things like chemicals, abrasions, impact, oil and grease, and stains.
There are many additional differences to consider. For example, epoxy coatings are comprised of two component materials, a polyamine hardener and epoxy resin. Before coatings are applied, a professional contractor or installer must first mix the two components, unlike paint that is one part, ready to use.
WHAT IS EPOXY PAINT?
Typically, epoxy paint is made of latex acrylic, although depending on the product, a small amount of epoxy might be added to the formula. When epoxy is present, the paint will actually adhere to the concrete surface better and make the surface more durable. When epoxy is not added to the formula, the paint will eventually peel and crack, especially in high traffic areas. Epoxy paint is also subject to staining whereas epoxy coatings are not.
SHOULD I USE PAINT OR A COATING?
An epoxy coating is the best choice for high-performance flooring. Coatings provide long-lasting durability in garages, where they have to stand up to hot tires, oil spills and more. They are also good for industrial floors, warehouses, locker rooms and other high-traffic spaces. Plus, epoxies can be customized in a variety of ways to get an attractive finish.
Check out these resources and downloads to see what's possible with an epoxy coating:
Paint is fine if you are looking for a fast, affordable and easy solution that doesn't need to take a lot of abuse.
Related: 5 Reasons Painting Your Concrete Yourself is a Bad Idea
INSTALLATION DIFFERENCES
While do-it-yourselfers often use paint, epoxy coatings require professional finesse. Even when using superior products like SunEpoxy 54 or SunEpoxy 100, epoxy coatings should always be applied by a professional.
For both epoxy coatings and epoxy paint, the concrete surface must first be thoroughly cleaned and prepared. Then, any areas with damage must be repaired. The process of applying epoxy coatings begins with cleaning the surface and performing a moisture test. From there, the installer exposes surface pores to create a better bond by allowing the coating to seep through.
Using special tools and equipment, such as rollers and squeegees, the installer then applies the coating. To apply epoxy paint, the product is opened and then either rolled or sprayed on. In comparing the two application processes, you can see why hiring a professional contractor is essential. One similarity shared by epoxy coatings and epoxy paints is that the application process includes two to three coats.
Epoxy coatings are not paint, but instead, strong, durable, and long-lasting layers of protection. These coatings are slip-resistant, versatile, and aesthetically-pleasing. Not only can you choose from a wide range of colors, but you also have the option to add beautiful color, or metallic flakes.
Have questions? Contact us:
877-478-6335