The Complete Driveway Replacement Guide
Do I need to replace my driveway and what will it cost?
Do you need to upgrade your driveway at your home or business? Driveway replacement isn't the only way to approach this, and the solution that's right for you depends on the condition of your existing driveway.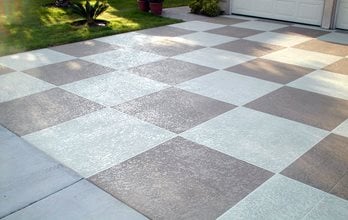 A driveway designed with a checkerboard pattern by San Diego Concrete Coating Specialists, Inc., a SUNDEK contractor in San Diego, CA.
DRIVEWAYS WITH MINOR DAMAGE
If your driveway has minor issues such as small cracks, you don't need to tear out the driveway and start from scratch. Instead, contact a concrete contractor to assess the damage and determine how to fix it. (Learn more about crack repair.)
A contractor should also look into what caused the damage so that you can take steps to prevent it from happening again if possible. For example, maybe there's a large tree nearby with roots that are disturbing the concrete. If you don't resolve the issue that caused the damage, it may appear again.
SUNDEK specializes in concrete repair. We can also resurface your concrete so you can't tell where the damage was. Contact a local SUNDEK contractor to get a free quote for repairing your concrete driveway.
DRIVEWAYS WITH MAJOR DAMAGE
If your driveway has potholes or cracks that are especially deep and/or long, it may be a sign that your driveway needs a complete replacement. Major damag often indicates that concrete was not poured correctly or didn't dry properly. There could be other reasons for severe damage. For example, there might be drainage issues, or maybe the driveway has experienced exceptionally heavy traffic over the years. An old driveway can also reach a point when it just needs to be replaced.
A licensed contractor can assess your surface to determine whether you need driveway repair or replacement.
Related: Is Concrete Removal Necessary?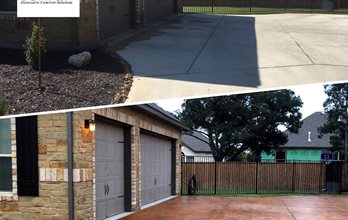 A before-and-after photo showing a concrete driveway resurfaced by SUNDEK.
DRIVEWAYS WITH OUTDATED DESIGNS
Your driveway might not need to be replaced, but you might be ready for a new look. Fortunately, you don't need to go through the hassle of a demolition job to get what you want. Concrete resurfacing is a great solution for upgrading the look of your driveway.
With driveway resurfacing, your contractor can apply a coating to the top of your existing concrete and customize it in the design of your choice.
Design ideas
With concrete resurfacing, design options at endless. At SUNDEK, we have a wide variety of colors, patterns, and textures to choose from. We can even mimic the look of brick, wood, limestone, or any other material. You can also do stamped concrete or stained concrete.
If you have a design idea in mind or would like information about what SUNDEK can do for your driveway, contact a local SUNDEK contractor to get a free quote. We would love to make your vision a reality.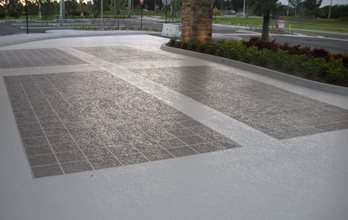 A concrete driveway at a commercial property resurfaced by SUNDEK in Tampa, FL.
COMMON QUESTIONS ABOUT REPLACING A CONCRETE DRIVEWAY
Here are some frequently asked questions about driveway replacement.
Can you replace part of a driveway?
Yes, you can remove a portion of a driveway that's severely damaged and then have a new concrete slab poured in its place. If you need to do this, SUNDEK can unify the look of the driveway so you can't tell where the old surface ends and the new one begins.
What is the cost to replace a concrete driveway?
Replacing a driveway can cost more than expected. You'll have to pay for demolition, removal and pouring and finishing the new concrete. Many SUNDEK customers are happy to find that resurfacing their driveway is a more affordable option than replacement.
Resurfacing cost depends on factors such as the size of your driveway and the condition or your existing concrete (if you're having it resurfaced). Your location can also affect cost because the price of materials varies by region. Learn more about resurfacing cost.
When should I replace my driveway?
The answer isn't the same for every driveway, as there are several factors that affect its condition:
When the driveway was installed.
How the driveway was installed. (Did the contractor follow proper procedures? Were control joints installed properly?)
How the driveway is used. (Is it rarely used? Frequently used? Do exceptionally heavy vehicles or machinery drive on it?)
The best way to know whether your driveway needs to be repaired, resurfaced, or replaced is to have a contractor look at it.
How do you replace a concrete driveway?
The short answer: Rip out the concrete surface, prepare the surface, pour the concrete. The long answer: Replacing a concrete driveway is backbreaking work that requires the proper tools, materials, and background knowledge. If you want to do it yourself, there are plenty of DIY videos online, but we highly recommend contacting a concrete contractor to do the work. A driveway needs to be durable, so it's critical to get the thickness and ratio of water to concrete right. Many things can go wrong, so it's worth the investment of hiring a professional.
Contact SUNDEK for a quote on your project.
What about replacing gravel or asphalt driveways?
A concrete coating can't be applied to the top of a gravel or asphalt driveway. If you want to replace your gravel or asphalt driveway, you'll need to have it removed. Then a concrete contractor can pour a new concrete driveway.
Your Local Contractor:
SUNDEK OF WASHINGTON
14121 Parke Long Ct. #109
Chantilly, VA 20151