Is Your Pool Deck Ready for Summer?
Here are 5 things you can to do to get ready for a season of hanging out poolside.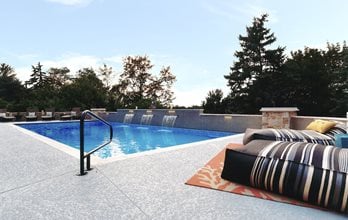 A pool deck resurfaced with Classic Texture, SUNDEK's most requrest pool decking product.
Temperatures are rising and so is the anticipation for pool season! Whether you already have a pool deck that you want to update or you're putting in a new pool, now is the time to get started so your pool is ready in time for summer.
Clean the deck. If your deck is still in good shape but just looking a little dirty, a thorough cleaning may do the trick. Use a hose with a high-pressure nozzle or a pressure washer to wash away dirt and grime. A deck push broom will help make this job easier. For stubborn spots, you can spot treat with a non-abrasive commercial cleaner formulated for your pool deck surface. Learn more about how to clean concrete.
Address any damage. Now is the time to take care of cracks, chipping, spalling, or any other damage. If your deck is compromised heading into pool season, the damage is at risk of getting worse due to more wear and tear from foot traffic and chlorinated water on its surface. Additionally, damaged spots can pose safety risks—for example, cracks while uneven spots can cause tripping and chipped concrete can cause cuts or scrapes.
In addition to resurfacing, our SUNDEK contractors are experts in concrete repair. Find a contractor near you to get a quote on your concrete repair job. Call soon—as we get closer to summer, the schedules of reputable contractors fill up quickly.

SUNDEK of Austin resurfaced this pool deck at Westhaven community in Texas Hill Country, providing a beautiful, slip-resistant, and comfortable surface for guests.

Make sure your deck is comfortable. If your pool deck is unbearably hot to walk on during exceptionally hot days, you may want to consider having it resurfaced. An experienced contractor can apply a high-quality coating that won't heat up too much on scorching days (also referred to as cool decking).
At SUNDEK, our Classic Texture coating is renowned for being comfortable to walk on, even on the hottest days. It's also a good idea to choose a light color for your deck, as darker colors tend to retain heat. (You can see our color options here.)
Make sure your deck isn't slippery. If your whole deck or parts of your deck are slippery, it's critical to address the issue if you plan on having guests—especially children—visit your pool. No matter how careful you are or how much you remind your guests, a slippery deck is bound to lead to trouble. Avoid worrying about a serious injury on your property by having an experienced contractor install a deck that is resistant to slip-and-fall accidents.
SUNDEK contractors have a wealth of experience when it comes to this area, having installed pool decks and splash pads at locations ranging from residential pools to waterparks. Read more about how SUNDEK makes pool decks resistant to slipping.

Update your deck's design. While a plain gray concrete pool deck is fine, it's not a requirement. There are endless design options when it comes to designing the deck that fits your style. In "40 Swimming Pool Designs That Are Summoning Summer" on House Beautiful, Senior Editor Hadley Mendelsohn and SEO Editor Sienna Fantozzi suggest matching your pool to your home's style. They write, "Whether you're starting a project from the ground up or you're renovating your existing swimming pool, make sure the design is consistent with the style of your home's architecture so that everything flows and works together." We love that advice and encourage anyone who wants to redesign their existing pool deck or put in a new one to invest time in browsing design ideas to really nail down exactly what they want.
Our SUNDEK contractors do more than just install coatings. We're always happy to chime in with design advice and color recommendations when our customers are looking for it.
Interested in redesigning your pool deck or putting in a pool? Contact a SUNDEK contractor for a free quote on your project!
References:
Fantozzi, S. & Mendelsohn, H. (2020, April 20). 40 Swimming Pool Designs That Are Summoning Summer. House Beautiful. https://www.housebeautiful.com/room-decorating/outdoor-ideas/g1416/pool-design-ideas/
Your Local Contractor:
SUNDEK OF WASHINGTON
14121 Parke Long Ct. #109
Chantilly, VA 20151