Installing Non-Slip Pool Deck Surfaces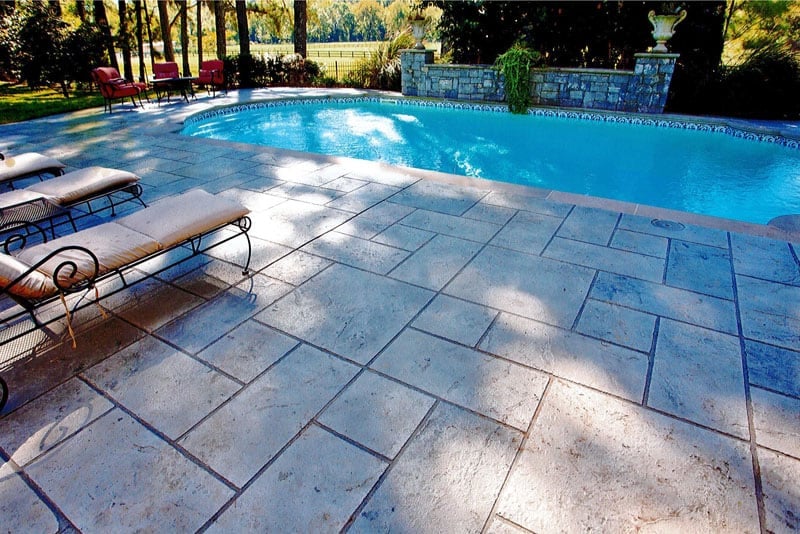 Contractors are aware that the biggest problem associated with decorative concrete pool decks is slippage. In many cases, the sealer is to blame for the slippery result when you install stamped or decorative concrete near a pool. Specific products are designed to minimize the effect, such as the Classic Texture Splatter Knockdown finish from SUNDEK. Additionally, various methods can turn a slippery pool-side concrete surface into an anti-slip one.
Creating Grit
The obvious solution for making decorative concrete pool decks anti-slip is to add grit to it. Common options that contractors try are aluminum oxide, sand, silica, and glass beads, each of which is added to the sealer, including our SunClear EcoProtect. Out of them, aluminum oxide grit is the most effective, especially when it is broadcast as this gives the heaviest coverage. As an added benefit, aluminum oxide is affordable and available in many different colors so your clients don't have to sacrifice style or color scheme for safety.
Using Color Hardener
To install a decorative pool deck that is truly anti-slip, you need to think outside of the box. One method is to use color hardener in a light coat right before using a stamp mat. Instead of troweling it on, simply add it. This slip-reduction method can be fairly permanent as it adds some rough area to the decorative surface. This method offers the benefits of being less prominent than adding something to the sealer and not wearing off as quickly.
Related: Is Stamped Concrete Slippery?
Combining Sealers and Stamps
Contractors need to give clients good advice when it comes to the combination of sealers and stamps for their decorative concrete pool decks. While acrylic sealers, such as SunColor, are OK on some stamped concrete, they shouldn't be used if the stamp is too flat. In cases where your customers are concerned about the slipperiness of the surface, encourage them to select a sealer that penetrates or a silane one if they want a natural look that won't affect gloss or color.
Textured Overlays
Anti slip surfaces are usually gritty, so a natural looking and gritty surface to consider is a Limestone coating. SunStone is the Sundek brand and is an ideal solution to slippery pool decks. The surface resembles limestone and is naturally slip resistant.