6 Pool Remodeling & Renovation Ideas
If your pool area is beginning to look drab or you're just ready for a change, take a look at these ways to transform your outdoor space.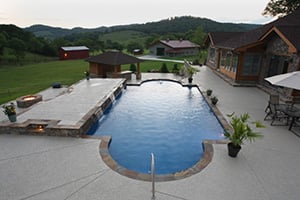 1. Give your pool deck a face lift.
Did you know that you don't have to tear out your existing pool deck to make it look brand new? With concrete resurfacing, a coating is placed on top of your existing pool deck, giving you a renovated look without the mess and hassle of ripping out any concrete. And your existing surface doesn't have to be in great shape—cracked, chipped, and spalled concrete can also be resurfaced. Here are some things to mull over when looking into resurfacing your concrete pool deck:
There are many design options, so choose one you love. Since you can choose from so many colors, patterns, and textures, you can give your pool deck a look you really want. If you like a particular material (for example, limestone, brick, wood, etc.), some installers such as SUNDEK can mimic the look with stamped concrete.
Keep your feet in mind. Since you and your guests will be walking around your pool with bare feet, it's critical to consider how hot the pool deck surface will get. If you live in an area that gets very high summer temperatures or your swimming pool is in full sun, choose a light color for your deck so it'll absorb less heat. Work with a contractor who is experienced in making pool decks that aren't too hot to walk on. SUNDEK surfaces stay cooler than typical gray concrete, exposed aggregate, pavers, tile, and epoxy flooring.
2. Update furniture.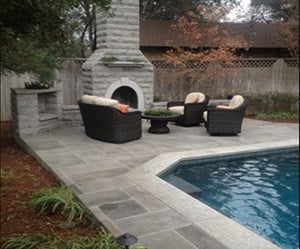 Maybe you accidentally left your furniture out all winter (oops!), or maybe you're ready for something new. Either way, here are some factors to consider when choosing furniture for out by the pool:
Material. When choosing your furniture, don't forget that it's going to get wet. Materials such as cast iron and wrought iron rust fairly easily, so they're not the best option for a pool area. Wood will be fine getting wet as long as it's sealed property, but your best bet might be aluminum or recycled plastic. Here's a helpful guide for choosing the right furniture for your outdoor space. For cushions, choose material that's UV resistant so it'll last longer.
Maintenance. The amount of maintenance required for your furniture depends on what type of material you get. If you get a lot of spider webs, you might find yourself annoyed at having to constantly clean them out of your wicker furniture. Know what you're getting into before making a big purchase—maybe you're someone who loves the look of cast iron and you won't mind the extra maintenance required to keep a cast iron bench by your pool. No matter what you choose, invest in some furniture covers to make sure it lasts.
What and how much. Think about what you need before making your purchase. For example, how many chaise lounges will you use at one time? Do you really need an outdoor dining set on your pool deck? Maybe you do, but these are all questions to ask yourself so you don't end up buying something you won't use.
Comfort. This seems obvious, but sometimes looks can be deceiving. Make sure the furniture you purchase is comfortable so you actually want to sit or lounge in it.
3. Add shade.
For really warm days, a shady spot to hang out next to the pool will be paradise when you're taking a break from swimming. If it gets really hot where you are, you might want to add something that shades a portion of your pool. Here are a few options:
Umbrellas. Make your umbrella mobile by putting it on a stand with wheels. That way you can move it around based on where you need it at the moment. You can get them in a wide variety of colors and patterns.
Shade sails. These are an inexpensive way to add shade quickly. Before purchasing, making sure you have something to tie each corner to.
Pergolas. A quick online search will reveal pergola styles ranging from classic to modern. You can get one with a roof of wooden slats, a retractable canopy, or create a living roof by growing a vine up the sides and across the top.
4. Improve the landscape surrounding your pool area.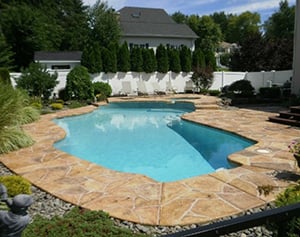 Plants and the right hardscaping can really enhance the look of your pool area. Here are some things to keep in mind:
Think about what pathways you need and how they will be used. A decomposed granite pathway is beautiful, but it's uncomfortable on bare feet walking from your pool area to other parts of your yard. While a dirt path with pavers gives a rustic look, it can create a muddy mess. If you're resurfacing your pool deck, talk to your contractor about creating a pathway, too. Contractors like SUNDEK can create gorgeous pathways that coordinate with the look of your pool deck.
Choose appropriate plants and find the right places for them. For example, plants that attract bees are wonderful, but you probably don't want bees right next to your pool or pathways leading to your pool area. A messy tree or shrub right next to your spa is going to make maintenance a pain. A large, poky agave next to a pathway is a hazard.
5. Replace the waterline tile in your pool.
In addition to protecting the perimeter of your pool from grime, waterline tile serves as a decorative element for your pool area. New waterline tile can really enhance the look of your pool—especially if your current tile is faded or hasn't been well maintained. You can choose from various tile types including glass, stone, ceramic, or porcelain. Glass tiles are the most expensive, but they are also the most durable and non-porous. Stone tile can be used for a classic or Mediterranean look. Ceramic and porcelain tiles are most commonly used and are available in many different designs. See more about options for swimming pool tile here.
6. Take safety seriously.
You can never be too careful when it comes to safety in and around your pool. Here are some ways to prevent accidents:
Invest in a slip-resistant surface. In addition to being safe in the water, it's also important to make sure the decking around your pool isn't too slippery. If you need to resurface your pool deck, choose a contractor such as SUNDEK who will texture the surface to make it slip resistant.
Put up a fence around your pool. Some states have pool barrier guidelines, but even if yours does not, it's smart to get one anyway. Take a look at the Safety Barrier Guidelines for Residential Pools from the U.S. Consumer Product Safety Commission.
Keep personal floatation devices on hand. If you often have families with children over to swim, it doesn't hurt to keep a few flotation devices on hand for an extra layer of protection. (Tip: When children are swimming, a designated adult should be on watch at all times. Never assume a child in a pool is being supervised.)
Your Local Contractor:
SUNDEK OF WASHINGTON
14121 Parke Long Ct. #109
Chantilly, VA 20151