Coatings for Medical Facilities, Schools & Churches
SUNDEK has been installing decorative concrete floors at healthcare facilities, schools, and churches for more than 50 years.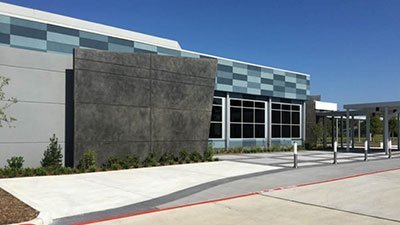 See more pictures of healthcare facilities, schools & churches
They may serve different purposes, but healthcare facilities, schools, and churches are all have one thing in common: they serve a lot of people. Decorative concrete is a great choice for high-traffic areas for many reasons:
It's durable. This is perhaps decorative concrete's most appealing quality, as it is critical for flooring at any facility to withstand abuse from everything ranging from foot traffic to vehicle traffic. Applying a high-quality sealer will lengthen the life of your decorative concrete.
It's beautiful. Design options for decorative concrete are limitless. You can choose from a variety of colors and textures to get the look you want. Just about any pattern can be created using score lines, and SUNDEK can even mimic the look of materials such as brick, limestone, flagstone, and more. Some organizations choose to do logos, pictures, or other custom designs.
It's easy to maintain. Our clients are often surprised at how easy decorative concrete is to clean. When it's sealed properly, it's easy to wipe up spills. General maintenance includes removing debris every so often using a broom or leaf blower. Dirty spots can be cleaned with a mop, hose, or pressure washer. For stubborn spots, you can use commercial cleaners, but they should be non-abrasive and formulated for the surface. You can learn more about concrete floor maintenance and cleaning products.
It's affordable. You don't have to rip out your existing surface to get a decorative concrete floor. Instead, SUNDEK can apply a concrete coating right on top of your existing surface and customize it with colors, textures, and patterns. A decorative concrete surface is sometimes comparable to or even less expensive than high-quality paving materials. Lower-quality pavers may be less expensive, but they won't be as durable which will end up costing your more in the end.
How long does it take to install a decorative concrete floor?
The length of time it will take to complete your project varies depending on the size, the state of your existing surface, and the details of the design. We know you can't afford to close your facilities for a long period of time, so we pride ourselves in working efficiently while still maintaining our high level of quality (we have completed some jobs in less than a day!). To discuss your specific project, contact us (877-478-6335, email [email protected], or fill out the form on this page.)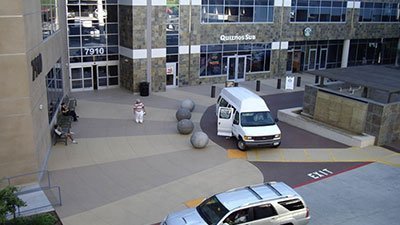 Decorative concrete in healthcare facilities
In a healthcare facility, you never know what's going to be spilled on the floor—it could be anything from coffee to blood and other bodily fluids. A properly sealed decorative concrete floor is non-porous and resistant to chemicals and abrasion, so it can handle harsh cleaning supplies. Since hygiene is of upmost importance in a healthcare facility, decorative concrete is the best choice as it doesn't hold onto bacteria and dust like other flooring, and you don't have to worry about anything getting stuck in grout lines. For these reasons and more, healthcare facilities choose decorative concrete for everything ranging from lobbies to laboratories.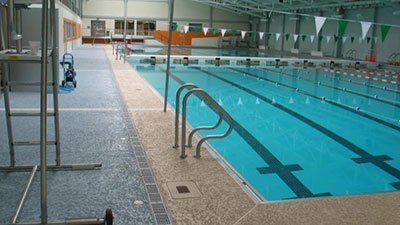 Decorative concrete in schools
Whether at an elementary school or university, durable flooring is key. Schools get foot traffic from sometimes thousands of people at least 5 days of the week, and equipment is often being transferred from room to room. Decorative concrete is the best flooring solution as it is hypoallergenic and doesn't trap dust, bacteria, and other contaminants. The ease of maintenance is yet another benefit of decorative concrete that janitorial staff will appreciate. For these reasons and more, schools often choose decorative concrete for their entrances, laboratory floors, pools, and more.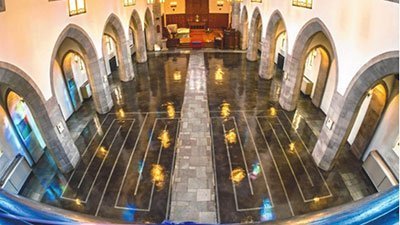 Decorative concrete in churches
No matter the size of your congregation, foot traffic and moving equipment around takes its toll, creating scuff marks and leaving dirty spots. Since decorative concrete is easier to maintain than other materials, you can invest time and resources into other important matters. See award-winning decorative concrete work at a church in St. Louis, Missouri.
Why work with SUNDEK?
We are one of the leading retailers of quality decorative concrete products, and we have access to a large network of experienced, trained, professional contractors that will see your job through from start to finish, ensuring your complete satisfaction.
Contact us to get started on your project
[email protected]
877-478-6335