Coatings for Waterparks & Splash Pads
At commercial properties where water is involved, safety is critical. When installing coatings for splash pads, around pools, and for any other surfaces that get wet (walkways, stairways, dressing rooms or restrooms used by pool-goers, etc.), SUNDEK is invested in providing a safe environment for your guests and staff.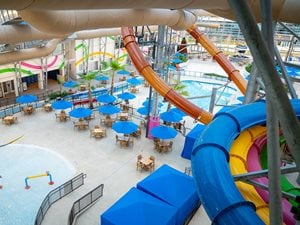 See more waterpark & splash pad pictures
Many local municipalities and health departments have approved SUNDEK's systems for their splash parks, water parks, and playgrounds. That's because we're able to transform any slippery concrete surface into a non-slip surface—and we do it beautifully.
If you're interested in getting in touch with a SUNDEK dealer about a project at your commercial property:
Call us at 877-478-6335
Or email us at [email protected]
Or fill out the form on this page.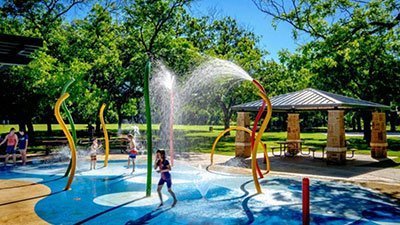 Parr Park Sprayground in Grapevine, Texas featuring Sundek Classic Texture in a colorful combination of Indian Wheat, Peking Blue and Slate Blue.
Frequently asked questions
How long will it take to complete my project?
We understand that you can't afford to close your facilities for a long period of time. That's why we pride ourselves in completing our work efficiently. We have finished projects in a matter of days, but the length of time it will take us to complete your project depends on the size and level of detail involved.
What design options are available?
There are a variety of colors, textures, and other effects to choose from for your concrete surface. You can create the look of limestone, wood, slate, brick, granite, or any other masonry product. SUNDEK can create logos, images, or other creative designs that you dream up. Check out our color options, but if you don't see one you like, contact us to discuss custom colors.
See our gallery of waterpark, splash pad & pool deck pictures
What is maintenance like?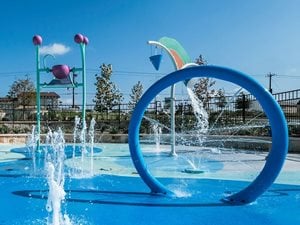 SUNDEK of San Antonio installed this splash pad in the Whisper Falls community in San Antonio TX.
Though not maintenance free, cleaning and preserving the look of a properly sealed concrete surface is simple. In fact, SUNDEK often receives feedback from organizations and businesses that say their maintenance teams love how easy it is to maintain the surfaces we've installed.
Generally, it's a good idea to regularly remove dust, grass clippings, or other debris. For dirt spots, you can simply spray the surface with a hose or pressure washer. Although our top coats are chemical and moisture resistant, we do recommend cleaning chemical spills as quickly as possible.
For stubborn spots, you can use commercial cleaners, but they need to be non-abrasive and formulated for the surface. Here's more information about maintenance and cleaning products.
Have questions? Contact us:
877-478-6335