Parks, Clubs & Municipalities
Flooring and paving at parks, clubs, and municipal facilities should be functional, safe, and (ideally) beautiful. SUNDEK has been creating photo-worthy decorative concrete surfaces for these public-facing locations for more than 50 years.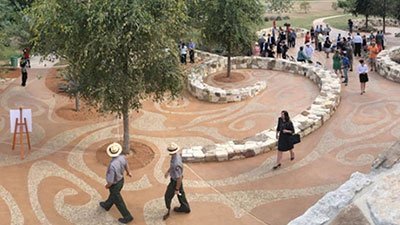 See more photos of parks, clubs, and municipal facilities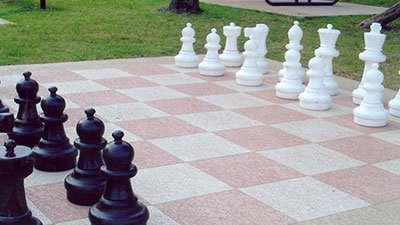 Why choose decorative concrete?
It's durable. At parks, clubs, and municipal facilities, your flooring must be able to endure everything ranging from foot traffic to heavy vehicles. Decorative concrete is the perfect solution because concrete is one of the most durable materials available. And properly sealing your decorative concrete will lengthen its life.
It's beautiful. While functionality and safety are of upmost importance for your decorative concrete, it doesn't hurt for it to look good, too! You can choose from a variety of colors, textures, and patterns to customize its look. Want to include a logo at your gym's entrance? You can do that with decorative concrete. Want to give a walking path in your park a natural look to coordinate with wild surroundings? You can do that, too! When designing with decorative concrete, the sky is the limit.
It's easy to maintain. As long as a decorative concrete surface is sealed, it's surprisingly easy to keep clean. Regular maintenance includes removing debris every so often with a broom or leaf blower. For dirt spots, you can use a mop, hose, or pressure washer. Although you can use a commercial cleaner on stubborn spots, the cleaner needs to be non-abrasive and formulated for the surface. (Read more about maintaining your decorative concrete floor here.) Because properly sealed decorative concrete is non-porous, you can easily wipe up spills.
It's affordable. Rather than ripping out existing concrete, a decorative concrete coating can be applied right over the top of your existing surface. That means you don't have to spend money on demolition costs. A decorative concrete coating is comparable to or even less than high-end flooring. Although lower-end flooring might cost less in the short term, it will require more maintenance and will not last as long as decorative concrete.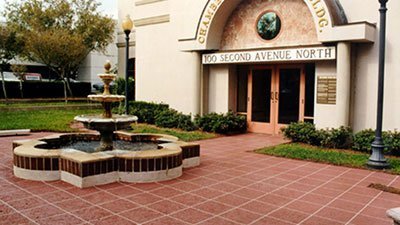 Is decorative concrete slippery?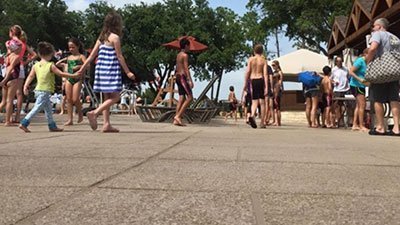 You can make a decorative concrete surface non-slip by applying textures to it. SUNDEK has installed non-slip splash pads and pool decks all across the country. Learn how we create non-slip surfaces.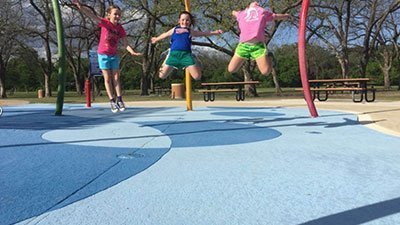 How long will it take to complete my project?
At SUNDEK, we pride ourselves in completing jobs efficiently while maintaining our high level of quality. In fact, we've completed small jobs in as little as one day! The length of time it will take to complete your project depends on the size of the project, the condition of your existing surface, and the design details involved. Contact us to discuss the details of your project (email [email protected] , call 877-478-6335, or fill out the form on this page).
Why work with SUNDEK?
Our work is tried and true—we have experience working with a wide variety of customers ranging from small businesses to hotel chains. Many local municipalities and health departments have approved SUNDEK's systems for their splash parks, water parks, and playgrounds. Through more than 50 years of experience, we have a large network of experienced professional contractors all over the country.
Contact us to learn more
877-478-6335
Your Local Contractor:
SUNDEK OF WASHINGTON
14121 Parke Long Ct. #109
Chantilly, VA 20151