Concrete Coatings for Offices & Business Parks
When it comes to choosing where to put decorative concrete at your office or business park, the sky is the limit. With decorative coatings, you can transform entries (interior and exterior), courtyards, porte-cochères, lobbies, kitchen and break areas, bathrooms, and even vertical surfaces.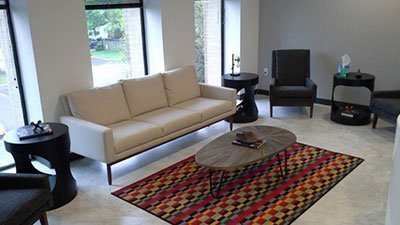 See more office and business park pictures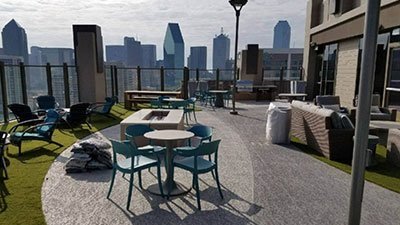 Benefits of beautiful spaces at work
It's no secret that creating a good working environment leads to happier employees. But did you know that an attractive workspace can positively affect an employee's wellbeing? With attractive floors, beautiful common areas, or even eye-catching vertical spaces, you can add to an employee's enjoyment of their visual surroundings.
Get in touch with a SUNDEK dealer about a project at your business:
Call us at 877-478-6335
Or email us at [email protected]
Or fill out the form on this page.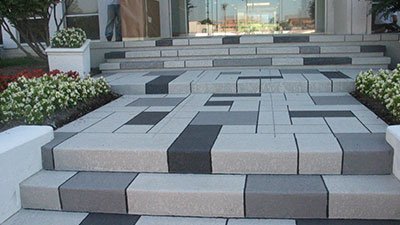 Design options
With decorative concrete, design options are endless. There are many colors, textures, and patterns to choose from, and you can even mimic the look of other materials such as brick, wood, stone, and more. You can even create your own logo or custom design. So no matter what look you're going for in your office or business park, you'll be able to achieve it.
SUNDEK has a many colors to choose from, ranging from neutrals to bold and bright. But if you don't find one you like, you can always talk to us about creating a custom color.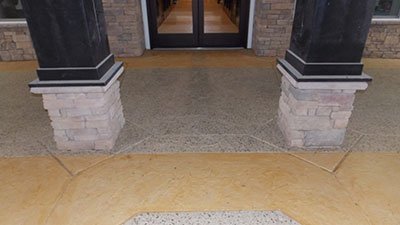 Maintenance
Since a high-quality sealer makes a concrete surface non-porous, that means it's easy to clean—great news for your janitorial or maintenance staff! General maintenance includes removing debris or dust. The sealed surface makes it easy to wipe up spills, and dirt spots can be mopped off indoors or washed off with a hose or pressure washer outdoors.
For stubborn spots, you can use commercial cleaners, but they need to be non-abrasive and formulated for the surface. Here's more information about maintenance and cleaning products.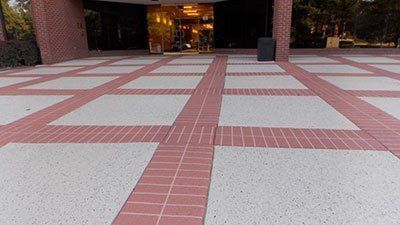 Why choose SUNDEK for your project
At SUNDEK, not only do we do our job well, we're also efficient. We understand that you can't afford to keep an office or entire business park closed for renovation for a long period of time, so we work quickly. We have completed jobs over the weekend so employees can resume business as usual the following Monday, and we've even completed some jobs overnight! The length of time it will take to complete your job depends on the size of your project, the state of your existing concrete surface, and the details of your design.
Questions about your specific project? Contact us:
877-478-6335