Concrete Coatings for Apartments & Condos
Enhance the living spaces for your residents by installing beautiful, durable decorative concrete coatings.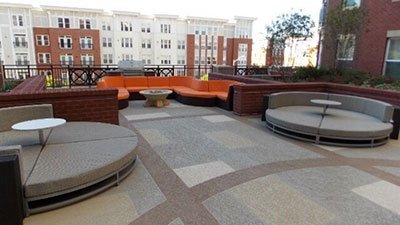 See more pictures of decorative concrete at apartments and condos
It's no secret that the appearance of our surroundings can affect our well-being. That's why property owners have worked with SUNDEK to redo their pool decks, outdoor living areas, balconies, entryways, porte cochères, mail and laundry centers, lobbies, unit floors, and more. We've created beautiful flooring at apartments and condos all across the country.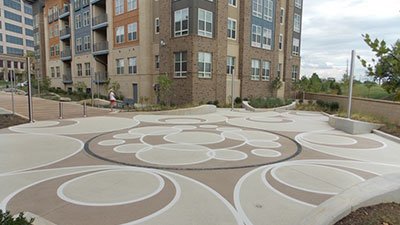 Why decorative concrete?
There are many reasons to choose decorative concrete for your apartment or condo properties:
It's durable. Whether it's from foot traffic or vehicle traffic, wear and tear can take its toll over time. That's why decorative concrete is the best choice for durability. It's long lasting and will maintain its look for even longer when properly sealed.
It's beautiful. One of the best advertisements for apartments and condos is pictures their residents post to social media. Having an eye-catching pool deck or creative front entry is sure to capture the attention of prospective renters and buyers. With decorative concrete, the options for design are never-ending. You can choose from a variety of colors and textures and create just about any pattern using score lines and special tools. At SUNDEK, we can use concrete to mimic the look of other materials such as brick, limestone, cobblestones, and more. Some properties choose to come up with their own creative design. If you can dream it up, SUNDEK can make it happen.
It's easy to maintain. Especially in shared living spaces, cleanliness is critical. That's why decorative concrete is perfect for apartments and condos—maintenance is very simple. General maintenance includes brushing off dirt and debris every so often and washing off dirt spots with a mop, hose, or pressure washer when necessary. You can use commercial cleaners on stubborn spots, but they should be non-abrasive and formulated for the surface. (Read more about concrete floor maintenance and cleaning products.)
It's affordable. Decorative concrete can be applied right on top of any concrete surface, even if there are cracks or other damage present. That means you don't have to tear out your existing floor, which is very costly (and messy!). When compared to other flooring materials, decorative concrete is comparable or even less than high-end flooring. Lower-end flooring materials might cost significantly less, but they will require more maintenance and will not last as long.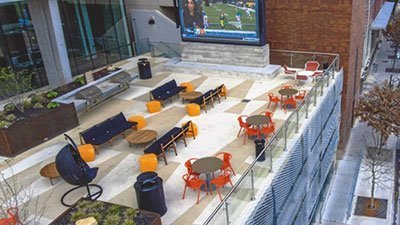 How long will your project take?
The length of time it will take to complete the project at your apartment or condo depends on the size of the project, the condition of your existing surface, and the details of your design. At SUNDEK, we take pride in completing our projects in a timely manner so you can get back to business as usual. We understand that you can't afford to close parts of your property for long periods of time. Contact us to get an idea of how long your project will take to complete. (877-478-6335, email [email protected], or fill out the form on this page.)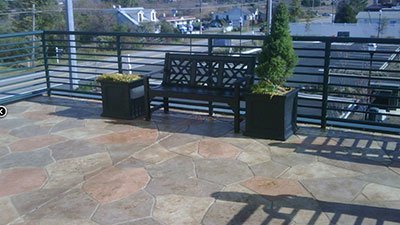 Get started on your project
At SUNDEK, we have more than 50 years of experience working with clients around the country to install beautiful, durable decorative concrete floors. We have connections with many licensed, professionally trained, experienced professionals that can complete your project. Contact us to find out more.
[email protected]
877-478-6335
Your Local Contractor:
SUNDEK OF WASHINGTON
14121 Parke Long Ct. #109
Chantilly, VA 20151