Coatings for Military & Government Facilities
SUNDEK has successfully completed pool decks, gyms, and other surfaces for military and government facilities.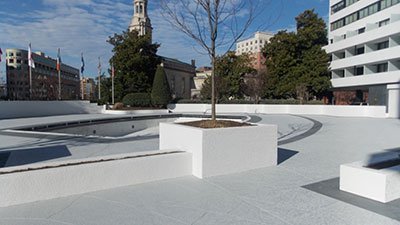 See more pictures of military and government work.
At SUNDEK, we have been installing decorative concrete for more than 50 years. We have experience working on all types of facilities and are skilled at working within specific timelines and budgets. Through our experience, we have a network on trained, experienced, professional contractors who can complete your project to your standards.
Find out how SUNDEK can help with your specific project
Call us at 877-478-6335
Email us at [email protected]
Or fill out the form on this page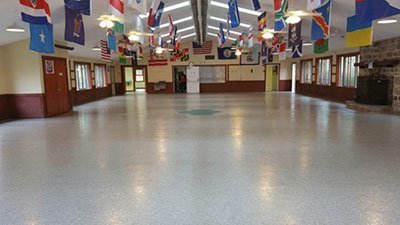 Why choose decorative concrete?
Decorative concrete is the best flooring material for many reasons. Here are a few:
It's durable. It might be pretty, but it's not delicate—decorative concrete can withstand abuse from everything ranging from foot traffic to airplanes. Additionally, a high-quality sealer protects it from spills, whether coffee or oil.
It's beautiful. The sky is the limit when it comes to design options. You can choose from a variety of colors (but if you don't see colors you like, you can work with SUNDEK on coming up with custom colors). You can also choose from different textures which can both change the appearance of your surface and make it non-slip. Score lines and different tools allow you to choose just about any pattern for your concrete surface. SUNDEK can also mimic the look of many different flooring materials such as brick, limestone, cobblestone, and more.
It's easy to maintain. When it's properly sealed, decorative concrete is very easy to clean because the surface is non-porous. Spills can be wiped up with ease, and if a spot is really stubborn, you can use a commercial cleaner. Just make sure it's non-abrasive and formulated for the surface.
It's affordable. Pricing is a critical part of the decision-making process when determining which materials to use. Decorative concrete is a great choice because it can be applied directly on top of your existing surface. That means you don't have to rip anything out, which is a very expensive process. Decorative concrete is comparable or less expensive than paying for high-quality materials and hiring someone to lay them by hand. Although it might be less expensive to use lower-quality pavers, it will cost you more in the long run because maintenance will be more intensive, it will get damaged faster, and chances are it will eventually need to be replaced.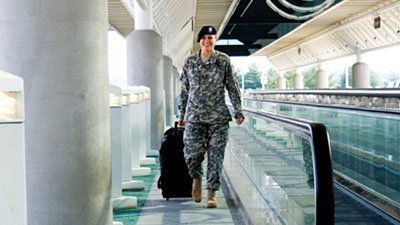 How long does it take to install decorative concrete?
We know you can't afford to close your facilities for any long period of time, so we strive to complete all projects in a timely fashion. The length of time it takes to complete a project depends on the size of the project, the state of the existing surface, and the details of the design plan. At SUNDEK, we pride ourselves in completing projects quickly while still maintaining our high level of quality. We have even completed jobs in less than a day to meet the time constraints of clients. Contact us to discuss how long your specific project will take.
Contact us to get started on your project
877-478-6335
Your Local Contractor:
SUNDEK OF WASHINGTON
14121 Parke Long Ct. #109
Chantilly, VA 20151