6 Ways Concrete Floors are Better than Carpet, Tile or Wood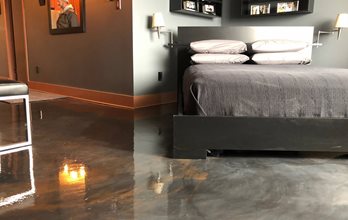 A metallic epoxy floor by Big Red Decorative Concrete, a SUNDEK contractor in Kansas City, MO
Homeowners everywhere are catching on to the flooring solution that's beautiful, durable, allergen-free, and easy to clean: concrete floors.
The word "concrete" typically brings to mind thoughts of the outdoors with patios, pool decks, pathways, etc, etc. But more and more homeowners are discovering that concrete isn't just for the outdoors. In fact, it's a wonderful solution for indoor surfaces. Did you know that concrete coatings can be installed right on top of an existing floor? Those coatings can be customized to fit the style of any home.
Get a free quote
Here are just several reasons homeowners are ditching carpet, tile, and even wood floors for concrete.
A floor that lasts and lasts
Arguably at the top of the list of perks of a concrete floor is their durability. With a high-quality sealer, a concrete floor coating will last for years without looking scuffed, faded, or showing other signs of wear and tear.
Say goodbye to allergens
For anyone who struggles with allergies, one of the biggest upsides of concrete coatings is that they don't attract dust, dander, mites, or other allergens that typically hide out in carpet.
Mold and mildew, no more
Since a concrete floor doesn't absorb water, mold and mildew simply isn't a problem. Spills are painless to clean up since the sealed surface is non-porous.
Get the look you love
The versatility of concrete coatings is incredible, providing homeowners with so many possibilities! You may have noticed that plain gray polished concrete floors have become popular in homes with a neutral palette or modern look. If this isn't the look you're going for, though, there are plenty of other options to choose from.
Homeowners can choose from a variety of colors that range from subtle and earthy to vibrant. And it's not just colors that can be customized. By getting creative with patterns and textures, you can create the perfect look for your home. Metallic epoxy floors can create the look of marble, while stamped concrete can create the look of wood, tile or other materials.
Cleaning is a breeze
Just as important as style is functionality, and concrete floors deliver. In this article on Today by Emma Stessman, Kiyonda Powell, Creative in Chief of Kiyonda Powell Design Studio raises a significant point. She notes that when she designs interiors, they are artistic, but that the rooms can be lived in, saying, "you [can] spill something and that's OK." We think that's the ideal space—one that looks beautiful but also fits into your lifestyle.
With concrete floors, homeowners certainly get something they can spill on. As previously mentioned, cleaning concrete, especially if the floor is sealed, is easy since they are non-porous. Maintenance is pretty simple: Homeowners should sweep their concrete floors to avoid dirt and debris from sitting in one spot for too long—just as they would with a wood floor. Concrete floors should also be mopped as needed to prevent grime buildup.
Unless you require every person who enters your home take off their shoes or wear booties, you're bound to get some buildup that requires a little more effort than just some elbow grease. Fortunately, spots that are hard to clean can be addressed with a non-abrasive commercial cleaner.
They can go just about anywhere
While we most commonly see homeowners put concrete floors in their garages, concrete floors can really go anywhere in a home. Kitchens, basements, game rooms, and laundry rooms are just a few spots that would benefit from an easy-to-clean surface.
Contact Your Local SUNDEK Contractor
If you're interested in learning more about how a concrete floor would fit into your space, we can help!
Find a SUNDEK contractor near you to get a free quote.
Related content:
Residential concrete floors
Concrete floors
References:
Stessman, E. (2021, Feb 19). 4 home essentials recommended by an interior designer. Today. https://www.today.com/shop/home-interior-design-essentials-t209421
Your Local Contractor:
SUNDEK OF WASHINGTON
14121 Parke Long Ct. #109
Chantilly, VA 20151