What is Metallic Epoxy Flooring?
Just like regular epoxy floors, metallic epoxy floors (sometimes called metal epoxy floors) are durable, long-lasting, available in a broad range of colors, and resistant to moisture, impact, abrasion, stains, chemicals, oil, and grease.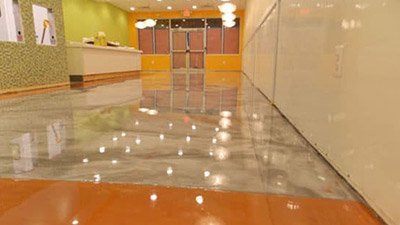 Although metallic epoxy floors are especially popular for commercial spaces such as restaurants, retail stores, showrooms, and medical facilities, they can be installed anywhere you want a floor that makes a statement.
What type of look does it create?
You can choose clear, silver, or brightly colored metallic pigments, which are added to the regular epoxy. Then you choose the amount of metallic you want—use less for a subtle shimmery appearance; more for a more dramatic aesthetic. You may have heard people refer to marble epoxy floors or 3D epoxy flooring. That's because you can create a marbled effect or a floor that appears to be 3D. On top of everything else, your floor will have a smooth, glass-like finish.
Where is a good spot for a metallic epoxy floor?
A metallic epoxy floor can go anywhere, but they are especially popular in retail stores, showrooms, restaurants, casinos, and even medical facilities. Anywhere you want to create a floor that makes a statement! Since it's so easy to maintain and repels stains so well, it can be applied in virtually any type of room.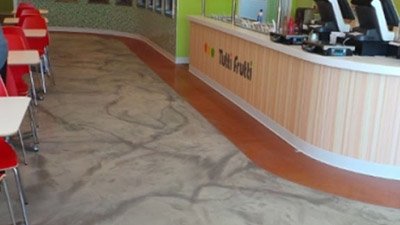 How does it work?
SUNDEK has a product called SunMetalFX that we use in combination with our epoxy, polyaspartic, or acrylic floor coatings. The basic process is as follows:
The concrete floor is cleaned and given a surface profile similar to a fine sand paper finish and then primed with a color-tinted epoxy. Why epoxy? Other resin type materials can be used but epoxy has an awesome tenacity for bonding to concrete.
The colored primer coat will serve as the background color for the metallic coat. For example, you may want to create a very cool and steely look by using a light gray primer coat overlayed with silver and charcoal metallic colors swirled together.
The color primer is allowed to dry and then the floor is coated with another coat of epoxy, but this time it is mixed with a colored metallic material that is spread with a trowel or squeegee.
Additional colors can be swirled in. As the material is still wet and fluid, it can be manipulated to create desired effects.
Added effects can also be achieved by broadcasting denatured alcohol or acetone to create a fish-eye effect in the finish. The metallic look is also very compatible with other textures and materials such as stains or textured micro-toppings. The epoxy metallics also look really sharp with custom saw-cut tile patterns.
Though you can purchase a metallic epoxy floor kit, we recommend hiring a professional to do the work for you.
Contact us if you have a metallic floor project you'd like get started on!