Metallic Epoxy Floor Coatings for Garages, Stores, Restaurants & More
Metallic epoxy floors (sometimes called metal epoxy floors) are long lasting and durable—even in high-traffic indoor spaces. Like other epoxy floor systems, they are resistant to moisture, impact, abrasion, stains, chemicals, oil, and grease. Additionally, they are quite beautiful. You can customize their look, and they are available in many colors.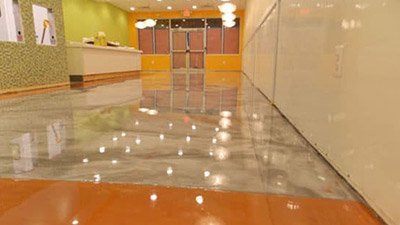 What looks can you get with a metallic epoxy floor?
Your floor will have a smooth, glass-like finish. You can also customize the look with color, the amount of metallic you include, and various effects.
Color: You can choose from clear, silver, or brightly colored metallic colors. Your contractor will add your colors to the regular epoxy.
Metallic amount: You can choose the amount of metallic you want—use less for a subtle shimmery appearance. Use more for a dramatic look.
Effects: Metallic floors give you the ability to be creative. You can get a floor that has a marbled effect or one that appears to be 3D.
Here are the colors SUNDEK offers for metallic floors. Let us know if you have something different in mind and we will help make your vision happen!
Good places for metallic flooring
Although they can be installed anywhere, these floors are especially popular in garages, retail stores, showrooms, restaurants, casinos, and even medical facilities. You can put them anywhere you want a floor that makes a statement! We even think it makes a fun option for garage flooring. They are easy to maintain and they repel stains well, so you can apply them in any type of room.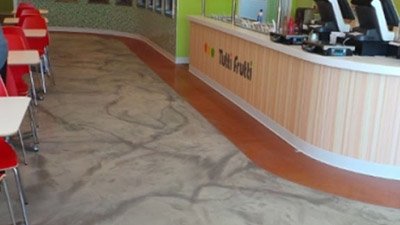 How to apply a metallic coating
Here is the basic process:
Clean. Your contractor will clean the floor and give it a surface profile that is similar to a fine sandpaper finish.
Prime. The next step is to prime the floor with a color-tinted epoxy. The colored primer base coat will be the background color for the metallic coat. For example, if you want to create a cool and steely look, you could use a light gray primer coat overlayed with silver and charcoal metallic colors swirled together.
Add another coat. After the color primer is dry, your contractor will apply another coat of epoxy using a trowel or squeegee. This time the contractor will mix the epoxy with a colored metallic material. At SUNDEK, we have a product called SunMetalFX that we use in combination with our epoxy, polyaspartic, or acrylic floor coatings.
Swirl in additional colors. When the epoxy floor coating is still wet and fluid, you can manipulate it to create desired effects by swirling in other colors.
Create additional desired effects. You can achieve other effects by broadcasting denatured alcohol or acetone to create a fish-eye effect in the finish. The metallic look is also compatible with other textures and materials such as stains or textured micro-toppings. The epoxy metallics also look great with custom saw-cut tile patterns.
Though you can purchase a kit, we recommend hiring a professional to do the work for you. Epoxy flooring installers such as SUNDEK contractors will have the experience, tools, and background knowledge necessary to apply the metallic floor properly. Contact us for a free quote on your metallic floor project!
Cleaning and maintaining your floors
Many homeowners and business owners are surprised to learn that metallic floors don't require a lot of maintenance. At SUNDEK, we apply a high-quality sealer to the decorative surfaces we install, which makes them non-porous and less prone to stains or other damage. Even with that protection, it's important to keep up with general maintenance:
Sweep or dust as needed.
Mop or wipe with a wet rag every few weeks to prevent dirt and grime from sticking to the floor.
If anything spills, wipe it up so it doesn't sit for too long.
For stains, you can use a non-abrasive commercial cleaner that's formulated for the surface. We recommend verifying with your contractor that the cleaner is okay to use.
How long does a metallic epoxy floor last?
It's difficult to estimate exactly how long it will last since that answer depends on how often the floor is used and how much foot traffic it gets. However, if a metallic epoxy floor is well taken care of and experiences average daily use, it can last for about 20 years.
Metallic epoxy floor cost
Many factors can influence the cost of refinishing work:
Location. Materials are more expensive in areas of the country where cost of living is expensive.
Condition of your existing surface. If your surface needs a lot of prep work (for example, scattered low spots that need to be evened out), that will add to the cost of the job.
Design choices. The complexity of the design will affect the price.
The cost of a metallic epoxy coating from SUNDEK is generally around $7 to $10 per square foot, making it budget-friendly option for a high-end look. The best way to get an accurate quote is to contact a contractor.
Schedule an appointment with your local SUNDEK contractor for a free quote.