Seeded Aggregate
Architectural Decorative Concrete by SUNDEK National Accounts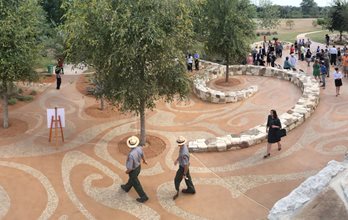 Seeded aggregate is a type of decorative concrete application that achieved by distributing aggregate by hand onto a concrete surface before it sets. It provides a way to display beautiful aggregates—such as pebbles, seashells, glass, and more—right on your concrete surface.
Contact us
Benefits of seeded aggregate
Seeded aggregate surfaces are eye-catching, displaying the beauty of a material of your choice. Other benefits:
Durable. With a high-quality sealer to protect it from general wear and tear, seeded aggregate will look great for years to come.
Low maintenance. It requires the same type of general maintenance required for other decorative concrete applications.
Slip-resistant. Since the aggregate material is embedded into the surface, it creates an anti-skid quality.
Customizable. In addition to having a variety of aggregates to choose from, seeding the aggregate by hand means that you have control over where its placed, opening the possibilities for customized patterns and designs.
Affordable. Since the aggregate is distributed by hand, a contractor can use less material than would be used for an exposed aggregate project where the aggregate is combined with the concrete mix.
Unique. Because you apply the aggregate on top of the concrete rather than mixing it in, it gives you the ability to use a larger range of materials such as seashells, glass, and more.
Where can seeded aggregate be installed?
Seeded aggregate can be installed in just about any location. Here are a few common spots:
Courtyards
Driveways
Garden pathways
Patios
Pool Decks
Sidewalks
…and more.
How it's done
After a concrete slab is poured, aggregate is distributed onto the surface by hand before the concrete sets.
Choosing your aggregate
One of the many benefits of seeded aggregate surfaces is that they can be customized to meet the needs of the client. Coming in a wide array of colors and sizes, there's an aggregate for any style clients might look for. Here are a few variables to consider when looking at aggregates:
Color. Whether you want something neutral or vibrant, there's an aggregate for that. If there's a particular color you have in mind, an experienced contractor such as SUNDEK can tell you what types of materials would be good for your project.
Hardness. The level of hardness basically determines how likely it is to stand up to abrasion.
Size and shape. Larger aggregates display more prominently while smaller aggregates are more subtle from a distance. Rounded aggregates create a smoother surface while angular aggregates add dimension and texture.
Availability. Some materials might not be readily available in your area of the country. Though it is possible to get something from out of the area, it comes at a cost. Choosing a local material is a good way to keep your cost down.
Is sealer necessary on a seeded aggregate surface?
Yes. Like any other decorative concrete surface, seeded aggregate should be sealed. A high-quality sealer will protect it from general wear and tear and lengthen its lifespan. See more benefits of sealing decorative concrete.
Depth of exposure
You can work with your contractor to determine how much you want your aggregate embedded into the surface. Exposure ranges from slightly exposed to very visible.
Design options
Because installing a seeded aggregate surface requires applying the aggregate by hand, you have more control over the design. The ability to customize where the aggregate is placed creates the opportunity to get very creative with unique decorative effects—whereas with exposed aggregate (which is combined with the concrete mix), there's a more uniform look.
Find a contractor who does exposed aggregate
For more than 50 years, SUNDEK has helped leading design, architectural, and development companies meet their project objectives. We'd love to help with your exposed aggregate project!
Call us (888) 600-1460
Or email us [email protected]