Sand Finish Concrete
Architectural Decorative Concrete by SUNDEK National Accounts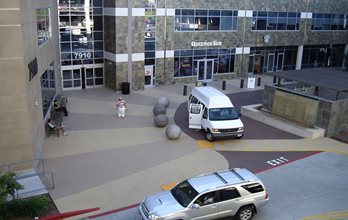 Sand finished concrete (also called sand washed concrete) is a decorative concrete application that reveals the texture and beauty of sand. Since it can be used in combination with colored concrete, its appearance can range from neutral to fun and vibrant. Its texture is smooth, reminiscent of the way the sand looks on the shore of the beach after a wave has passed over it.
Contact us
Benefits
A sand finish on a concrete surface creates the appearance of wet sand, making a natural look that's perfect for many outdoor spaces. Aside from its aesthetics, here are some of its other benefits:
Comfortable for bare feet
Non-slip, making it safe around pools or other areas that may get wet
Available in a variety of colors ranging from neutral to vibrant
Where can a sand finish be applied?
An elegant sand finish would be a fitting feature in many locations. Property owners love that it's not slippery, comfortable to walk on, and customizable to the style of any property. Here are a few locations a sand finish is commonly applied:
Apartment complexes
Parks
Public gardens
Resorts, hotels, and motels
Waterparks
…and more!
Here are several areas a sand finish can be applied in a commercial space:
Driveways
Patios
Pool decks
Walkways
Plazas
Entryways
Application process
The process for a sand finish is essentially the same as the process for creating an exposed aggregate surface. The idea is that you strip away some of the concrete to reveal the beautiful material beneath. Your contractor will:
Mix the sand you want in with the concrete.
Finish the concrete slab: spread the concrete evenly, remove excess concrete and bring the surface to grade, float the surface, edge the slab, and joint the slab.
After finishing the concrete slab, apply a surface retarder which slows the process of the mortar setting in the concrete.
Once the concrete sets (typically 24 hours), remove a thin layer from the surface of the concrete by pressure washing and scrubbing with a broom, exposing the sand that was mixed into the concrete.
Is a sand finish comfortable to walk on?
Yes! The pressure washing step leaves the surface feeling surprisingly smooth, making it comfortable to walk on. Customers often compare the feeling of walking on a sand-finished surface to walking on smooth granite. It's a really nice texture that is smooth without being slippery.
Does a sand finish need to be sealed?
Yes. Like other decorative concrete applications, a sand finish should be sealed to protect it from typical wear and tear and damage from contaminants. Learn more about sealers.
Design ideas
Apply it to a border to create a contrast in texture next to stamped concrete or a surface with a broom finish
Use it to create the appearance of sand or soil for a low-maintenance section of your landscape
Evoke the look of an exotic location by using it on a pool deck or patio surrounded by tropical plants
Provide a visual transition by using it as a border around a sandbox at a playground or a garden bed in a landscape
Combine it with colored concrete by adding integral pigments into the concrete mix to create a unique look
Who installs sand-finished concrete in my area?
We currently offer these services in Houston, Austin and other parts of Texas.
For more than 50 years, SUNDEK has helped leading design, architectural, and development companies meet their project objectives. We'd love to help with your project!
Call us (888) 600-1460
Or email us [email protected]