3 Outdoor Improvements to Add Value to Your Home
How to improve your backyard and front yard to add value to your home
One of several ways to increase your home's value is to make improvements to your outdoor spaces. A well-designed front yard adds to your curb appeal, while a nice backyard living space allows potential buyers to imagine themselves spending time there. Here are several ways you can improve your outdoor spaces:
Get a free quote
1. Add an outdoor kitchen.
Having a space outdoors to cook while entertaining has many benefits. It allows you to spend time with your guests while preparing food, and you don't have to heat up your home by using your indoor stovetop or oven—a major perk during summer. Potential buyers love seeing spaces to entertain.
Consider the proximity to your indoor kitchen. Does the path need to be clear so you can move between the two spaces easily?
Be strategic about where you put tools. Like an indoor kitchen, an outdoor kitchen can pose hazards. Make sure it's not easy for a child to walk right into a hot grill or grab sharp knives.
Think about the logistics. If it gets really hot during summer, the cook won't want to be next to the barbeque if there's not shade. Position things like chairs, tables, and barbeques in locations that are practical for comfortable use.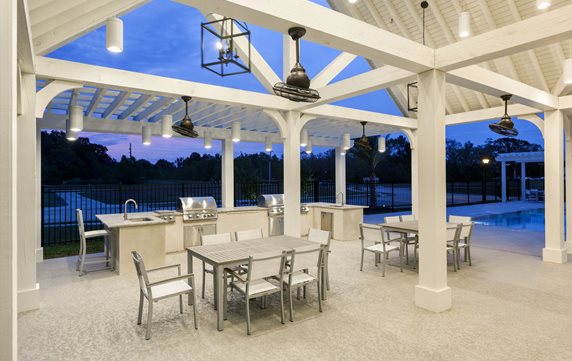 At a property in New Orleans, Classic Texture was applied to the surface of this patio space to create a floor that integrates well with the look of the outdoor kitchen and is also comfortable to walk on.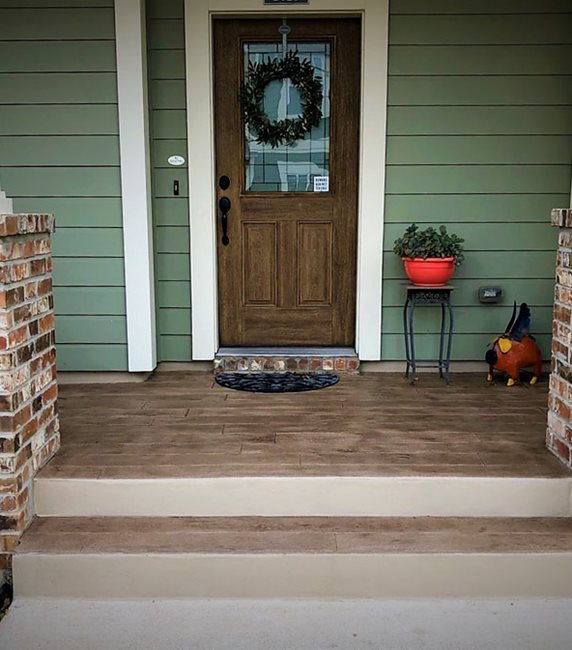 SUNDEK of Austin used SunStamp to resurface this porch and steps leading up to create a beautiful and safe approach to the home.
2. Increase your curb appeal.
In an article on USA Today by Tanisha A. Sykes, Sykes notes that if you don't take the time to improve your front landscaping, "buyers will cruise on by the property." Here are a few ways to catch the attention of potential buyers:
Enhance your driveway. If your driveway is cracked, faded, or just outdated, consider resurfacing.
Add or improve walkways. Cracked or uneven walkways are a deterrent—not only because of their appearance, but for safety reasons. Resurfacing your walkways and giving them a fresh look is a great way to spruce up the look of your front yard.
Replace or repaint your garage door. In Sykes article on USA today, she notes that a nice garage door can make a huge difference, citing Michele Harrington, First Team Real Estate's chief operating officer in California who says, "A $500 new door could add $5,000 to your selling price in the right neighborhood."
Liven up your front yard with vibrant plants. Evergreen shrubs provide color all year, and blooming flowers add pops off attention-grabbing color to passersby.
Paint or repair fences or gates. A rickety or gate can be a big deterrent for a potential buyer. Repairing and painting broken fence posts or replacing your fence or gate completely can make a big impact.
See more ideas for improving your curb appeal with concrete resurfacing here.
3. Improve your patio space.
Homebuyers are looking for a space they can envision themselves, so a spot where they can spend time with family and friends is sure to grab their attention. There are many ways to improve a patio space, ranging from small enhancements to larger investments. Here are just a few ideas:
Update your patio's surface. Whether your patio is faded, cracking, or just outdated, a decorative concrete coating can provide a significant upgrade. And you don't have to tear out your existing concrete to get a brand-new look. Instead, a contractor applies a coating directly on top of your existing patio, saving you time and money. Coatings can be customized with colors, patterns, and textures to fit the look of your space. If you don't need resurfacing, concrete staining is another option.
Add a fire pit. Creating a space for homeowners and their guests to get cozy and warm up on cool evenings is another great way to get potential buyers to envision themselves in the space. Along with a fire pit, consider adding comfortable seating where people can gather and lounge.
Include lighting. Highlighting beautiful landscape plants and lighting up walkways to make them safer to walk on after the sun goes down adds to the backyard appeal.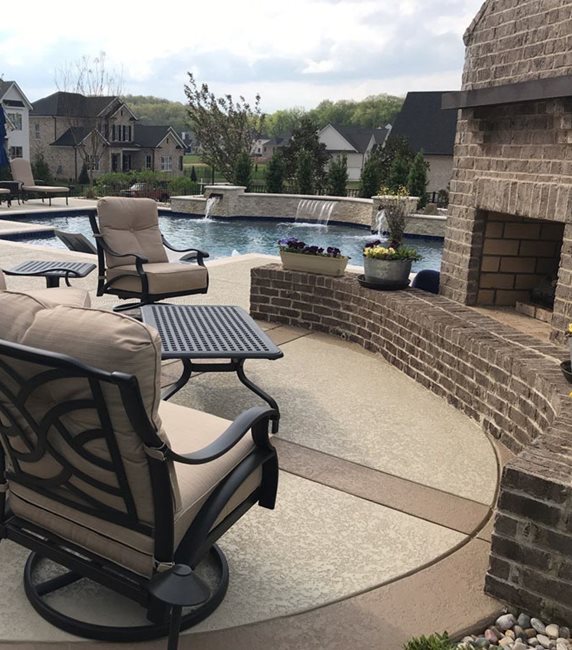 SUNDEK of Nashville resurfaced this patio and pool deck using Classic Texture, defining the lounge area with a pattern.
Looking for a contractor to improve your outdoor surfaces?
At SUNDEK, we have installers around the country trained to install high-quality decorative surfaces.
References
Sykes, Tanisha A. Want to boost your home's value? These 5 improvements can increase your resale price. USA Today.
https://www.usatoday.com/story/money/at-home/2021/10/06/home-improvement-boost-value-your-house-these-renovations/6002264001/
Your Local Contractor:
SUNDEK OF WASHINGTON
14121 Parke Long Ct. #109
Chantilly, VA 20151